Priest Appears in Court on Judge's Order
Former Salesianum Principal Faces Accusations of Sexual Abuse

By Beth Miller
The News Journal
December 19, 2007

http://www.delawareonline.com/apps/pbcs.dll/article?AID=/20071219/NEWS/712190403/1006/NEWS

WILMINGTON -- The former principal of Salesianum School was ordered back to Wilmington on Tuesday morning after he left town, his lawyer told a Superior Court judge, to avoid answering certain questions in a deposition for a civil lawsuit.

The Rev. James W. O'Neill, 68 and a resident of Washington D.C., had come to Wilmington but did not show up for a 10 a.m. deposition Tuesday at the East Seventh Street office of attorneys Thomas S. and Stephen J. Neuberger. The Neuberger Firm represents Eric Eden, a former Salesianum student who is suing the priest, the school, the Oblates of St. Francis de Sales, and the Catholic Diocese of Wilmington, alleging he was sexually abused by the priest over a nine-year period and that church and school officials did nothing to stop O'Neill from abusing him and other young males.

O'Neill has denied the allegations in court filings, but refused to answer questions in a deposition last July, invoking his Fifth Amendment protection against self-incrimination.

When the Neubergers were informed Tuesday that O'Neill had gone back to his residence in Washington, they asked Superior Court Judge Charles L. Scott to act.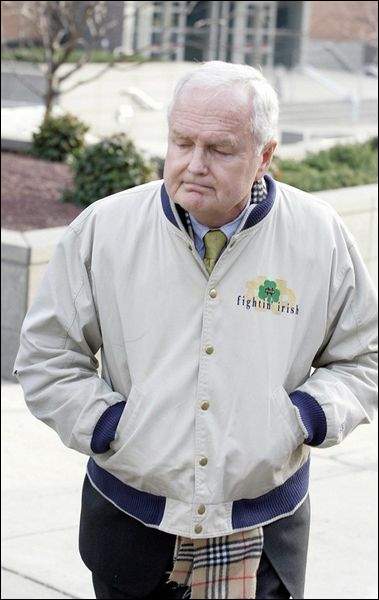 The Rev. James W. O'Neill leaves NCCo Courthouse on Tuesday.



Scott ordered O'Neill to appear in court by 2:30 p.m. to explain his failure to appear, and O'Neill returned immediately to Wilmington.

He entered the courtroom wearing a "Fightin' Irish" jacket, glanced briefly at Eden, who was sitting in the front row with his wife, and took his seat at the defendants' table.

Thomas Crumplar, who is working on the case with the Neubergers, asked the judge to have O'Neill testify on the record as to the reason he did not appear.

"He was in Wilmington [Monday] night and he chose to flee," Crumplar said.

When Scott asked for an explanation, O'Neill's attorney, Thomas P. Bernier, told him the priest "feels he's within the horns of a dilemma" because the judge had ordered him to answer questions related to allegations of abuse in Delaware and New Jersey.

O'Neill had refused to answer such questions in July, invoking his Fifth Amendment privilege against self-incrimination more than 190 times on a wide range of questions, including some he had answered in a 2004 deposition. Bernier had argued that if O'Neill answered questions about certain allegations, he could be exposed to criminal prosecution in other states.

Scott ruled last week that O'Neill could invoke the Fifth Amendment privilege on questions related to matters alleged to have occurred in Pennsylvania, Maryland, Virginia and North Carolina. But, Scott said, the priest would have to answer questions on allegations related to incidents in Delaware or New Jersey, where the criminal statute of limitations had expired.

"He elected not to show," Bernier said. "But if the court is compelling him to testify, subject to sanctions, he is here."

Asked if he was prepared to proceed with the deposition, O'Neill said he was, and he and his attorneys went from the courthouse to the nearby Neuberger office.

"Court orders need to be obeyed," Tom Neuberger said. "My client appreciates Judge Scott enforcing the law and not giving special treatment to someone just because he's a priest."

Samuel L. Waltz Jr., spokesman for the Wilmington-based Oblates, said "we're encouraged and pleased that Father O'Neill was able to come in and provide by deposition the information that the plaintiff was seeking."

The O'Neill deposition is expected to continue today, with trial scheduled for October 2008.

Contact Beth Miller at bmiller@delawareonline.com or 324-2784.