Priest Ordered to Delaware Court
The Rev. Francis G. Deluca Must Be Deposed for Sex Abuse Suit

By Beth Miller
News Journal
December 21, 2007

http://www.delawareonline.com/apps/pbcs.dll/article?AID=/20071221/NEWS/712210337/1006/NEWS

WILMINGTON — For the second time this week, a judge has ordered an out-of-town priest to appear in Delaware to answer questions related to a child sexual abuse lawsuit.

U.S. District Court Judge Sue L. Robinson on Thursday ordered the Rev. Francis G. DeLuca of Syracuse, N.Y., to appear for deposition on or before Jan. 15, unless attorneys for both parties agree to another date.

The order was issued after Wilmington attorney Thomas S. Neuberger complained DeLuca was refusing to come to Delaware for deposition in a lawsuit filed by Robert Quill, who is suing for abuses he says occurred between 1968 and 1975. DeLuca has denied the allegations in court filings.

Earlier this week, Superior Court Judge Calvin L. Scott Jr. ordered the Rev. James W. O'Neill to appear in court after he refused to appear for a deposition in another child sexual abuse lawsuit Neuberger is handling. O'Neill, the former principal of Salesianum School, complied with the judge's order and answered questions this week.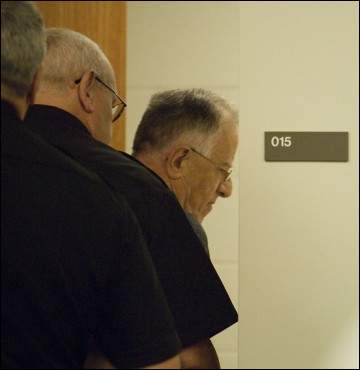 The Rev. Francis G. DeLuca appears in court in Syracuse, N.Y., where he was sentenced in September for sexually abusing his great nephew.



DeLuca's attorney, Stephen P. Casarino, says his client has never refused to be deposed in Delaware. The problem with the deposition date is all a big misunderstanding, Casarino said, caused by Neuberger's misinterpretation of a letter he sent explaining that DeLuca could not come to Delaware this week for deposition.

"If it was just a misunderstanding, we wouldn't have bothered the court with it," attorney Stephen J. Neuberger said. "Time is of the essence."

Robinson's order was posted online Thursday afternoon on the Public Access Court Electronic Records server, which provides public access to federal court records, most of which now are required to be filed electronically.

In a Nov. 14 telephone conference between Robinson and the attorneys, Neuberger agreed to drop his request for a default judgment against DeLuca if the priest would agree to a deposition in December or January. On Nov. 26, he filed a notice to schedule the deposition for this week — Thursday and today.

When Casarino notified Neuberger on Wednesday that the priest would not appear, Neuberger asked Robinson to intervene.

"DeLuca, through his counsel, has refused to give his deposition here in Delaware or at any later time," Neuberger wrote Wednesday in a letter asking Robinson to consider sanctions or a default judgment against the priest if he refused to appear.

Casarino would not comment further but said he planned to mail his response to the court Thursday.

DeLuca was incarcerated earlier this year in Syracuse after pleading guilty to sexual misconduct with his great nephew, now 18. Neuberger represents the Syracuse teen in a lawsuit against the Catholic Diocese of Wilmington.

The Quill case, which also names the diocese, Bishop Michael A. Saltarelli, and St. Elizabeth Church as defendants, is scheduled for trial in August 2008.