D.A.: Priest from Ryan Stole 900g

By Valerie Russ
Philadelphia Daily News
Gave Student $ for Drugs, She Says
December 21, 2007

http://www.philly.com/dailynews/top_story/20071221_D_A___Priest_from_Ryan_stole_900G.html

"Instead of a living a life of poverty, chastity and obedience," as Franciscan friars vow to do, a former Philadelphia Catholic high-school principal "chose a life of sexual debauchery, lechery, lying and stealing," Philadelphia's district attorney charged yesterday.

The Rev. Charles Newman, who taught and worked at Archbishop Ryan High School for more than 20 years, stole at least $900,000 from two religious institutions, D.A. Lynne Abraham said. He faces seven felony theft and forgery charges, she added.

Newman, 57, took more than $331,000 from the archdiocesan high school and more than $550,000 from his own order of Franciscan friars, according to a grand-jury presentment released yesterday.

Abraham painted a picture of a priest who used drugs and alcohol to sexually abuse several young male students during his years at Archbishop Ryan.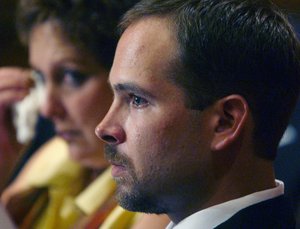 The late Arthur Baselice III (above), who accused the Rev. Charles Newman (top) of abusing him and getting him hooked on drugs.



The school, at Academy Road near Chalfont Drive in the Northeast, is the largest high school in the archdiocese.

It was during the 14 months that Newman served as president of Ryan, between July 2002 and November 2003, that he allegedly stole the $900,000, officials said.

He had been the school's principal for nine years and a teacher for 13 years, Abraham said.

It was between 2002 and 2003, court documents said, that Newman gave a former student, Arthur Baselice III, at least $54,000, which was used to pay Baselice's drug debts.

Baselice, who graduated in 1996, was often seen visiting Newman at the school and at the Franciscan friary.

"He handed envelopes of cash to [Baselice] in front of the school's bookkeeper," Abraham said, amazed at Newman's brazenness.

Newman also had given Baselice cash to buy drugs while Baselice was a junior and senior in high school, under the age of 18, the report said.

The drugs, later identified by prosecutors as cocaine, were for Newman and Baselice to use during the sexual abuse.

After he graduated, Baselice stopped Newman from sexually abusing him, "but he continued to receive cash from Newman, for the purchase of narcotics," the presentment said.

The grand jury also charged that Newman traded in the school's two expensive grand pianos of "exceptional quality" and replaced them with "one upright piano of inferior value and cash." He pocketed the cash, Abraham said.

In a lawsuit, Baselice charged that Newman had introduced him to drugs, which led to his addiction to cocaine, marijuana and alcohol, Baselice' s lawyer said.

"[Newman] put him on the drugs," Assistant District Attorney Charles Gallagher said. "He started him down that path."

Baselice, of Mantua, N.J., died of a drug overdose at age 28 on Nov. 30, 2006, officials said.

The presentment charging Newman is dated Nov. 30, 2007 - one year to the day after Baselice's death.

But Baselice's 2004 lawsuit against the archdiocese, the Franciscan religious order, the high school and church leaders alleging that Newman repeatedly seduced him with drugs while he was a student between 1994 and 1996, was dismissed because the statute of limitations had expired.

Newman was fired in 2003, after the archdiocese said there were "financial irregularities" at the school. He was then sent to a treatment center for pedophilia, Abraham said.

He is living in a retirement home for Franciscan friars in Franklin, Wis., where the order is based.

"If he fails to surrender as soon as possible - and I don't mean after Christmas - then we will seek extradition and bring him back here in handcuffs and shackles," Abraham said.

A man who answered the phone at Franciscan friars of the Assumption Blessed Virgin Mary Province office in Wisconsin yesterday said, when asked about Newman, "At this point, we have no comment."

Later yesterday, Gallagher said he has been in contact with a lawyer who is trying to arrange Newman's surrender "before Tuesday."

Gallagher said the Newman case had not been part of the D.A.'s grand jury that investigated sexual abuse by priests because it had been prompted by suspicions of major thefts. It was while investigating the money trail that the grand jury discovered the alleged sex abuse.

Yesterday, Jay Abramowitch, Baselice's attorney, said his family and other victims' families "are grateful to Mr. Gallagher and D.A. Abraham for all the work they've done."

He said the prosecution of theft charges against Newman was the way to bring Newman to justice now because the courts had denied Baselice's lawsuit.

Abramowitch said he hoped the Legislature would change the laws to eliminate a statue of limitations so adult victims of child sexual abuse can sue no matter how many years have passed since the offense.

Gallagher said anyone who wishes to report abuse by Newman, or anyone else, should call him at 215-686-8718. Donna Farrell, a spokeswoman for the archdiocese, also said that anyone who has been abused by a priest or other clergy figure may call the archdiocese's victim-assistance program at 1-888-800-8780.

Farrell said that Michael McArdle, president of Archbishop Ryan, announced to the school's 2,069 students yesterday the news of the warrant issued for Newman's arrest. *