Priest Is Cleared, Reinstated in N.C.
Del. Man Who Alleges Oblate Abused Him Still Plans Lawsuit

By Beth Miller
News Journal
December 24, 2007

http://www.delawareonline.com/apps/pbcs.dll/article?AID=/20071224/NEWS/712240347/1006/NEWS

The bishop of the Catholic Diocese of Charlotte, N.C., reinstated the Rev. Albert James Gondek as a parish pastor Sunday, saying an investigation had cleared the priest of sexual allegations made by a Delaware man.

Gondek and Charlotte Bishop Peter J. Jugis met with parishioners of Our Lady of the Rosary parish in Lexington, N.C., after the 10:30 Mass. Gondek later was the celebrant at the 250-family parish's 1 p.m. Mass.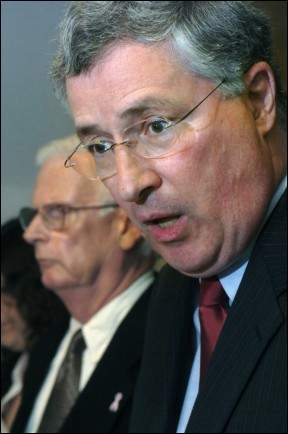 Attorney Tom Neuberger in October calls for the removal of a N.C. priest due to allegations of sexual abuse made by Michael Sowden (left).
Photo by Bob Herbert


"It is a great joy to return Father Al to ministry," Jugis told parishioners. "The Diocese of Charlotte will make every effort to restore Father Gondek's good name and reputation. While this case does not diminish the suffering that sexual abuse causes people in our society, it is proof that the system in our church works to protect everyone."

Gondek was removed from ministry Oct. 12 after the allegations were revealed by Wilmington attorney Thomas S. Neuberger, who expects to file suit on behalf of the alleged victim, Michael Sowden.

Sowden, now 59, said Gondek fondled him while they were swimming at Camp Brisson in Maryland in 1960. Sowden also said he had been molested by the Rev. Francis G. DeLuca, who recently pleaded guilty to similar allegations against a great-nephew during his retirement in Syracuse.

Gondek has denied the allegations. The Oblates of St. Francis de Sales -- the religious order to which Gondek belongs -- say the camp was not opened until 1961 and Gondek was not assigned there until 1962. He was a seminarian at the time the abuse is alleged to have occurred. They also say Gondek cannot swim.

Neuberger said the investigation smacks of "whitewash and cover-up." He also said his client was never interviewed by those investigating the claims.

Gondek's immediate removal from ministry was done according to provisions of the Charter for the Protection of Children and Young People, adopted in 2002 by the U.S. Conference of Catholic Bishops. The charter requires that priests accused of sexual abuse must be removed from ministry while the allegations are examined.

Sowden's allegations were investigated by the Oblates and the Review Board of the Diocese of Charlotte. Both reported their findings to Jugis, who decided to reinstate the priest.

The Oblates referred their investigation to retired Chief Judge Joseph H.H. Kaplan of Baltimore, who they said has "no connection to the OSFS, the Diocese of Charlotte, the Roman Catholic Church or any of the parties involved."

According to the Oblates, Kaplan's investigation included a polygraph examination, performed by former FBI agent and forensic polygrapher Barry D. Colvert. The Oblates said Colvert's report stated that Gondek's answers had a high degree of reliability and were "not indicative of deception."

Kaplan's report to the Wilmington/ Philadelphia Provincial of the Oblates concluded that the allegations were "without basis in fact."

The report pleased the Rev. Joseph G. Morrissey of Wilmington, who is the head of the Oblates' Wilmington/Philadelphia Province, which has about 210 members. It operates several area schools, including Salesianum School and Nativity Prep, both in Wilmington, and Father Judge and Northeast Catholic high schools in Philadelphia.

Oblates also serve in seven dioceses, three archdioceses and 25 parishes, including St. Anthony of Padua in Wilmington.

"At the Oblates, where Father Gondek is a brother about whom each of us cares deeply, we're excited that the findings of Judge Kaplan's investigation combined with the review by Bishop Jugis and the independent panel in Charlotte cleared the way for Father Gondek's return to service in the Lexington parish,' Morrissey said in a prepared statement.

Neuberger, though, said he is "shocked, shocked, shocked" that his client was not interviewed for the investigation.

It is unclear why that did not occur.

David Hains, spokesman for the Diocese of Charlotte, said Neuberger did not return multiple phone calls from Kaplan.

But Neuberger said he was contacted in October by Kaplan, who wanted to set up an interview with Sowden in Baltimore or Wilmington. Neuberger said after talking with the judge, he sent a four-page letter of response.

In the letter, Neuberger asked Kaplan whether he had any connection to the church. It also asked for several conditions -- that the judge verify that Gondek was a seminarian at the time of the alleged abuse and that he was assigned to the camp, that he produce records of the campers during his assignment, that he interview Gondek before interviewing Sowden to see if the priest admitted the allegation, and to demand that Morrissey meet with Kaplan and Gondek and order Gondek to be truthful during questioning.

Neuberger said he was unimpressed by the results of the polygraph test.

"So what? Polygraphs are an unreliable scientific instrument," he said. "Results are not even admissible in court."

Neuberger also said Gondek would not have to be a swimmer to molest a boy under the water. "The truth will come out eventually," he said. "In the meantime, my client warned the people of North Carolina who have children."

Kaplan, reached Sunday, said he was insulted by Neuberger's letter.

"There was nothing covered up," he said. "There was never any whitewash."

Gondek was greeted with an extended standing ovation when he returned Sunday, Hains said.

"It is a tremendous joy for me to return to my friends at Our Lady of the Rosary parish," he said, "and I look forward to finishing my career and my life in Christian service. God tests each of us, sometimes in ways we don't understand. I don't feel that my faith has been tested, but I know I have been tested over these past weeks as a result of these false allegations."

Contact Beth Miller at 324-2784 or bmiller@delawareonline.com