Alumni: Archbishop Ryan Stable Despite Charges against Priest

By Valerie Russ
Philadelphia Daily News
January 2, 2008

http://www.philly.com/dailynews/local/20080102_Alumni__Archbishop_Ryan_stable_despite_charges_against_priest.html

A scheduled New Year's Eve preliminary hearing for the Rev. Charles Newman, the disgraced former Archbishop Ryan High School president accused of stealing $900,000 from the school and his religious order, was postponed Monday until March.

Newman, 57, who had been living in a Franciscan friars' retirement home in Wisconsin in recent years, had no comment for reporters Monday, nor did his lead defense attorney, Frank DeSimone. But members of the Archbishop Ryan High School Alumni Board had plenty to say in a statement released Monday.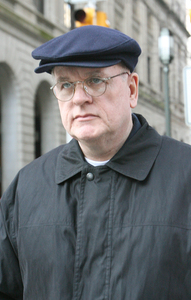 Rev. Charles Newman, accused ex-president of Archbishop Ryan High School, leaves Criminal Justice Center on Monday.
Photo by Jessica Griffin


The board said that Newman's alleged crimes were more than four years old and that the alumni group has complete confidence in the administration of the high school, at Academy Road near Chalfont Drive in the Northeast.

"While the indictment of Father Newman and some of the grand jury findings are new and sensational revelations to the general public, most of the story of what occurred during his brief tenure as President of the school has been a matter of public record since 2003," the statement read.

" . . . It is unfortunate that the actions of one man would create such sensational publicity for the school and for Catholic education. Please be assured that Archbishop Ryan is a great school that continues to thrive in a very competitive age of open enrollment. The parents of over 2,000 students send their sons and daughters from all over the Philadelphia area to experience Ryan."

Newman, whose preliminary hearing has been rescheduled for March 19, served as a teacher, principal and president of Ryan for more than 20 years.

Dave Bontempo, a member of the alumni board, said that the district attorney's charges against Newman are "kind of upsetting" but that the allegations are well-known in the Ryan community.

"The current administration has done a great job in turning the horse around in midstream," said Bontempo, a 1975 Ryan graduate. "All the money is intact and we support the current administration."

The statement noted that Newman's order, the BVM Province of the Franciscan Friars, "has restored all funds" that Newman is accused of stealing from the school.

The grand-jury presentment accused Newman of stealing more than $331,000 from Ryan and more than $550,000 from the Franciscan friars.

The alumni board, which serves the school's 32,000-plus graduates, also wanted alumni to know that "the school is fiscally sound and that all funds that were donated to the school or earned by grant have been properly used for its betterment."

"Alumni funds were never compromised and are being used for the work they were intended," the statement read.

"The Archbishop Ryan Alumni Board is proud of our school, fully endorses the administration and faculty and looks forward to an exciting future." *

Contact: russv@phillynews.com