Priest Charged with Lying about Mob Ties

By Brad Bumsted
Pittsburgh Tribune-Review
January 3, 2008

http://www.pittsburghlive.com/x/pittsburghtrib/news/cityregion/s_545619.html

HARRISBURG -- A Catholic priest, wearing a Roman collar and handcuffs, was arraigned Wednesday on a charge of lying to a grand jury about his alleged relationship with a deceased mob boss.

The Rev. Joseph Sica, an adviser to Poconos casino owner Louis DeNaples, was arrested outside his Scranton home and charged with perjury. Dauphin County Judge Todd A. Hoover said Sica wasn't a flight risk and released him on $20,000 bail, secured by his signature.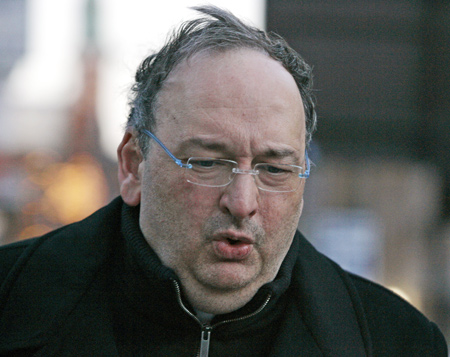 The Rev. Joseph F. Sica is accused of lying to a grand jury about his relationship with the late Russell Bufalino, an organized crime boss who served lengthy prison terms in the 1970s and '80s and died in the 1990s. Sica is an adviser to Louis DeNaples, who owns the Mount Airy Casino Resort in northeastern Pennsylvania.
Photo by AP


A grand jury presentment alleges Sica lied about the extent of his relationship with Russell Bufalino, the late organized crime boss in Northeastern Pennsylvania.

"These are merely allegations at this point," said Robert Daniels, one of Sica's lawyers.

Sica is the first person charged as a result of a grand jury investigation into whether DeNaples misled the state Gaming Control Board about having mob ties. His spokesman, Kevin Feeley, has denied any connection between DeNaples and organized crime.

Bill Genello, a spokesman for the Diocese of Scranton, called Sica's arrest a "deeply distressing development," and said the diocese granted Sica's request for a leave of absence. Sica, who lives at a church rectory, will not publicly celebrate Mass while he attends to his legal problems, Genello said in a statement.

DeNaples of Scranton was awarded a slot machine license in December 2006 for the Mount Airy resort in the Poconos. His casino opened in October.

Described as a "longtime friend" of DeNaples, Sica has accompanied him to public events including gambling board hearings and the ribbon-cutting for the casino.

First Assistant District Attorney Fran Chardo told the court that Sica called DeNaples on a cell phone while being transported from Scranton to Harrisburg for the hearing. A state trooper overheard DeNaples allegedly tell Sica, "Don't say anything. We'll take care of it." Sica then allegedly threatened the trooper, Chardo said.

Chardo said it was not a physical threat, but apparently involved some type of veiled threat to reveal "secrets" about a trooper Sica claimed to have learned by working with a security person at DeNaples' casino.

The judge said he was "concerned about the statements that were made."

Chardo told the court Sica owns a handgun and had $1,000 cash on him when arrested.

"He owns a gun, which strikes me as odd," Chardo told the judge.

Asked outside the courtroom whether DeNaples likely will be charged, Chardo said, "We haven't foreclosed the possibility of other charges."

Asked whether Sica was being accused of lying to protect DeNaples, Chardo said, "I think that is what is being portrayed in the presentment."

Daniels did not address Chardo's allegations about the phone call to DeNaples or the reported threat to a trooper. Feeley could not be reached for comment.

Sica's other lawyer, Jane Penny, hustled him away after the hearing, and he refused to talk to reporters and television crews who followed him from the courthouse.

Daniels told the court that if there is a conviction for perjury, it is a crime for which "probation is in the standard range of sentencing." He said Sica has done "a lot of good deeds in the community" and that he has a sister who relies on him for care.

Arguing against bail, Daniels said, "I'm sure it is humiliating enough to be dragged here in handcuffs."

The grand jury report said Sica's "relationship to known criminals was material to whether DeNaples had a relationship with the same criminals."

Bufalino of Kingston served lengthy prison sentences in the 1970s and '80s, the grand jury said. Chardo said the charges against Bufalino involved conspiracy to commit murder and racketeering.

Sica testified he met Bufalino once, by chance, in a hospital more than two decades ago. He denied having any sort of relationship with Bufalino or knowing him well.

But the grand jury said evidence showed Sica had a "substantial relationship" with Bufalino.

Bufalino attended a party to celebrate Sica's ordination, and a photograph was taken of Sica with Bufalino and his wife, Carrie Bufalino, the grand jury said. "Words cannot express my thankfulness to both of you. You have done a lot for me and mean a lot to me," Sica allegedly wrote to the Bufalinos in a note accompanying the picture.

Another photo was presented to the grand jury, showing Sica, Russell Bufalino and his nephew, Angelo Bufalino, at a barbecue. In another picture, Sica was seated at a table with the Bufalinos and William D'Elia, who allegedly heads the Bufalino crime family.

The grand jury presentment hinted at possible cooperation from D'Elia, saying "D'Elia was aware of a relationship between Sica and Bufalino."

The grand jury said Sica in 1982 wrote to Ginny Thornburgh, wife of former Gov. Dick Thornburgh, on behalf of his" friend," Russell Bufalino, after Bufalino was sentenced to prison. Sica claimed federal agents framed Bufalino.

"It is all a conspiracy against a man who has lived a life of honesty, generosity, justice and belief in the American system," said Sica's letter, written on letterhead of the Church of the Annunciation in Williamsport, where Sica was an assistant pastor.

Brad Bumsted can be reached at bbumsted@tribweb.com or 717-787-1405.