Priest Gets 5 Years Probation
Registration As Sex Offender Required

By Peter Smith
The Courier-Journal
January 12, 2008

http://www.courier-journal.com/apps/pbcs.dll/article?AID=/20080112/NEWS01/801120407/1008/NEWS01

A judge "reluctantly" ordered former Roman Catholic priest Daniel C. Clark to serve probation yesterday for the rest of a 10-year sentence on sexual-abuse charges after approving a plea agreement reached with prosecutors in November.

The agreement, which will also require Clark to register as a sex offender in Kentucky, followed his plea on two counts of first-degree sexual abuse involving two Bullitt County boys.

RELATED VIDEO: Abusive former priest sentenced

Bullitt Circuit Judge Rodney Burress' approval of the sentence wraps up a legal case that was reopened in May when the Kentucky Supreme Court overturned Clark's original conviction in 2003.

Clark, 59, entered an Alford plea in the case in November. Under an Alford plea, the defendant doesn't admit committing the crime but acknowledges there is sufficient evidence for a conviction.

Clark had already served nearly half of his 10-year sentence from his 2003 conviction before the Supreme Court overturned that verdict, citing errors the trial judge made in instructions to the jury and in allowing testimony from a man who said he was victimized by Clark in the 1980s.

The current case involved Clark's fondling of two Bullitt County boys in a family he befriended between 1999 and May 2002.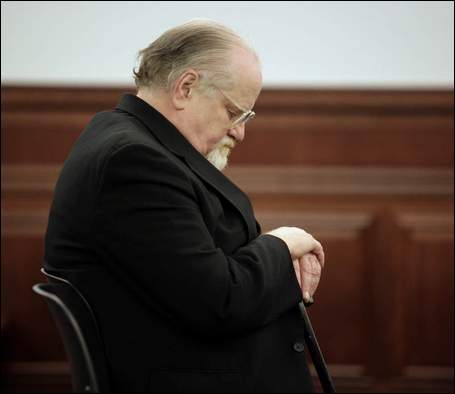 Daniel C. Clark sat with his head bowed and eyes closed before his sentencing. The former priest was sentenced in Bullitt Circuit Court after entering an Alford plea in a sex abuse case.
Photo by Pam Spaulding


Both victims said they agreed to the plea, quietly answering the judge's questions when he asked if they understood that the agreement would allow Clark to serve the rest of his sentence on probation.

Burress said he would "reluctantly accept the recommendation" of prosecutors who, he noted, knew the circumstances of the case and agreed it was the best resolution.

"Many times we have victims who go through the system and continue to be victimized through the situation, and that is not the intention of the judicial system," Burress said.

Assistant Commonwealth's Attorney Michael Ferguson said the victims "already bravely stood up and testified about being victimized by this defendant" in 2003.

They didn't want to go through that ordeal again, Ferguson said, so "we fashioned this sentence that was acceptable first to them."

The plea agreement retains the 10-year sentence but allows Clark to serve out the rest of it on probation.

That's only if he meets various conditions, such as receiving treatment for sex offenders and substance-abuse addictions as directed by a probation officer, avoiding contact with the victims and not living, working or volunteering anywhere that would put him in contact with males under age 18.

Clark, now living in Indiana, is requesting that his probation be supervised there, a move that would require Kentucky probation officials' approval. Indiana law requires those convicted of sexual abuse to register as a sex offender in that state as well.

MORE PHOTOS: Daniel C. Clark sentenced

A pre-sentencing report said Clark was at a "low" risk of re-offending.

Prosecutors have noted that it would have been a challenge to persuade the court to require much additional prison time for Clark even if they obtained new convictions.

The prosecution would have had to convince a jury of Clark's guilt in both cases with less testimony than was available in the original trial -- and then persuade the judge to impose a similarly severe sentence.

Several victims of sexual abuse by other Roman Catholic priests and their advocates sat in a row watching the proceedings in a show of support for the victims.

"The victims need to do what is most beneficial to them in their healing process," said the Rev. Gary Hayes, a Roman Catholic priest from Daviess County, Ky., who said he was abused by two priests when he was growing up in New Jersey.

"A trial could be extremely devastating and revictimizing for the victims, and I certainly understand they would not want to go through all that," added Hayes, who said he has spoken with one of the victims. "So if this allows them to have some sense of peace and closure and it satisfies them, then that's what they need to do."

Vince Grenough of the Louisville-area chapter of Voice of the Faithful, a Catholic lay group that supports victims, said he "was disappointed that Dan Clark could not bring himself to accept responsibility for what he had done. That would have been a wonderful healing step for the victims as well as for himself."

Though Clark was convicted of sexual abuse and sodomy in 1988 and was put on some restrictions in his ministry, he remained a priest until 2004, when he was removed by the Vatican after it approved stricter rules on abusers in the priesthood.

After his 2003 conviction was overturned, Clark was not required to register his whereabouts because his 1988 plea predated the establishment of Kentucky's sex-offender registry. The latest plea changes that.

Reporter Peter Smith can be reached at (502) 582-4469 or by e-mail:psmith@courier-journal.com