Attorneys File to Free Priest Charged with Nun's Murder
Petition Hints Deceased Cleric Had Role in Her Killing

By David Yonke
Toledo Blade
January 16, 2008

http://www.toledoblade.com/apps/pbcs.dll/article?AID=/20080116/NEWS02/801160393

Attorneys for Gerald Robinson have filed a court petition seeking to overturn the Toledo priest's 2006 murder conviction and raising suspicions about another Catholic cleric, now deceased, who worked with Robinson as a chaplain at the hospital where the crime occurred in 1980.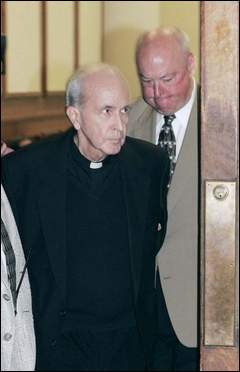 Rev. Gerald Robinson, seen here with court security officer Bob Dietrch, was convicted in 2006 for the 1980 murder of Sister Margaret Ann Pahl. His defense is asking the court to overturn his conviction. Robinson is serving a sentence of 15 years to life in the Hocking Correctional Facility. His defense is also charging that the state withheld key evidence at the trial.



The petition, filed in Lucas County Common Pleas Court, quotes Sister Dorothy Marie Balabuch, a Sylvania Franciscan nun, as saying she worked as a housekeeper for the Rev. Jerome Swiatecki and described the priest as an "immoral man" with "a very bad temper" and a fondness for knives and "hard-core pornography."

The court document also quotes a security guard, hired two days after the murder at the former Mercy Hospital, saying that "in my youthful zeal and my desire to catch the perpetrator, I accused Father Swiatecki" of murdering Sister Margaret Ann Pahl.

David Cone said the priest replied, "So what if I did? Who do you think you are? Look around you. You are a nobody. Nobody is going to believe you."

Father Swiatecki, a Toledo native whose hobby was wood carving, was ordained a priest in 1941 and died in 1996 at age 83.


Sally Oberski, a spokesman for the diocese, said yesterday all other priests ordained in Toledo in 1941 are deceased, and she did not know any clerics who were friends with Father Swiatecki. Therefore, she said no one could comment about him.

Retired Deputy Chief Ray

Vetter said he recalls Father Swiatecki as having had "an airtight alibi." Police reports from 1980 said Father Swiatecki was eating breakfast with several nuns in the hospital's dining room at the time of the murder.

Robinson, now 69, was found guilty May 11, 2006, and is serving a 15-years-to-life sentence at Hocking Correctional Facility in southern Ohio.

Sister Margaret Ann, 71, had been strangled to the verge of death, then stabbed 31 times in the sacristy of the Catholic hospital on Holy Saturday, 1980.

Her body was found with her undergarments pulled down around an ankle and her habit pulled up to her chest.

John Donahue, who with attorney Richard Kerger is handling Robinson's appeal, said yesterday the documents attached to the 60-page petition are "very new."

Filed this month and assigned to Judge Gene Zmuda, the document claims Robinson's four-person defense team failed to do its job properly during the three-week murder trial in April and May, 2006, and Robinson's attorneys overlooked, ignored, or were denied key evidence that would have exonerated him.

They said Sister Dorothy Marie had twice called the office of John Thebes, one of Robinson's attorneys, before the 2006 trial began saying she had important information related to case, but Mr. Thebes never returned her call.

Mr. Cone said in the filing he met with Mr. Thebes and Robinson's three other attorneys - Alan Konop, Nicole Khoury, and John Callahan - before the trial but was never called to testify.

Mr. Konop and Mr. Thebes both said they had no comment because the appeal and petition are pending in the case.

Dean Mandros, chief of the criminal division of the Lucas County prosecutor's office, said his office will file "a timely response," and "much of what they've raised is identical to issues raised on their direct appeal."

He added, "We still remain confident in the jury's verdict."

Mr. Donahue and Mr. Kerger in August appealed the case to Ohio's 6th District Court of Appeals.

The state filed its response in December and Mr. Donahue said he hopes the appellate court will issue a ruling by late spring.

In addition to suggesting that Father Swiatecki may have killed Sister Margaret Ann Pahl, the latest filing asserts that the state withheld key evidence from Robinson's defense team.

It includes, for example, copies of police reports from 1980 in which several witnesses said they saw a "mysterious black male" in the hospital's hallways on the morning of the murder.

The documents were not among the 410 pieces of paper given to Robinson's defense team by the state, Mr. Donahue said, and he questioned why they were a part of the initial 1980 investigation but not available for the defense in 2004.

"These reports had to be in the possession of the State of Ohio," he said. "They had to have had them, the question is whether they had them in 2004. … Why they weren't disclosed, I don't know."

The petition also claims many important witnesses who could have testified on Robinson's behalf died in the 24 years between the murder and the priest's indictment, thus denying Robinson a fair trial.

One such deceased witness was Dr. Renate Fazekas, former Lucas County forensic pathologist who performed the autopsy on Sister Margaret Ann on April 5, 1980, and said the nun likely had been strangled by a man with "large hands."

During the trial, Father Swiatecki was described as having been about 6 feet tall and 250 pounds, while Robinson was described as 5 feet, 7 inches and 160 pounds in 1980.

Mr. Donahue twice has requested and been denied motions for Robinson to be released from prison on bond, pending the outcome of his appeal.

Though he had not seen his client in a couple of months, Mr. Donahue said Robinson was "apparently" doing well. He said the priest, who was hospitalized for two weeks in December, 2006, for unspecified kidney ailments, had undergone surgery and is recovered from the illness.

"All things considered, my information is that he is in good health and he's also in good spirits," Mr. Donahue said. "He's a very religious man. He doesn't question God's will."

Contact David Yonke at: dyonke@theblade.com or 419-724-6154.