Pastor Innocent on All Counts
Jurors Find Charles Dickerson Not Guilty on Three Charges Each of Rape and Molestation.

By Chris Collins
Fresno Bee
January 18, 2008

http://www.fresnobee.com/263/story/334558.html

It was like a church revival -- in a courtroom.

A dozen members of southwest Fresno's Pearly Grove Baptist Church clapped and cheered, hugged and cried. "Oh, Jesus! Oh, Jesus!" one woman kept shouting.

Another member stomped on the ground yelling, "Thank you, Lord!"

Their pastor, Charles Dickerson, 37, had been found not guilty on three counts of molestation and three counts of rape.

He had been accused of sexually assaulting two girls who are relatives over a period of several years.

After less than a day of deliberations, a jury cleared Dickerson's name Friday morning. Then the celebration began.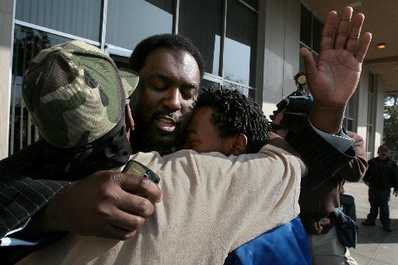 Pastor Charles Dickerson raises his hand in prayer Friday morning outside Fresno County Courthouse as he is embraced by a supporter, left, and his son, D'Andre Dickerson, right, after he was found not guilty on all charges in his rape and molestation case.
Photo by John Walker


Dickerson, hugging and shaking hands with church members, slowly made his way out of Department 50 in Fresno County Superior Court as deputies escorted the crowd out of the courtroom. But that didn't stop church members from yelling "God is a good God!" and others responding, "Yes, he is good!"

Outside the courtroom, Dickerson thanked his supporters and God.

"I've experienced every emotion possible," he said, hugging his 17-year-old son, D'Andre. "But God has really kept me in a place of hope and faith."

Jurors exited the courthouse without commenting.

Dickerson, the California state overseer for Full Gospel Baptist Church Fellowship, has been a vocal leader in southwest Fresno's black community since he moved there with his family in 2001.

In March, one of the girls who accused Dickerson testified in a preliminary hearing that when she was younger than 10, Dickerson started molesting her. Later, the girl said, after she became pregnant by another man, Dickerson raped her in his bathroom. But two months ago, both girls recanted and testified that the abuse never occurred.

The Bee has a policy of not identifying alleged victims of sexual abuse.

Prosecutor Art Corona, however, said recantations are not uncommon in sexual abuse cases even when the allegations are true.

He said the girls, who eventually returned to the church after making their accusations in 2006, were likely pressured into recanting.

During his closing arguments Thursday, Corona asked rhetorically: "When they kept going to church and were surrounded by a congregation that supports the pastor, surrounded by prayer meetings, surrounded by friends who know about all of this -- what's the easiest thing to do to be allowed back into the community?"

But defense attorney Glenn LoStracco said the accusations have always been false and were made up by Dickerson's now-estranged wife and the two girls because they were unhappy with Dickerson's strict rules.

During closing arguments, LoStracco said that before the girls recanted, they gave inconsistent stories about the alleged molestations.

He also criticized prosecutors for not dropping the case after the girls recanted.

"Just because they're stubborn doesn't mean he's guilty," LoStracco said.

A third alleged victim, identified only as "James R.," testified that he was molested by Dickerson more than seven years ago while Dickerson was a pastor in Washington state.

No charges were filed in the case.

LoStracco suggested that James, who was 16 at the time, had a grudge against Dickerson because he was not allowed to participate in church activities. James denied having any hard feelings toward Dickerson before the alleged molestation.

Dickerson was not charged with molesting James, but Corona told jurors they could use the alleged incident as evidence that Dickerson had a history of molesting kids.

The reporter can be reached at ccollins@fresnobee.com or (559) 441-6412.