Group Works for Justice for Victims of Abuse

By Joe Rossiter
Detroit Free Press
January 18, 2008

http://www.freep.com/apps/pbcs.dll/article?AID=/20080118/NEWS01/801180401/1003

[With photos of presentation. See also the documents relating to Maida , which were filed with the complaint in the John Doe 119 case .]

Members of the Survivors Network of those Abused by Priests said that Detroit Cardinal Adam Maida, when a bishop, allowed a priest to move to another parish, despite knowing of allegations of sexual misconduct with children.

Three members of SNAP gathered outside the downtown offices of the Archdiocese of Detroit on Thursday to present a letter of protest regarding the allegations against Maida and how he handled the Rev. John Feeney while serving as a bishop in Wisconsin in the 1980s.

Peter Isely, Midwest director of SNAP, said that while Maida was a bishop in Green Bay, he allowed Feeney, now serving a 15-year prison term in Wisconsin, to move to St. Francis DeSales parish in Las Vegas, despite repeated and confirmed allegations that the priest had molested children.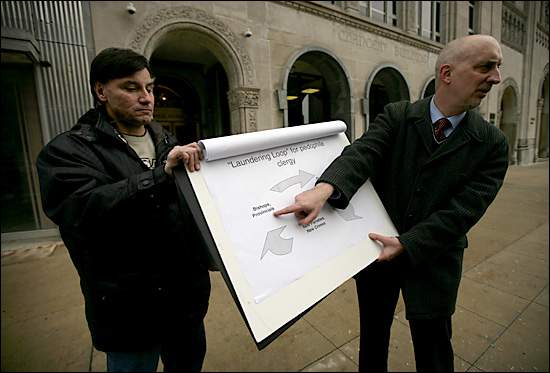 At the Archdiocese of Detroit on Thursday, Daniel Solano of Detroit, left, and Peter Isely of Milwaukee explain why they believe Cardinal Adam Maida, while serving in Wisconsin, allowed a priest accused of sexual misconduct with kids to move to another parish.
Photo by William Archie


Feeney was convicted of child sexual assault in Wisconsin in 2004. A Nevada man filed a lawsuit this week against Feeney and the Las Vegas archdiocese, claiming Feeney molested him in 1984 and 1985.

"We are requesting three things of Cardinal Maida," Isely said. "We want him to come clean about why he let a pedophile priest move to a new state and work around unsuspecting families. Secondly, we want a public apology regarding that priest's conduct and finally, we want the archdiocese to reach out to help those who were abused by the priest."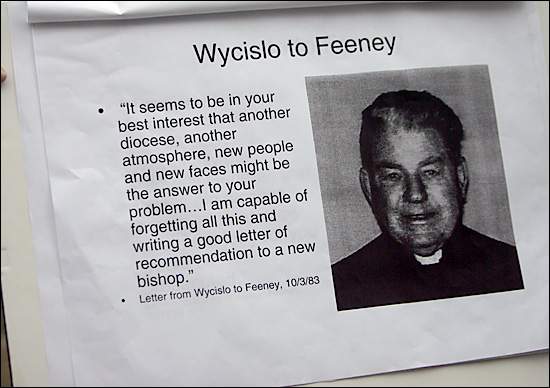 Maida's predecessor in Wisconsin, Bishop Aloysius Wycislo, was willing to overlook the allegations against the Rev. John Feeney and assign him to a new parish in Las Vegas.
Photo by William Archie


Ned McGrath, director of communications for the Archdiocese of Detroit, responded to the claims in a statement, saying: "We're always saddened when we hear of a case or even a suggestion of abuse involving Catholic clergy.

"Because the matters raised in news conferences today might be headed for litigation, we cannot comment further at this time."

In October 1983, Pope John Paul II named Maida to serve as Green Bay's bishop. He was named archbishop of Detroit in 1990.

Contact JOE ROSSITER at jrossiter@freepress.com or 313-222-6594.