As Bishop Announces Closures, Catholic High Schools Plan to Expand

By Erica Bryant
Rochester Democrat and Chronicle
January 19, 2008

http://www.democratandchronicle.com/apps/pbcs.dll/article?AID=/20080119/NEWS01/801190326/1002/NEWS

[Includes related article , map, video of Bishop Clark's statement, Clark's letter, and many comments from readers.]

More than half of Monroe County's diocese-run Catholic schools will close in June because of severe declines in enrollment and financial woes that Bishop Matthew Clark called "crippling."

Thirteen schools — 12 elementary and one junior high — will close, affecting 1,868 students in kindergarten through grade 8 and close to 200 staff members.

Clark said during a news conference Friday that the closures are necessary to sustain the remaining 11 elementary and middle schools the Roman Catholic Diocese of Rochester operates in the county. In addition, families who are registered with a parish will get tuition breaks. The annual per-student tuition will be reduced from $4,050 to $2,950, along with a tuition cap of $7,300.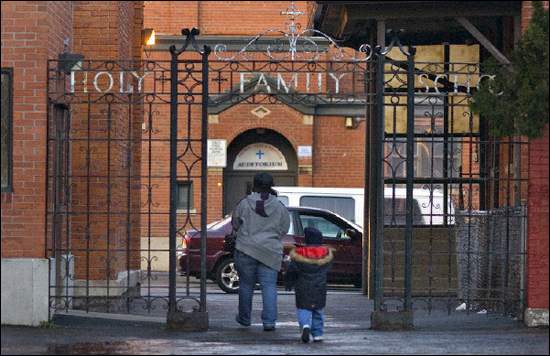 Holy Family School, 899 Jay St., is one of the schools slated to close in June. Eleven Catholic schools in Monroe County will remain open.
Photo by Will Yurman


After the closings were announced, independent Catholic high schools The Aquinas Institute and Bishop Kearney unveiled plans to accommodate some of the displaced older students by adding junior highs. Our Lady of Mercy High School officials said they were looking into adding a sixth grade to the all-girls school that now serves grades 7 to 12.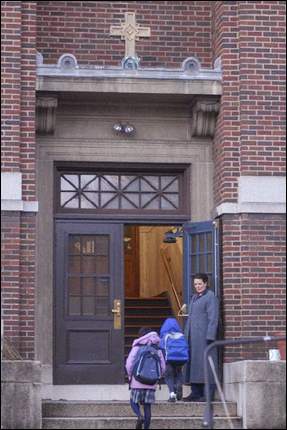 Leslie Kofron of Spencerport, part-time art teacher at St. Boniface School on Whalin Street, welcomes students Thursday.
Photo by Tina Yee


The closings will leave one diocesan elementary school in the city — Cathedral School at Holy Rosary on Lexington Avenue. On the county's west side, the elementary schools that will remain open are St. Pius the Tenth in Chili and Mother of Sorrows and St. Lawrence, both in Greece.

On the east side, schools will continue to operate in Brighton, Penfield, Pittsford and Webster and two in Irondequoit. Siena Catholic Academy, a junior high in Brighton, also will remain open.


"I am deeply mindful, as I am sure you are, that children will be hurt," Clark said. "That pains me."

Parents of children affected by the closings reacted with sadness and anger.

Kathy Farrell of Greece was heartbroken to learn that Catherine McAuley School in Greece will close.

"Now I have to tell my children," she said, her voice breaking.

Her son, Ryan, and daughter, Rachel, both attend McAuley. They all prayed Friday morning before school for a positive outcome.

She called the bishop's move short-sighted. "I really think this is the death knell for the Catholic Church in Rochester."

Financial woes

The Monroe County diocesan school system faces a deficit of $1.3 million this school year. Lisa Passero, the diocesan chief financial officer, said that keeping all schools open with similar enrollment another year would mean a deficit of more than $5 million. Rising costs and falling enrollment have squeezed the diocese for the past decade. In 1997, there were 8,857 students in diocesan schools across 12 counties. Today there are about 4,800.

"The problem was not going to go away," said Clark. "We have before us intractable financial demands."

Clark said that enrollment has dropped steadily with each tuition increase and that lowering tuition to make a Catholic education more affordable was imperative. In addition to the reduced tuition for next year, families whose children are in schools that close will receive a one-time credit of $500 per family if they enroll in another diocesan school.

Clark said that the schools were chosen for closure based on the condition of the buildings and the current enrollment, among other factors. All of the schools slated to close currently have fewer than 200 students.

"This was not a judgment of the quality of one school against the next," Clark said.

The closures were recommended by a task force that Clark commissioned to suggest ways to cut operating costs and boost enrollment. Passero said she did not know how much the diocese would save by closing the 13 schools, but estimated that it would be "double-digit millions."

Decisions about the future of the closed school buildings will be made on a case-by-case basis.

Among those on the task force was former Diocesan Schools Superintendant Sister Elaine Poitras, who resigned her position earlier this month, shortly after the recommendations were given to the bishop. She said the reason for her resignation was personal and she sympathized with those who were losing their schools. "My heart is really broken for all of them," she said.

Poitras hopes that affected families will continue to support the remaining schools.

"While some Catholic schools have gone away, Catholic education has not gone away," she said.

Parents will be given more time to make those decisions because registration for the 2008-09 school year has been extended to March 19 for currently enrolled students.

History shows that when the diocese has closed a school, about 35 percent of affected students enroll at other diocesan schools. The diocese estimates that between 46 percent and 48 percent of displaced students will re-enroll in Catholic schools after this round of closings. Officials also hope that the lower tuition will attract additional students.

Displaced students

Schools across Monroe County are preparing to accommodate the students whose schools will be shuttered in June.

The addition of grades 7 and 8 to Aquinas, at 1127 Dewey Ave., could accommodate the 120 students who now attend All Saints Catholic Academy, a junior high school in Gates that is slated to close. Aquinas has room for up to 150.

Aquinas President Michael Daley said the new junior high would be in one wing of the school and that he anticipated hiring eight to 10 new teachers, depending on enrollment.

"In the long term, it's good for Catholic education," Daley said of the restructuring. "It's good for Aquinas to have a junior high. It's exciting."

The junior high expansion at Bishop Kearney will be the second time in recent memory that seventh- and eighth-graders will be on the Irondequoit campus. Bishop Hogan Middle School had operated there before closing in 2004. Principal Julie Locey said that the school has space for up to 200 students.

Neither Kearney nor Aquinas has set tuition for those incoming students.

Tuition now is $6,900 at Kearney. President and CEO Donna Dedee said tuition for the seventh and eighth grade would be lower than that and "affordable and competitive for the market."

The three independently run Nazareth Schools in the city, which educate students in kindergarten through grade 12, will hold a series of open houses for the displaced.

An announcement said "Nazareth Schools supports the values and mission of Catholic education and is prepared to open its doors to as many students as possible."

Our Lady of Mercy High School in Brighton is considering a different option — adding a sixth grade.

In a statement, Mercy President Suzanne Johnston said the school, at 1437 Blossom Road, has "the resources to accommodate sixth-, seventh- and eighth-graders in our middle school program."

Clark said that Kearney and Aquinas had expressed interest in opening middle schools for some years, but he asked them to hold off to avoid competition with diocesan schools. In light of the planned closures, he contacted school leaders and encouraged them to open middle schools.

Last year, Archangel School, an independent K-12 Catholic school in Irondequoit, moved to a larger building in anticipation of the closure of more diocesan schools. The school was founded 16 years ago by a group of people who were upset with school closings.

"We felt (Catholic education) was the prime reason for the Catholic Church existing," said principal Michael Macaluso. "The school is necessary to evangelize and bring youngsters into the church."

He and others have been highly critical of a diocesan decision to spend $9 million renovating Sacred Heart Cathedral, while closing Catholic schools.

City schools are also working on a plan to help students from the schools that are closing.

"We have already reached out to the Bishop's office and will work with the diocese to ensure that not a single day of instruction is lost for these students," Superintendent Jean-Claude Brizard said in a statement. "It is not a matter of 'our students' and 'their students,' but rather a commitment to providing a nurturing environment and a quality education for all of our city's children."

Friday's announcement dealt with Monroe County schools, but Clark said Holy Family School in Dansville, Livingston County, and St. Patrick's School in Owego, Tioga County, are also "at risk."

Clark did not rule out closing more Monroe County Catholic schools. "I wish I could say that having done this, we won't change for 50 years," he said. "I can't say that."

But keeping the school system solvent will "work to ensure our overall Catholic School program will not just survive but thrive in the future," Clark said in a letter sent home to parents.

Contact: EBRYANT@DemocratandChronicle.com