Diocese Expresses Sorrow for Abuse
Diocese of Wilmington Settles Case for $450,000

By Beth Miller
The News Journal
January 19, 2008

http://www.delawareonline.com/apps/pbcs.dll/article?AID=/20080119/NEWS/801190333/1006/NEWS

[Includes link to the News Journal's feature The Hidden Abuse, which provides in-depth coverage, links to additional articles, video profiles of survivors, and diocesan documents.]

DOVER -- The Catholic Diocese of Wilmington has settled a sexual-abuse lawsuit brought by Navy Cmdr. Kenneth J. Whitwell for $450,000, a sum believed to be about four times more than any previous settlement the diocese has made with abuse victims.

Whitwell had sued the diocese, Archmere Academy, the Norbertine religious order and its priest, the Rev. Edward Smith, alleging that Whitwell was the victim of almost three years of rape by Smith while Smith was working at Archmere in Claymont in the 1980s.

The settlement was announced Friday morning to Superior Court Judge Robert B. Young, who is handling the lawsuit.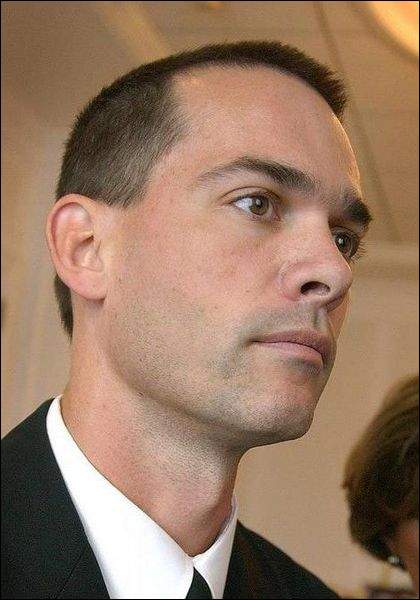 Navy Cmdr. Kenneth J. Whitwell said he was a victim of almost three years of rape in the 1980s.
Photo by Gary Emeigh


With it, the diocese is dismissed from the suit. Whitwell's attorneys said his case against Archmere, Smith and the Norbertines will continue, with a trial set for January 2009.

Smith is not a diocesan priest. He is a priest with the Norbertine religious order, which answers directly to the pope. But each priest must be granted "faculties" by the bishop of a diocese to perform priestly duties within that diocese.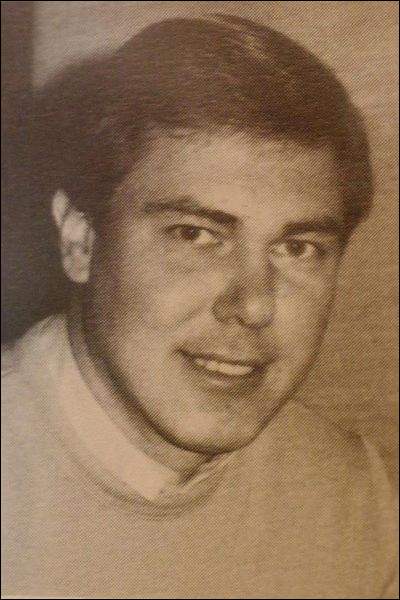 The Rev. Edward Smith is a priest with the Norbertine religious order, which answers to the pope.
Photo by Gary Emeigh


Diocese officials expressed sorrow for the abuse Whitwell suffered and for the suffering of his parents.

"We are acknowledging that he is a victim of clerical sexual abuse, for which we are deeply sorry," said Tony Flynn, attorney for the diocese. "We are recognizing our moral obligation to this victim."

Whitwell said he was grateful the diocese and Bishop Michael A. Saltarelli decided to settle the case and acknowledge his suffering.

"I hope and pray that the bishop's actions offer some comfort and healing to others in Delaware whose lives and faith have been affected by these horrible crimes," he said.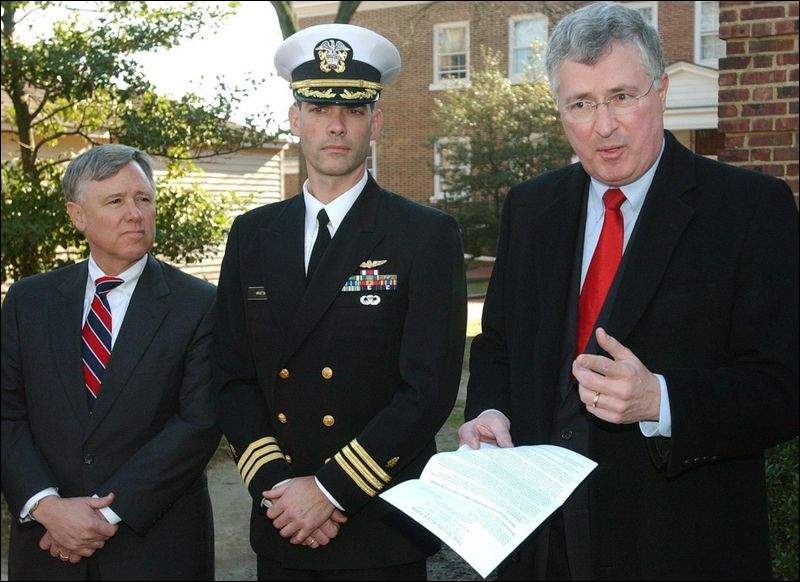 Navy Cmdr. Kenneth Whitwell is flanked by his attorneys, Thomas Crumplar (left) and Thomas Neuberger, outside the Kent County Court House on Friday. Whitwell's case against Archmere Academy, the Norbertine religious order and its priest, the Rev. Edward Smith, continues, with a January 2009 trial date set.
Photo by Gary Emeigh


Flynn said the diocese is trying to take a different approach to such cases.

"Even though he is a litigant, Ken Whitwell is a victim of a Catholic priest," Flynn said. "We are trying to still act like a church. The judicial process and all its rules makes it hard, but we have worked very diligently."

Whitwell's attorney, Thomas S. Neuberger, said he believes the diocese's effort is genuine. He said he is "guardedly optimistic" that the diocese will take a similar approach to other pending cases in which it is named as a defendant.

"Since this case was filed in August 2007, the diocese and Bishop Michael A. Saltarelli made it clear that they did not plan to follow the scorched-earth, blame-the-victim policy taken by other dioceses and religious orders across the country when confronted with a priest who raped and sexually abused young children entrusted to their care. Today's settlement is evidence of that fact," Neuberger said.

The settlement money will be drawn from insurance and diocesan funds, said Robert G. Krebs, spokesman for the Diocese of Wilmington, which includes all of Delaware and the Eastern Shore of Maryland, home to about 220,000 Catholics.

Incidents occurred in Vt.

The Delaware Superior Court case is the second suit filed by Whitwell. The first was filed in U.S. District Court, where Judge Sue Robinson dismissed all of the defendants but Smith, because the allegations were limited to incidents that occurred in Vermont, which has a longer statute of limitations.

Incidents that related to the Delaware institutions were barred by the state's two-year civil statute of limitations in place at the time.

Smith never responded to the federal case and was found in default. A jury last spring awarded Whitwell $6 million in compensatory damages and $35 million in punitive damages in the uncontested case against Smith. Neuberger said Whitwell has recovered about $20,000 to $25,000 of that money to date.

The federal case now is closed, but Whitwell filed suit in Superior Court in August, a month after Delaware's Child Victims Act became law. That law eliminated the civil statute of limitations for child sexual-abuse cases and allowed a two-year period during which previously time-barred suits could be filed.

New statute challenged

Also on Friday, Young heard Norbertine attorneys challenge the constitutionality of the new law, saying that reviving previously barred claims is a violation of the civil due-process clause under Delaware's constitution.

It is new territory in Delaware law, and the same challenges are pending in a federal case filed in July by Robert Quill of Florida, who alleges years of abuse by the Rev. Francis G. DeLuca, a diocesan priest. Robinson said she will consider those arguments, which relate to the U.S. Constitution, later this year.

Bill Kelleher, attorney for the Norbertines, said other states have struck down laws reviving civil cases that previously were barred by the statute of limitations. Statutes of limitations are designed to protect a defendant's right to a fair trial, providing a time frame during which records, witnesses and memories could be found and relied upon.

Stephen Neuberger, representing Whitwell, countered that Delaware's civil due-process clause is essentially the same as the U.S. Constitution's and that the U.S. Supreme Court has upheld laws that have revived expired civil claims. And, he said, the defendants have produced voluminous records already, proving that many such records still exist.

The state Attorney General's Office has filed briefs explaining its view that the law is constitutional.

Young also heard from Mark Reardon, Archmere's attorney, who -- while acknowledging the horror of Whitwell's suffering -- argued that the school should not be subjected to a second suit because a decision already had been rendered in a separate case.

Allegations of rape

Whitwell, a 1985 graduate of Archmere, has alleged that Smith raped him more than 230 times during a 33-month period. In a deposition taken in November for the Superior Court case, Smith declined to answer scores of questions related to the alleged abuses and specifics of his relationship with Whitwell and Whitwell's family, invoking his Fifth Amendment protections against self-incrimination.

But Norbertine and Archmere officials -- including Archmere headmaster Timothy McLaughlin and dean of students James Collins -- have acknowledged in sworn depositions that they knew Smith had been removed as principal of Bishop Neumann High School in the Archdiocese of Philadelphia because of allegations of sexual misconduct with boys there. After his removal from the school, they assigned him to duty in a Salisbury, Md., parish for a year and then to Archmere in 1982. Smith taught religion, English and served as Archmere's campus minister until he left the school in 1984.

Contact Beth Miller at bmiller@delawareonline.com or 324-2784.