Two Judges Share How They Guided Church Case
Diocese Agreed to Pay $198 Million Settlement

By Sandi Dolbee
San Diego Union-Tribune
January 29, 2008

http://www.signonsandiego.com/news/metro/20080129-9999-1n29judges.html

She pushed in the courtroom. He coaxed behind closed doors. She set deadlines. He crafted bridges.

Then, as a settlement neared, she postponed a crucial showdown to give him a few more days to seal the deal.

U.S. Bankruptcy Court Judge Louise DeCarl Adler and U.S. Magistrate Judge Leo S. Papas insist it would be wrong to say the two judges coordinated their efforts toward resolving the largest Catholic bankruptcy case in the country.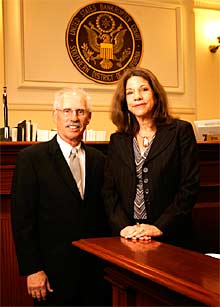 U.S. Bankruptcy Court Judge Louise DeCarl Adler and U.S. Magistrate Judge Leo S. Papas played key roles in the sex abuse settlement.
Photo by K.C. Alfred


Theirs was more of a "symbiotic" relationship, as Papas puts it.

In the end, the Roman Catholic Diocese of San Diego agreed last September to pay $198 million to 144 men and women who say they were sexually abused by priests and others in the church when they were minors. It was an out-of-court accord painstakingly brokered by Papas – with Adler waiting with her gavel.

Over a two-hour interview during a recent lunch break in Adler's chambers, the judges spoke publicly for the first time about their work, giving a rare glimpse into a tumultuous journey that consumed much of their time in 2007.

Since mediations are confidential, Papas is careful not to discuss details of the sessions he conducted from his perch in the federal building in downtown San Diego. "I'd love to write a book about it," he said. "It was fascinating. I mean absolutely fascinating. But I can't talk about it with anyone."

Adler's work was public. From her bench inside the bankruptcy courthouse, a short walk from the federal building, she was often outspoken in her comments and written orders.

She called the diocese's accounting system "Byzantine" and its disclosures "disingenuous." She threatened to hold several officials – including Bishop Robert Brom – in contempt of court and appointed a forensic accounting expert to review hundreds of bank accounts held by the diocese and its parishes.

Church officials repeatedly denied any duplicity, saying they were doing their best to account for finances in a diverse diocese, with 98 parishes spread out over San Diego and Imperial counties.

But tension between Adler and diocese attorneys was at times difficult to miss. "The court has gone well outside of the scope of the court's responsibilities," the attorneys wrote in response to one of her orders.

Adler said she wasn't out to get the diocese.

"I don't see what I did and what Judge Papas did was anything to damage the church. It was to help the church move on," said Adler, who was raised in an Italian Catholic family in Chicago and sent her now-grown son to Catholic schools. She declined to say whether she is a practicing Catholic.

Adler said she believes Catholics are better informed now. "I think they found out more about how their churches operate than ever before."

Both judges said the feedback they've gotten from the community has been positive.

"Most observant Catholics that I have talked to have actually thanked me for the way this case has been handled," Adler said. "They thought that it was a failure of leadership that caused the embarrassment of the church in the public arena. That's their take on it."

Papas, a Greek Orthodox raised in Sioux Falls, S.D., agreed. "They were just happy to have the thing resolved."

On Feb. 8, the two longtime jurists – Adler, 62, has been on the bench since 1984, and Papas, 63, since 1991 – will be honored for their efforts in resolving the case. They have been named the trial judges of the year by the Consumer Attorneys of San Diego, which represents local trial lawyers.



Last spring, with the bankruptcy case just a couple of months old, Adler approached the two sides about going to mediation. She wanted to get a dollar figure attached to the sexual abuse claims as quickly as possible.

But the victims' attorneys were against it. "You would have thought that I asked them to swallow a gallon of cod liver oil," she recalled. "They kept saying, 'We want to go to trial.' "

The lawyers were angry at the diocese, which had filed for Chapter 11 bankruptcy protection on Feb. 27, the day before the first of roughly 150 trials was due to begin. After four years of failed settlement talks, Brom told parishioners that seeking bankruptcy protection was "the best way available for us to compensate all the victims as fairly and equitably as our resources will allow."

Adler offered the victims' attorneys a carrot with the stick. If they would agree to meet with a new mediator, she would schedule a hearing to consider sending a batch of lawsuits back to state court for trials.

She set an August time limit for the talks. "Having a deadline always concentrates the mind," she explained.

Adler wanted Papas, a veteran mediator and an avid fan of the negotiation process. With the approval of the U.S. District Court, she called Papas, who said he thought about her request for about a nanosecond before agreeing.

On June 8, Papas sat down with one side in the morning and the other side in the afternoon.

He gave them his home phone number and his cell phone number. He also gave them his e-mail address. He told them they could contact him 24 hours a day. His job was not to decide who was right or wrong, but to build trust. "They have to believe that I honestly, sincerely, want them to settle."

Papas spent weekends and nights talking with attorneys, victims, priests and parishioners. He spoke repeatedly with Brom.

"From June 8 until Sept. 7, when the settlement was announced at 11:40 in the morning, I spent virtually every day meeting or talking or conferring with one or more of one side or the other or varying groups of one side or the other," he said.

It was like playing several chess games at once. "There were so many moving parts it was unbelievable," Papas said.



August arrived with no settlement.

On Aug. 10, after reading the findings of her court-appointed financial expert, Adler threatened to dismiss the case. Repeatedly citing the 175-page report, Adler said the diocese was failing to exercise "the financial controls and transparency" required by law.

Two weeks later, she released that first batch of lawsuits – 42 in all – for jury trials. However, she still needed to take a second step before they could be sent back to state court.

The showdown for both of these decisions – whether to dismiss the bankruptcy petition and send back the cases – was set for Sept. 6.

The two sides asked Papas to continue mediation talks. "Clearly," he said, "the deadlines that Judge Adler had in place brought people's focus more intensely to the issues."

Labor Day weekend turned into a marathon. Papas worked until midnight Saturday, missing a dinner with U.S. Supreme Court Justice Antonin Scalia. The talks spilled into Sunday and Monday. "The framework was in place," he said. "The deal was imminent."

Papas called Adler, and she agreed to postpone the Sept. 6 showdown for one week. Instead of going to Bankruptcy Court that day, both sides met behind closed doors with Papas beginning at noon to finalize the settlement. Just under 24 hours later, the announcement was made.

As Papas watched an outdoor news conference from his window, emotion swept over him like a tsunami. "I didn't really appreciate the emotional commitment I had made until it was over," he said.

As part of the agreement, the diocese asked that the bankruptcy petition be dismissed. Adler did so on Nov. 1, shedding tears as victims thanked her for her diligence.

Looking back, Adler is convinced the diocese should never have filed for bankruptcy as a way of coping with the sexual abuse claims. "There should have been other avenues explored more realistically," she said.

The judge never ruled on the hotly contested question of whether parish property should be counted as diocese assets. She won't discuss it now. "My personal beliefs are irrelevant."

Would she have dismissed the case if a settlement hadn't been reached last September? "It's entirely possible I would have gone through with the dismissal," she said.

Papas smiled. "We'll never know," he said, "because they chose door No. 1."

Sandi Dolbee: (619) 293-2082; sandi.dolbee@uniontrib.com