Attorney: Accused Priest 'Shocked' by Diocese Settlement

By Gregg Hennigan
The Gazette
February 1, 2008

http://www.gazetteonline.com/apps/pbcs.dll/article?AID=/20080202/NEWS/463495790/1006/news

[Includes sidebar on the possibility that in March the Davenport settlement will release the names of 25 'new' accused priests whose identities have not previously been known. The sidebar provides a URL to the website of the Creditors Committee of survivors involved in the settlement negotiations. The site provides links to bankruptcy settlement documents. For the documents, see also Davenport Diocese Files for Bankruptcy, by Thomas Geyer, Quad-City Times (10/11/06)]

The attorney for Bishop Lawrence Soens said Friday that the Roman Catholic Diocese of Davenport abandoned the former Iowa City Regina principal and retired Sioux City bishop to save itself in its bankruptcy case.

"To protect their own interest — to throw my guy out — is, I think, shocking and irresponsible," Timothy Bottaro of Sioux City told The Gazette.

Soens is accused of many acts of sexual abuse but has not been charged with any crime.

Bottaro reacted to the Davenport diocese's bankruptcy reorganization plan filed Thursday. The $37 million settlement included 18 nonmonetary terms demanding the diocese acknowledge and apologize for abuse by its clergy.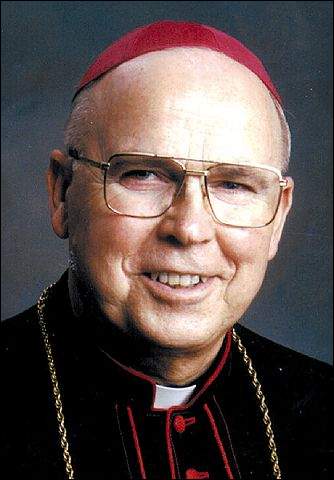 This 1996 photo provided by the Diocese of Sioux City shows Bishop Lawrence Soens. Soens, a former principal of Regina High School who became bishop of the Roman Catholic Diocese of Sioux City was accused of abusing a former student in a lawsuit filed Wednesday, June 8, 2005.



Only one term mentioned an accused priest by name. That point requires the diocese to issue a report to the pope's diplomatic representative in the United States about Soens so that "appropriate action be taken."

Speaking in response to Bottaro's charge, diocese spokesman Deacon David Montgomery said the diocese has sent reports in the past and will continue to do so as it uncovers new information, as happened during the bankruptcy case.

"I think the plan is just putting into writing what we do as part of our normal procedure," he said.

Victim advocates said they hope the new report would result in Soens being defrocked, which would force him to leave the priesthood.

Craig Levien, a Davenport attorney representing 13 men suing Soens for allegedly sexually abusing them, said he thinks the bankruptcy agreement "validates and vindicates those people (who) have come forward and told what happened."

More claims have been made during the bankruptcy proceedings, Levien said, with most of them from students when Soens was principal at Regina High School in the 1950s and '60s. Among the previously reported accusations are that Soens pinched the nipples of boys and rubbed their genitals.

Bottaro said Soens maintains his innocence. He said Soens lives in Sioux City, is now in his 80s and has removed himself from public ministry.

Soens, he said, was "shocked" and caught "completely off guard" by his inclusion in the bankruptcy plan.

Bottaro said the diocese had previously investigated claims against Soens and found that although his actions were inappropriate, they were not sexual.

"And now to switch gears, because they're trying to save themselves in bankruptcy, I think is pretty amazing," he said.

The settlement releases the diocese and its parishes and schools from liability for abuse cases that occurred before the October 2006 bankruptcy filing, but it does not apply to individuals.

Ironically, it was the earlier investigation that prompted the new action against Soens, said Mike Uhde of Davenport, co-chairman of a committee representing abuse victims in the case. He said they believe the previous investigation was a "whitewash to protect Soens."

Uhde said Bishop Martin Amos, who joined the Davenport Diocese shortly after the bankruptcy filing, has reviewed the allegations and met with individuals who said they were abused by Soens.

"After that, this bishop (Amos) had no problem asking for this report to be written," he said.