Catholic Nun Sentenced in Abuse of Boys 40 Years Ago

By Georgia Pabst
Milwaukee Journal Sentinel
February 1, 2008

http://www.jsonline.com/story/index.aspx?id=713839

A 79-year-old Roman Catholic nun and former principal of St. Patrick's Congregation grade school was sentenced Friday to a year in the House of Correction and 10 years of probation for molesting two boys more than 40 years ago.

Sister Norma Giannini, a member of the Sisters of Mercy, was sentenced to five years in prison on each of two felonies by Milwaukee County Circuit Judge M. Joseph Donald, but he stayed the sentences.

However, Donald said he felt some confinement was needed as punishment for what he termed the "evil destruction, pure heartache . . . and deviant sexual behavior" she inflicted on "young and impressionable boys."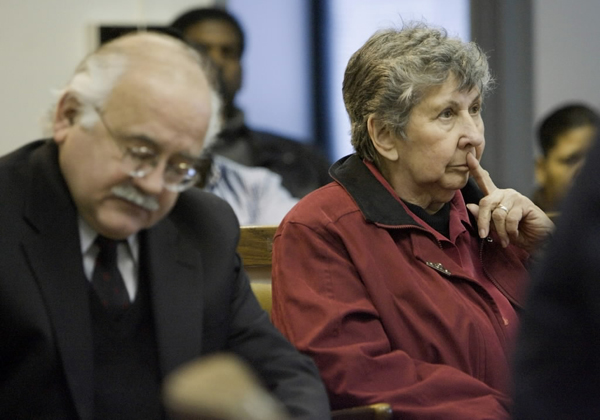 Sister Norma Giannini



Giannini faced a maximum of 20 years on the two counts. Prosecutor Paul Tiffin sought eight years in prison.

Defense attorney Nikola Kostich sought probation, saying Giannini had undergone therapy, was aging and in failing health, can't drive and basically is confined to an assisted-living facility in Illinois. She walked into court Friday with a cane.

"I ask forgiveness for all those I've injured," she said in court, reading from a brief statement. She never directly addressed the victims, who were in court.

The two victims who brought the complaint are now in their 50s. They pleaded for prison time for the woman they called "Mother Superior" and said the abuse ruined their lives.

James St. Patrick, 53, said he was 12 and in seventh grade when Giannini began molesting him. The abuse occurred "more than 100 times in seventh and eighth grade," he said, in the classroom and even in church. For years, he said, he blamed himself and felt shame as his life spiraled out of control. He has trouble holding a job, turned to alcohol and drugs and became suicidal.

"Please don't give her a pass with probation . . . she belongs in prison," he said.

Other boys also were abused, and one later killed himself, St. Patrick said.

As Gerald Kobs, 55, read his statement in court, his voice quavered, the paper in his hand shook and he cried as he described how his childhood and adulthood had been destroyed by the abuse he suffered as an eighth-grader. He said the abuse occurred at the convent, school, his own bedroom, the family room. He said he tried to tell his mother he needed to go to a different school, but his requests were ignored. The nun had befriended his mother, who as a divorced woman in the 1960s was shunned by others.

According to court documents, a psychologist employed by the Catholic Archdiocese of Milwaukee to direct Project Benjamin, the archdiocese's outreach program for sex abuse victims, and coordinate the archdiocesan response to sexual abuse told prosecutors that Giannini appeared before a panel looking into sexual abuse in 1996.

Elizabeth Piasecki testified in September 2006, reading from notes she had taken during the meeting with Giannini, in which the nun admitted to sexual contact with four other young boys, including one from Chicago.

After the sentencing, St. Patrick said he thought women who are guilty of sexual abuse should get sentences similar to what male abusers receive.

"It took us a long time to get to today, and it will take time, but it's a victory," Kobs said.

Kostich called Donald's sentence "fair and courageous."

Neither of the victims seemed interested in Donald's suggestion that they and Giannini participate in restorative justice, a voluntary process directed by a mediator in which victims confront their abuser to find forgiveness and healing.

Giannini could be prosecuted for the offenses because she didn't remain in Wisconsin long enough for the six-year statute of limitations then in place to elapse, according to a criminal complaint. Giannini moved to Illinois in 1970.

Sister Betty Smith, president of the Sisters of Mercy, said after the sentencing: "I express profound regret for the pain experienced by these two men and their families and anyone else touched by this situation."