Session at Diocese Offices Turns Tense
Man Who Filed Suit Confronts Church

By David Yonke
Toledo Blade
February 14, 2008

http://toledoblade.com/apps/pbcs.dll/article?AID=/20080214/NEWS17/802140357

An Ohio man who filed a lawsuit in Florida against a former Toledo Catholic deacon called on the Toledo diocese yesterday to help prevent more abuses by the ex-deacon and to encourage more victims to step forward.

Tom Ferguson, 48, a former Toledoan living in Cleveland, said during a news conference on a snowy sidewalk outside the Catholic Center in Toledo that he was sexually abused at age 15 by Dr. Glen Shrimplin, a former Toledo-area dentist and ex-deacon, during a vacation in Fort Lauderdale during the 1975-76 Christmas break.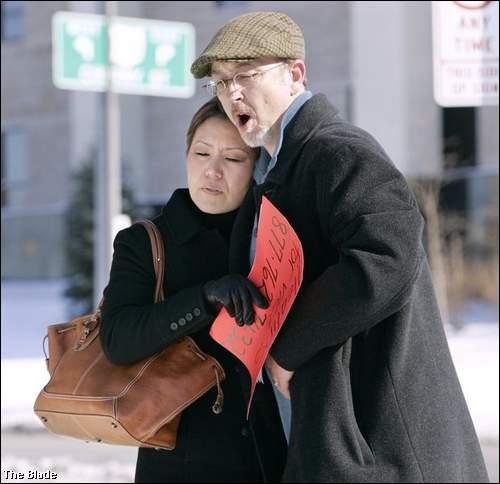 Tom Ferguson and his wife, Song, leave the Toledo diocese headquarters after he called on church officials to prevent more abuses by a former deacon, Dr. Glen Shrimplin.
Photo by Dave Zapotosky


Surrounded by his wife, two brothers, and a sister, Mr. Ferguson read a statement calling Dr. Shrimplin "a sexual predator who had abused many, many children over so many years."

He said he sued Dr. Shrimplin in a Florida court because that is the state where the abuse occurred, but that he has not ruled out legal action against the Toledo diocese.

Dr. Shrimplin and the Toledo diocese were sued twice in 2003 by men who said they were abused by the former deacon when they were children. One of the lawsuits was settled in August, 2004.

Dr. Shrimplin, now 73, was ordained in 1974 and voluntarily left the Catholic Church in 1987. The diocese filed a request with the Vatican to have the deacon laicized, a request that Rome granted on Nov. 30.

At yesterday's news conference, Mr. Ferguson said Dr. Shrimplin "groomed" young men for abuse. As an example, he said the former deacon would make teenage boys kiss each other during church youth group meetings held weekly in his home, saying it was "a new way of expressing Christ's love." Dr. Shrimplin could not be reached for comment yesterday.

Mr. Ferguson, accompanied by his family and local victims' advocate Claudia Vercellotti, then walked into the Catholic Center and asked to meet with Bishop Leonard Blair.

Sally Oberski, director of communications for the 300,000-member Toledo diocese, greeted the group in the lobby and said Bishop Blair was out of state.

Mr. Ferguson then asked for copies of the diocese's files on Dr. Shrimplin, even if the names of victims were blacked out for confidentiality, so that he would know how many and when allegations were made against the former deacon.

He also requested a copy of the Vatican's laicization papers on Dr. Shrimplin.

Ms. Vercellotti, head of the local chapter of the Survivors Network of those Abused by Priests, then pressed Ms. Oberski over the diocese's handling of the allegations against Dr. Shrimplin and its responsibility to report them and the lawsuits to the Florida dental board.

She said SNAP has been contacted by 14 men who claimed they were molested by the dentist, and that less than half of those men were aware that Dr. Shrimplin was a deacon.

As the exchange between Ms. Vercellotti and Ms. Oberski grew more tense, Mr. Ferguson said, "This is all a game and I'm tired of it," and walked out of the building.

Ms. Oberski said the diocese would consider running notices in the bulletins of parishes where Dr. Shrimplin was a deacon - Immaculate Conception, St. Catherine's, and Corpus Christi - and that the diocese urges anyone who was abused by Catholic clerics or lay employees to step forward.

She denied an assertion by Ms. Vercellotti that the diocese was aware of allegations against the ex-deacon as early as 1970, saying the first time allegations were made against Dr. Shrimplin was in 2002.

Mr. Ferguson's civil suit was filed Tuesday in the 20th Judicial Circuit Court of Lee County, Florida.

Contact David Yonke at: Contact: dyonke@theblade.com or 419-724-6154.