Principal Says He Stole Money from School to Cope with Abuse

By Danielle Camilli
Burlington County Times
February 15, 2008

http://www.phillyburbs.com/pb-dyn/news/112-02152008-1488482.html

FREEHOLD — A lawyer for the former Holy Cross High School principal who stole $415, 848 from the school says his client took the money, in part, to help cope with the alleged sexual abuse inflicted on him by Catholic priests decades ago.

Attorney Michael Pappa asked for leniency today during a sentencing hearing for Joseph Lemme before Superior Court Judge Francis P. DeStefano at the Monmouth County Courthouse. Lemme pleaded guilty to a charge of theft in December.

DeStefano sentenced Joseph Lemme, 51, of Wall Township to five years in prison as recommended by Monmouth County Assistant Prosecutor Barbara Suppa. Lemme must serve at least six months before becoming eligible for a supervised early release program. He was also ordered to make full restitution to the school.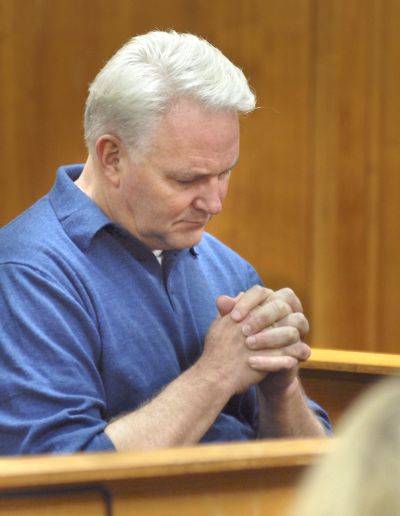 Joseph Lemme
Photo by Dennis McDonald


"He felt he was owed by the church," the judge said. "He engaged in self help and took what he thought he was owed."

Lemme, who was out on bail, was handcuffed and led away by a sheriff after the court proceeding as his wife and three of his four children watched.

"I am most ashamed and horrified by the scandal I have shown students," Lemme said. "I was supposed to be a leader and a role model. What I have done is nothing short of scandalize every one of those students."

The case was prosecuted in Monmouth County because Lemme deposited the stolen funds in a Belmar bank. The funds were stolen from fees collected for dances, school trips, summer school, raffles and book sales.

Pappa told the court Lemme was diagnosed with post-traumatic stress disorder brought on by the "horrifying story" of his client's teenage years.

Lemme began taking the money following the 2002 dismissal of a civil lawsuit in which he alleged he was abused by members of a Catholic religious order as a teen. The suit was dismissed due to a statute-of-limitations law. Unlike some other victims of abuse by Catholic priests who received large settlements, Pappa told the judge Lemme received only a $50,000 "mercy payment."

He said the revelation of the abuse was difficult for Lemme and his family, who never knew Lemme was sexually abused until shortly before the lawsuit.

Lemme alleged the abuse started when he was 13 and attended a seminary school in New York. He said it continued for almost three years until he was dismissed from the school after reporting the abuse.

In court today, his attorney said another priest abused Lemme again when he returned to the seminary after graduating from high school. He graduated from the seminary, but decided against becoming a priest. Instead, Lemme became an educator and began working for the Diocese of Trenton in 1979. He was hired at Holy Cross in 2002.

After the lawsuit was dismissed, Lemme began to struggle with alcohol and began stealing from the school. Thefts occurred from September 2003 until he was fired in November 2006.

"He was angry at the church and he was trying to make the best of a difficult situation," Pappa said. "He was so ashamed and wanted to give his family all he could give them in a material world … He was an emotional mess."

Lemme apologized to the Holy Cross community, the bishop of the Diocese of Trenton, his administrative team, nuns at the school and his family. He did not look at the small group of Holy Cross teachers, parents and other supporters of the school who attended the hearing.

"I've hurt many people by my decisions," he said. "I'm embarrassed and ashamed of myself that I let my four children down. They trusted me and I let them down."

Lemme also pledged to pay back the money he stole. "I will not rest until ever penny is accounted for," he said, adding that he was ready to give $20,000 back to the school immediately.

Prosecutor Suppa said Lemme was motivated by greed and said the thefts were part of a "well-thought out scheme" to support Lemme's "lavish lifestyle." Some $300,000 was used for personal expenses billed to an American Express card. Additional money was spent on mortgage payments, utility bills and a lease on a Volvo.

Lemme also altered a credit card invoice for $20,000 and submitted it to the school for reimbursement and spent $10,000 on jewelry, Suppa said.

Mary Beth and Ed Sherrier of Medford attended the hearing. Their three daughters attended the school while Lemme was principal.

"I wanted to be here to show this was not a faceless, victimless crime," Mary Beth Sherrier said. "I think it's a testament to the school community that it has been able to rise above this."

Email: dcamilli@phillyBurbs.com