Dominatrix Reported Bernie Ward, Police Say

By Henry K. Lee
San Francisco Chronicle
February 16, 2008

http://www.sfgate.com/cgi-bin/article.cgi?f=/c/a/2008/02/16/BA9DV3G62.DTL

The federal child-pornography charges filed against former radio talk show host Bernie Ward came about after he engaged in sex chats with an online dominatrix and allegedly sent her pictures of children engaged in sexual activity, according to a police report released Friday.

The woman, who lives in Oakdale (Stanislaus County), became concerned after Ward allegedly sent her pictures in December 2004 showing children "engaged in or simulating sexual acts with adults or other children," Oakdale police Officer Benjamin Savage wrote in a report.

An America Online chat-room user by the name of Vincentlio engaged in sexually explicit chats with the woman in December 2004 and January 2005, Savage wrote. Vincentlio addressed the woman - whose screen name was Sexfairy2005 - as "mistress," while she addressed him as "slave," the report said.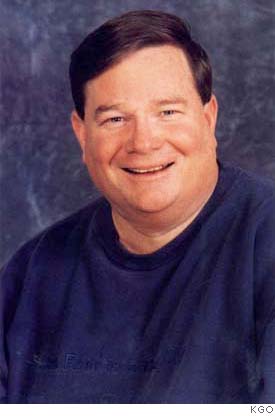 Bernie Ward, former KGO talk show host, is accused of sending child porn over the Internet.



The woman told police that she knew the man as Vincent and that he said he was a divorced priest from Manteca (San Joaquin County).

Vincent discussed engaging in group sex at a San Mateo porn theater and wrote at one point, "I love trading pictures," the police report said.

"And why haven't I gotten any pics, slave?" Sexfairy2005 responded, according to the report. "Send me some."

Vincent sent her a photo of a naked boy sitting on a chair between a topless woman and a clothed girl, the police report said. Vincent told the woman that the boy was 14 years old, the girl was 12 and the woman was in her late 30s.

Oakdale police determined that the AOL account belonged to Ward and contacted the FBI, which took over the case. A federal grand jury indicted Ward, a former Catholic priest, in September on two counts of possessing and distributing child pornography using the Internet. After the indictment was unsealed in December, KGO-AM fired him from his job as a talk show host.

Ward, 56, has insisted that he is innocent of any wrongdoing. He did not respond to a request for comment Friday.

His attorney, Doron Weinberg, said the conversations Ward had with the woman consisted only of role playing as part of a book he was researching on hypocrisy.

"There are a lot of things in there that seem pretty outlandish, but they're completely fabricated, just absolutely fabricated," Weinberg said. "They have no truth. He thought he was role playing."

Weinberg said his client did, however, transfer an image to the woman, a picture that "she solicited." He disputed investigators' assertions that Ward had sent several explicit pictures to the woman. Oakdale police said the photos showed children of both sexes ages 4 to 17, but did not provide specifics.

Oakdale Police Chief Marty West said the woman "was concerned about the nature of the photographs depicting what appeared to be minors. She readily acknowledged that she gets on sex chat lines and talks to people, that she was just disturbed because she had met this Vincent person and that he sent her stuff with minors being depicted."

When Ward was indicted, federal prosecutors indicated that Oakdale police had helped in the investigation.

Ward's business attorney, Jeannette Boudreau, said "the authorities have been in possession of the messages for three years. Bernie was only just indicted in December. There is no doubt in my mind that they would not have allowed Bernie to conduct his family and work life as usual for all that time if they believed the content of the messages to be factual."

Ward is scheduled to go on trial June 10. He is free on $250,000 bail and is confined to his home under electronic monitoring. He can only leave for work and to drive his children to school and back, Weinberg said.

Ward can use his computer only for work and cannot have unsupervised contact with minors other than his children, Weinberg said.

E-mail Henry K. Lee at hlee@sfchronicle.com.