Special: Former Iowa Man Talks about Time with Bishop Soens, Aftermath and Lawsuit

By Ann McGlynn
Quad-City Times
February 16, 2008

http://www.qctimes.com/articles/2008/02/16/news/local/doc47b6245434ce8277820303.txt

The teenager bit his lip, grinding on it until it bled.

He stood in the principal's office. The principal sat directly in front of him, asking questions.

How was your summer?

How's your family doing?

The principal of Regina High School in Iowa City was the Rev. Lawrence Soens. Soens fondled Michael Gould while he asked the questions, Gould said.

"This guy was a priest," Gould said. "He was the principal, let alone a Catholic priest who was the principal. He's got all the cards, all the power. There's nothing you can do except stand there."

Soens went on to become bishop of the Diocese of Sioux City.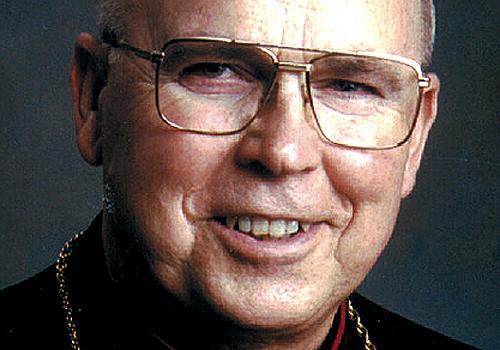 Lawrence Soens



Gould went on to a life of extremes.

Gould moved to Iowa City from Cedar Rapids in the late 1950s when he was 9, a child of an alcoholic father. He attended Regina High School, then went to work as a car washer for the University of Iowa. He became a part-time deputy in Johnson County; a police officer in Bellevue, Iowa; police chief in West Branch, Iowa; and a deputy in Linn County.

A car accident in 1986 ended his police career. Gould attended classes at Kirkwood Community College, then went to Arizona to finish his degree in 1988.

Instead, Gould ended up living in a two-door Pontiac he parked near a building with a water spigot, so he could wash his face and brush his teeth.

"I had a couple of bucks left from my previous job, nowhere near enough to rent a motel room, but enough to buy candy bars. So I ate light." He got a job as a laborer.

He lived in Arizona for eight years, then he moved to Chicago. He met his fourth wife, a nurse named Janice Lamb. He moved to Florida in 1997.

The couple started Gould and Lamb, a workers' compensation company. The couple completed the sale of the business last year.

Gould is now a multimillionaire.

Soens was named principal at Regina High School in 1959, nine years after his ordination. He remained there until 1967, when he returned to Davenport to become the rector at the St. Ambrose College seminary.

He was the priest at St. Mary's in Clinton, Iowa, before he was named the Siocese of Sioux City bishop in 1983. Installed at the Cathedral of the Epiphany in Sioux City, Soens is credited by the diocese for establishing or expanding several programs, including the priests' retirement fund, youth ministry programs, the Bishop Soens Youth Ministry Awards and the pastoral and finance commissions.

Soens retired in 1998. Now 81, he lives at the Holy Spirit Retirement Home in Sioux City.

Soens denies anything sexual about the nipple-pinching, known as "purpling," alleged by Gould and others, said his attorney, Tim Bottaro. As for the alleged fondling in his office, Soens "flat-out denies that happened with anyone. Absolutely not."

Soens has never been charged.

"We were prepared to defend the case and challenge the allegations of Mr. Gould," Bottaro said.

Gould went to his computer one morning a few years back, as he almost always does, to check the news.

He read about revelations of sex abuse in the Archdiocese of Boston.

"I wonder if that has anything to do with me?" he thought. He found the victims' attorney, Jeff Anderson, called him, and told him: "I just need to talk to somebody. I don't know if what I am thinking has anything to do with what is happening in Boston."

Anderson met Gould in Tampa. He asked Gould to find others who may have abuse complaints against Soens.

Although Gould did not have any luck, Anderson did.

"We have found other people at Regina," Gould recalled Anderson telling him during a phone conversation some time later. "You'll know them. Are you willing to move ahead with this?"

Yes, Gould said.

Anderson replied: "The other people don't want their names to be used. We need someone to step forward."

Gould said yes to that, too. His was the first lawsuit filed against Soens.

"I would have been just as satisfied with an honest, heartfelt apology and a recognition that it should never have been allowed to happen," Gould said. "However, that is not the way the church operates, and as such, they are now paying the price for their inability to tell the truth and take honest actions."

Gould's lawsuit was set to go to trial days after the Diocese of Davenport filed for bankruptcy in October 2006. He is co-chairman of the committee representing the 156 claimants, along with Michl Uhde of Davenport. Uhde's $1.5 million jury award for sex abuse he suffered as a child at Sacred Heart Cathedral prompted the diocese to file for bankruptcy.

Gould and Uhde, who also claims Soens abused him while he was a seminary student at St. Ambrose, participated in the days-long negotiation sessions to reach a $37 million settlement between the diocese, its insurance company and the victims.

Gould's lawsuit details the abuse Gould says Soens perpetrated on him while he was a student in Regina during the mid-1960s. It tells of how his father did not believe him when he told of the abuse. It tells of a lifetime of mental health issues.

Gould began counseling at age 10. His father was in counseling for his drinking problem, so all members of the family went, documents say. Since then, Gould has sought treatment several times from psychologists and psychiatrists for depression, suicidal tendencies, anxiety and anger.

Most recently, a 2006 evaluation by Davenport psychologist Wayne Sliwa said Gould exhibits symptoms of major depression and post-traumatic stress disorder. Sliwa attributed Gould's struggles to Soens' alleged actions.

"I've spent more on counseling than most people spend on their houses," Gould said. "I will battle these demons until the day that I die. There are a whole host of issues that can and do pop up and on a regular basis."

The most significant? Trust. Intimacy.

"I would imagine that the vast majority of survivors will always struggle with these two issues, as well as many other issues, long after their settlement money is gone," he said.

"The difference between me and other survivors is that I can easily pay my bills and buy things. But I can't buy my childhood back."

Gould is not sure what he will do with whatever money he is awarded.

At one point, Gould suggested to his wife they give it to charity. A building at Kirkwood Community College in Cedar Rapids was named for him after a $1 million donation in June 2006, the largest in Kirkwood history from an alumnus.

But he's re-examined that, said Gould, 58. "I need to do or buy something wild that puts a great big smile on my face."

His "donation" to other survivors, he said, was "to take this past year and a half and dedicate my time and energy to getting them as much resolution as I possibly can."

"My job, as I saw it, was to do what 98 percent of the others could not due to their need to maintain their confidentiality," he said. "That was to fight for them publicly as well as behind closed doors at negotiations, to finally have the church and the public acknowledge what happened, so that they can stop thinking that they were 'crazy' or 'bad.' "

On the last page of the diocesan bankruptcy organization plan is Gould's other contribution: The diocese agreed plaques will be posted in prominent locations in all diocesan schools. They are to say that abuse of any kind will not be tolerated.

At Regina High School, the plaque is to be placed next to the door of the principal's office.

Ann McGlynn can be contacted at (563) 383-2336 or amcglynn@qctimes.com