Bronx Catholic School Principal Blames Smear Campaign for His Ouster

By Erin Einhorn
New York Daily News
February 28, 2008

http://www.nydailynews.com/news/2008/02/28/2008-02-28_bronx_catholic_school_principal_blames_s.html

The Bronx Catholic school principal forced to resign over alleged "inappropriate images" on his computer has been accused by former staffers of other improprieties.

Two ex-faculty members and a priest familiar with the school have accused former Cardinal Hayes High School Principal Christopher Keogan in letters and affidavits of theft, an affair with a male subordinate and of faking transcripts to help that man get into college.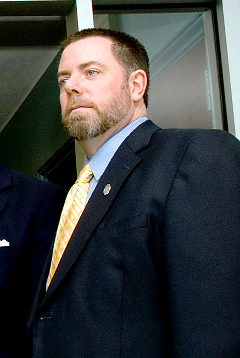 Christopher Keogan was forced out as principal of Cardinal Hays HS after inappropriate images were allegedly found on his computer.
Photo by Giancarli


In an exclusive interview with the Daily News yesterday, Keogan denied all the allegations and said he is the victim of a smear campaign by disgruntled employees and others carrying out a "vendetta" against him.

"It was absolutely, positively 100% false," Keogan told The News yesterday. "It is so untrue, it's unbelievable."

Hayes teachers arrived at school Monday to learn that Keogan had been removed and school locks had been changed.

Keogan - wearing a Cardinal Hayes basketball sweatshirt - sat down with The News in the office of his lawyer, Colleen Meenan, to defend what he says was a "stellar 18-year career" at one of the city's top Catholic schools.

"You don't become a dean and you don't become a principal if you don't have gifts," he said.

Keogan, 51, said his school computer contained no inappropriate images. He insisted he didn't know what his bosses found objectionable.

The archdiocese had copied Keogan's hard drive but, "We don't know which computer it was or who else had access to that computer," Meenan said.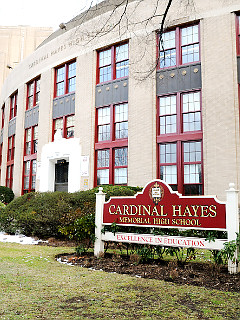 Photo by Giancarli


Hayes staffers told The News they told the Bronx district attorney's office about the financial allegations and the the doctored transcript claim, but Keogan said he never heard from prosecutors.

A spokesman for the district attorney's office declined to comment.

Allegations by employees were made as early as 2005 when a former school treasurer, Chris West, wrote to the archdiocese, accusing Keogan of stealing $600 out of a desk in the school finance office.

In the letter, obtained by The News, West claimed a security camera filmed Keogan entering the office during a holiday break.

Keogan told The News he entered to get a pair of cuff links with the school's insignia for an alum.

Another accusation came in 2006 when a staffer claimed to the Equal Employment Opportunity Commission that she was fired after reporting that Keogan had an affair with the male subordinate.

Keogan denied the affair and the unfair firing charge. He said the archdiocese looked into it and the allegations were not substantiated.

Keogan had been a member of the Christian Brotherhood; he voluntarily left four years ago for personal reasons, he said.

Contact: eeinhorn@nydailynews.com