Priest Suspected of More Sex Abuse
'Gypsy Life': Officials Say Broderick's Trail Is Difficult to Follow

By Chris Garifo
Watertown Daily Times
March 1, 2008

http://www.watertowndailytimes.com/article/20080301/NEWS05/23966560

MASSENA — A suspended Roman Catholic priest charged with sexually abusing four Montgomery County children may have a fifth victim, says an attorney representing the family that first went to state police investigating the case.

"Since this broke, another family has contacted me about this guy," said New York City attorney John A. Aretakis. "They say their son was abused by him a couple of years ago."

Mr. Aretakis was referring to John W. Broderick, 47, Nicholville, who was arrested Monday in Massena on three counts of first-degree sexual abuse, one count of second-degree sexual abuse and four counts of endangering the welfare of a child. Broderick's activities have been difficult to follow, Mr. Aretakis said.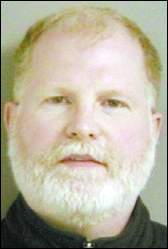 Broderick



"What a wild case this is," he said. "This guy lives a kind of gypsy life, it seems."

State police investigators in Montgomery County agree with that assessment.

"There's no real paper trail as far as his past movements," said Investigator Paul K. Cituk of the Bureau of Criminal Investigations, Fonda.

Broderick's trail does lead to St. Gregory's Academy, an all-boys boarding school in Elmhurst, Pa.

Broderick taught a religion class at the school during the 2000-01 academic year, said Father Neal A. Nichols, director of development for the Priestly Fraternity of St. Peter, Elmhurst, which runs St. Gregory's.

"He is not a Fraternity priest nor was he ever a Fraternity priest," Father Nichols said Friday.

Nor did Broderick reside on the school's campus, Father Nichols said.

Broderick was a priest in good standing at the time with the Diocese of Syracuse and worked in Binghamton, Father Nichols said.

"He would commute down here for the class," he said.

A diocesan spokeswoman did not return phone calls seeking comment. However, state police said the diocese suspended Broderick earlier this year.'

Broderick apparently did serve at one time as pastor of Our Lady of Sorrows in Vestal, Broome County.

"He was here from 1994 to 1996," said the church's current pastor, Father John P. Putano. "I don't know where he went after that; I was not here at the time."

Father Putano said he knew nothing more about Broderick nor had any of his parishioners informed him of any inappropriate behavior when he was pastor.

A spokesman for the Diocese of Albany, which includes Montgomery County, said officials there had never heard of Broderick until his arrest was reported.

"We did not have knowledge of this priest until this matter surfaced this week," said Kenneth J. Goldfarb, the diocese's director of communications. "We did not know this priest existed."

Broderick was arrested at the Holy Name of Jesus Academy in Massena. The all-girls school, founded by the Dominican Sisters of Idaho, opened in September on the site of the former Twin Rivers Elementary School on Route 37. The Dominican Sisters are a traditionalist Roman Catholic order that has broken away from the Vatican and is not recognized by Pope Benedict XVI.

Sister Marie Reginald, school principal, initially declined comment on Broderick's arrest Wednesday and calls to the academy Friday went unanswered.

Adding to the confusion, the Society of St. Pius X, which also rejects the Vatican's authority and had been reported as managing the Dominican Sisters, now says it is not affiliated with that order, their school nor with Broderick.

The Dominican Sisters is "a separate congregation which has no legal affiliation with the Society, although the Society administers sacraments to them when requested," the organization said in a statement released after Broderick's arrest.

The Society of St. Pius X, according to its Web site, has two schools in New York: St. Therese Academy, Nicholville, and Blessed Virgin Mary, Mother of God Academy, Warners, near Syracuse.

"Father Broderick was not associated with us or affiliated with our society or school," said Father J. Timothy Pfeiffer, the latter school's principal.

However, in December, a Society of St. Pius X newsletter included a photo of Broderick, described as "an independent New York state priest," assisting in the blessing of the Holy Name of Jesus Academy.

The society and the Dominican Sisters do not come under the auspices of the Diocese of Ogdensburg, said diocesan spokeswoman Sister Jennifer L. Votraw, who added that Broderick also was not affiliated with the diocese. "He just came and went on his own," she said. "He really has nothing to do with us whatsoever."

Broderick was released Thursday from the Montgomery County Jail, Fultonville, after posting bail. He had been held on $50,000 bail or $100,000 bond.

Investigators were not looking into sexual abuse when they initially turned their attention to Broderick, Mr. Cituk said, adding that he did not want to reveal just what allegations instigated the probe.

State police have no new leads in the investigation, but are asking anybody with information about the case to contact them at 1 (518) 853-4708.