Sioux Falls Diocese Responds to Abuse Allegations in Federal Court

By Brian Allen
KSFY
March 3, 2008

http://www.ksfy.com/news/16204207.html

[with video]

The Sioux Falls Catholic Diocese denies one of it's priests sexually abused a student at O'Gorman High School nearly 40 years ago.

Thomas Gust alleges his typing teacher, Robert Krantz, touched him appropriately at the school in 1970.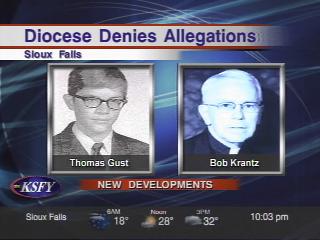 Thomas Gust alleges he was abused by his former typing teacher, Father Robert Krantz, at O'Gorman High School in 1970.



Gust is now suing the diocese and Krantz, who is now a priest in Humboldt and Monstrose, in federal court.

Today, in these documents filed in federal court, the Diocese says Gust has his story wrong.

The Diocese response filed in federal court specifically denies Gust's assertion he was assaulted by Krantz.

By phone from his home is Escalon, California, gust tells KSFY he is not surprised by the denial. "It's a standard answer and you always end up in court unfortunately."

Gust filed the lawsuit last month; saying he had repressed the memories of the abuse and only recently had they come to the surface.

In it's response, the Diocese says it shouldn't be part of the lawsuit, as it involves alleged activity between two people.

Gust tells us he believes he's putting the blame where it belongs. "Krantz has been working for the diocese for the past 40 years. I've got the right guy. He's employed by them they hired him."

Tonight, I called Diocese spokesperson Jerry Kline to see if the Diocese had any more to say on this matter.

Kline told me the response filed in court today...speaks for itself.