VOTF Ireland Letter to Bishops Triggers Me, As I Was Raped in Church Named after St. Peter Damian, 11th Century Priest Sex Crime Victim Advocate. . .

By Kay Ebeling
City of Angels
March 4, 2008

http://cityofangels4.blogspot.com/2008/03/reading-betrayal-letter-from-votf-in.html

It's taken Catholic bishops 17 centuries to notice that a child who is raped, especially by a priest, is likely to have psychological problems. Voice of the Faithful (VOTF) in Ireland took its bishops to task in a recent letter, pointing out that "any Irish teenager" can go on the Internet and learn that sex crimes in the Catholic Church have followed the same MO, or pattern, in every country around the globe and that two thirds (2/3) of US bishops aided and abetted pedophiles through what we now see was international church policy, in the past decades.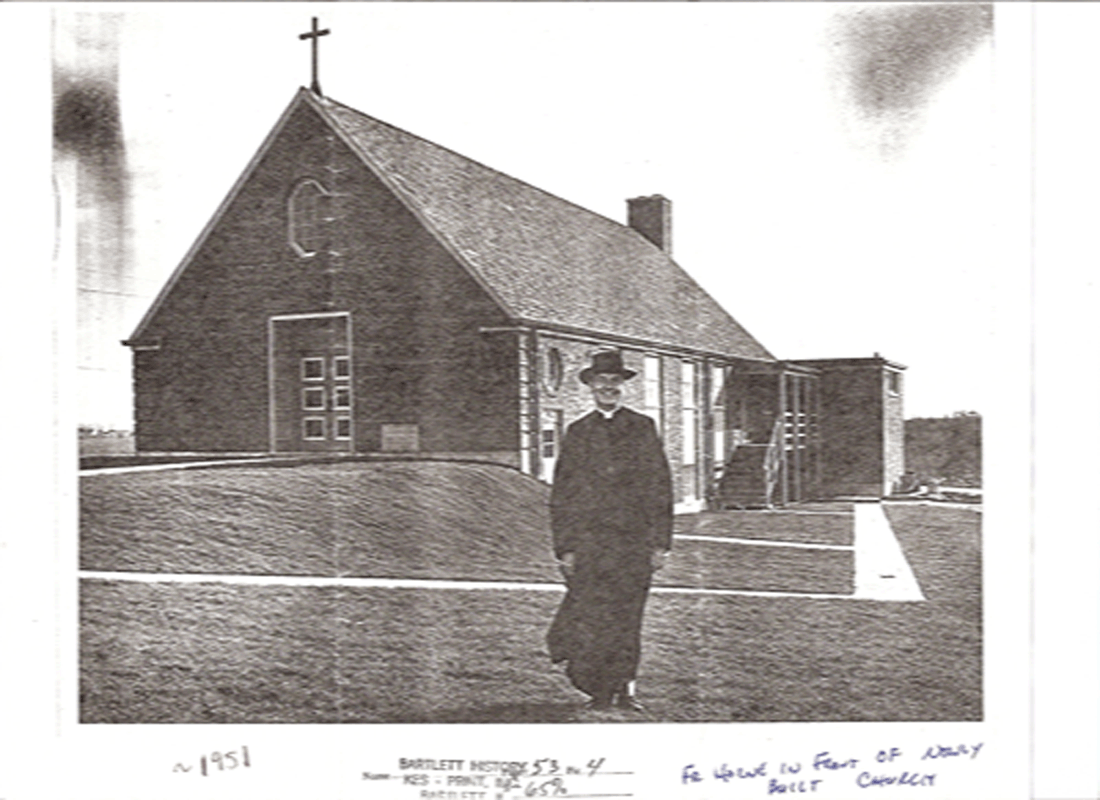 Above: Fr. Thomas Barry Horne in front of St. Peter Damian Church, c. 1953



What triggered me in the letter was mention of St. Peter Damian, who "warned the papacy in the mid 11th century of the moral and spiritual damage caused to children by such abuse."

Because I was raped in St. Peter Damian Church, pictured above with my perp standing in front, his vestment blowing in the breeze. Today the area is expressways and exurbs, it's a "bedroom community," but in 1949, when Horne founded the parish, Bartlett was little more than a whistle stop along train tracks that went between Chicago and Elgin, (today it's called Village of Bartlett.)

Fr. Horne was pure urbanite. He'd been in Chicago for at least a decade, as member of a missionary band. Then, in 1949 he was sent to the boondocks of Bartlett. We've seen this pattern with 2/3 of the bishops now, perpetrator priests are sent to rural areas.

The name Saint Peter Damian comes up a lot in the priest rape survival world.

St. Peter Damian is revered for his treatises on the dangers of "paedophilia" among priests, especially when priests use the Confessional to get to young boys and girls.

Fr. Thomas Barry Horne used the Confessional to get to me, and probably my older sister too. . .

What irony that the urbanite, Fr. Thomas Barry Horne, had to go to rural Illinois to start a church named after St. Peter Damian.

Horne was a bacchanal of renown back then. When he retired in the 1970s he left St. Peter Damian parish and church in financial ruin.

In the 1950s Horne was a perpetual guest at my parents' cocktail parties. My dad traveled for work, and Fr. Horne, spent a lot of time at our home with my mom. I walked in on them once, when he had her bare breast in his hand. Fr. Horne used to take all the ladies from the Sodality out to the local country club for afternoons of imbibing, I remember the screeching laughter when they'd come back to the house drunk.

I wonder what the message was, from the archbishop of Chicago to Fr. Thomas Barry Horne, when he banished the priest from swinging downtown Chicago to a small town on the train tracks miles from the nearest city.

The letter from Voice of the Faithful Ireland: "'Betrayal' - our letter to the Irish Bishops' Conference" points out several ironies. For example, how can a religion claim "expertise about the soul," when it had to learn from the field of psychology that the rape of children produced confused and damaged adults. They wrote:

How then could "the magisterium" have failed to learn - over seventeen centuries that sexual abuse of children causes intense, lifelong anguish, and that clerical child sexual abuse adds a further dimension of intense spiritual suffering - a personal hell on earth? If the magisterium needed to hear these things from secular psychology and psychiatry, how can this recommend its own expertise on matters of the human soul?

Perspective: Since 2002 we've seen that in city after city, country after country, crimes of the bishops follow the same pattern. Reading what Irish VOTF wrote, you can see it will take a global effort and maybe a few more years of us discovering each other through global communications, to sort out the extent of sex crimes in the Catholic Church.

It may take decades to get to the core of sex crimes that thrived for decades, because of the very nature of the Roman Catholic Church with its secrets and lies.

So everybody keep writing, everybody keep reading.

Irish VOTF points out the patterns, not only all over the United States, but apparently all across the world, probably wherever the Roman Catholic Church's tentacles reach which is everywhere.

It boggles the mind. How many thousands of children were damaged?

No wonder there have always been dirty jokes about Catholic School girls. . .

From the VOTF Ireland letter:

Global news media inform us that those Irish bishops who quite recently endangered children were far from exceptional. Using the Internet, any Irish teenager today can, in a matter of hours, discover that, in at least twenty-five countries across the globe, Catholic bishops prioritised 'the church ahead of children'. This happened not in the distant past but in recent decades - causing lifelong trauma to countless innocents. A US investigation has established that two thirds of US bishops behaved in this way

Why did the Archbishop of Chicago in 1949 send my perp, Fr. Thomas Barry Horne, to the tiny country town of Bartlett to start a church named after St. Peter Damian, a saint mentioned in the Irish VOTF letter this way:

"We now know that the phenomenon of clerical sexual abuse of minors has been documented in church records as early as 309, and also that St Peter Damian warned the papacy in the mid 11th century of the moral and spiritual damage caused to children by such abuse, any such claims raise further profound questions

In St. Peter Damian Church, pictured above circa 1953, the parish priest raped me in the rectory while my mom, the organist, practiced music for next week's Mass in the church nearby. I remember the screeching of her discordant errors on the keyboard as she banged out a Mozart, while I climbed onto Fr. Horne's mat on the floor, next to the wine, next to the pipe with the sweet smoke. . .

Irish Voice of the Faithful is at

2 Greenhill Road, Coleraine, N. Ireland, BT51 3JE

Letter to the Irish Bisthops is dated 18th February, 2008