St. Stan Pastor Refuses to Meet with Burke

By Tim O'Neil
St. Louis Post-Dispatch
March 5, 2008

http://www.stltoday.com/stltoday/news/stories.nsf/religion/story/DC4CC8106C569641862574030066B119?OpenDocument

The Rev. Marek Bozek, pastor of St. Stanislaus Kostka church, said today he will not appear before Archbishop Raymond Burke to defend himself against the likelihood that the Catholic Church would remove him from active priesthood.

Bozek was to meet with Burke at midday today. But Bozek held a press conference at 11 a.m. at St. Stanislaus, just northwest of downtown, to announce that he wouldn't attend and will take no further part in any review by Burke and the Archdiocese of St. Louis.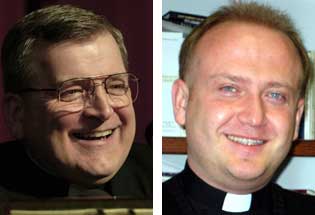 St. Louis Archbishop Raymond Burke, left, and Rev. Marek Bozek, pastor of St. Stanislaus Kostka church.



"I will not subject myself any longer to this process, which does not even attempt to appear fair," Bozek said.

In a statement released early this afternoon, Burke said he had begun the process of dismissing Bozek from active priesthood. Burke said Bozek's refusal to attend the meeting scheduled for today at the chancery office was a "further act of contempt for the requirements of communion with the church..."

Burke also wrote, "The situation of Rev. Bozek is sad for the whole Church. It is cause of great concern for me as Archbishop. Please join me in praying that Rev. Bozek will be reconciled..."

Bozek said he plans to stay at St. Stanislaus and said he has been contacted by several bishops, none of whom he would identify, who would be willing to let him affiliate within their jurisdiction or authority.

The public dispute with St. Stanislaus began in 2004, when Burke instructed the parish to rearrange its assets and the powers of its lay board to conform with the systems used by all other Catholic parishes within the archdiocese. St. Stanislaus had maintained internal controls that dated to its founding by Polish immigrants in the 19th century.

St. Stanislaus' lay leaders refused. After Burke removed priests from St. Stanislaus, Bozek came to the parish from his assignment in Springfield, Mo. Burke quickly declared him excommunicated. Soon afterward, he declared the parish board members excommunicated and stripped the parish of its standing as a Roman Catholic Church.

Bozek has continued as a priest at the parish.

Earlier this year, Burke instructed Bozek to appear before him. After that meeting, Burke said, "If Father Bozek recognizes the error of his ways, repents of it and seeks reconciliation, everything will stop." The process that Bozek faced was laicization, or removal from active priesthood.

Today was to have been a follow-up meeting. Instead, Bozek sent Burke a letter saying in part, "...You have proven that you do not even attempt to appear fair and unbiased... My participation in this parody of a legal process is uncalled for and causes me and the people entrusted to my spiritual care unnecessary physical, emotional and spiritual stress."

On Sunday, parish members overwhelmingly supported Bozek in the face of protests by several speakers, who said Bozek was taking the parish away from Catholic dogma and tradition, in part by publicly supporting the ordination of women and in offering communion to anyone, not just Catholics.

Today, Bozek represented himself as a reformer willing to take on church authority and tradition. But he insisted that he and St. Stanislaus are Catholic in belief and practice.

"Some laws are unjust and abusive and need to be changed and need to be broken to bring about reform within the institution," Bozek said.

Contact: toneil@post-dispatch.com