Group Says Bishop Should Speak up in Court Case to Keep Victim Anonymous

WEEK
March 5, 2008

http://www.week.com/news/local/16291151.html

Advocates for a sex abuse victim criticize Catholic Diocese Bishop Daniel Jenky for not protecting the victims' identities in court.

While many victims' names are not disclosed, the group is upset with a recent decision that allows a victim's name to be put on court records.

Member of the group the Survivors Network of Those Abused By Priests (SNAP) say Bishop Jenky should have taken a stand to try and protect a victim keep his name out of court records.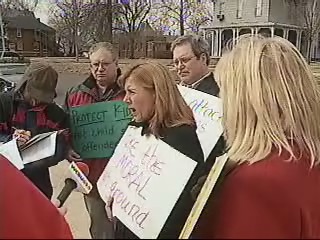 Photo by Denise Jackson


The victim, whose fictitious name is John Doe White, is one of several people who have filed a lawsuit against Father Norman Goodman for allegedly molesting him several years ago.

In December, a judge denied a request by the plaintiff to continue the case under a fictitious name.

SNAP members say Bishop Jenky should have taken a stand to protect the victim from further harm.

SNAP President Barbara Blaine said, "They ask and maintain their anonymity because they don't want to see their parents hurt by the pain of thinking that a trusted priest who was around children did actually sexually assault the children. So it's just unspeakable it's unreasonable that Bishop Jenky allows this and if he wanted to stop it he could."

Several of the lawsuits were dismissed. A hearing to dismiss this case is scheduled for April 4, in Peoria County Court.

In the past Bishop Daniel Jenky has written letters of apology to victims. He has also publicly apologized for any abuse anyone my have experienced associated with the Peoria Diocese.

In a release this afternoon Chancellor and Diocesan Attorney Patricia Gibson said, "The Diocese of Peoria did not take part in any way in the court motion asking that one of Goodman's accusers disclose his identity in the court records. Norman Goodman, through his own legal counsel and acting solely on his own behalf, requested such action. Most Rev. Daniel R. Jenky, C.S.C. has removed Norman Goodman from any public ministry, and Goodman was asked by Bishop Jenky to no longer wear clerical garb or the Roman collar, and to refrain from using the title of Reverend or Father. Norman Goodman is a removed priest and is no longer under authority or jurisdiction of the Catholic Diocese of Peoria. Goodman made such requests on his own accord and through his own legal counsel. Bishop Jenky has no ability to instruct Goodman on his own personal defense in regard to these matters."