Superior of Ex-Priest Claims He Lied to Pope

By Bill Dries
Daily News
March 7, 2008

http://www.memphisdailynews.com/Editorial/StoryLead.aspx?id=101709

A Dominican priest has claimed he lied to now-deceased Pope John Paul II when he told the pontiff in a letter that he had tried to get other church assignments for a Memphis priest who sexually abused a 14-year-old boy in 2000.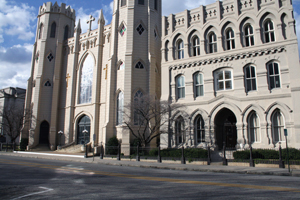 CLOAK OF AUTHORITY: Father Juan Carlos Duran lived at St. Peter Catholic Church Downtown starting in July 1999. Months after his arrival, he was accused and later admitted to sexually abusing a 14-year-old boy while he was assigned as associate pastor at Church of the Ascension in Raleigh.
Photo by Bill Dries


The passage from the 2007 deposition of Father Alberto Rodriguez is one of several recent disclosures made in the nearly four-year-old John Doe lawsuit filed against the Catholic Diocese of Memphis, the Dominican order and former priest Juan Carlos Duran.

Those disclosures show Duran's Dominican superiors were warned of other sexual abuse allegations and Memphis Diocesan officials didn't investigate a resume that listed nothing before 1991.

The case, the second of its kind filed in Memphis, is about to get a new judge. Circuit Court Judge James Russell has recused himself because of a connection to one of the potential witnesses. Russell had set an April 14 trial date. The case has been transferred to Judge Rita Stotts.

The light of day

The depositions by Rodriguez and others including Memphis Bishop J. Terry Steib remain sealed. But they are referenced in a recent response by the plaintiff after attorneys for the diocese and the Dominicans moved to take the case to mediation late last year.

Attorneys Gary K. Smith and Karen Campbell, representing the victim, have rejected those attempts at an out-of-court settlement writing that "any attempt at mediation would be futile and a waste of resources. The plaintiff does not want mediation."

Church officials have admitted that the teenager was sexually abused, that Duran admitted he sexually abused the boy when confronted by church officials about it and that the church has provided counseling for the victim.

The issue is whether Memphis Diocesan officials and officials with the Dominican order knew or should have known that Duran was a danger in his post as associate pastor at Church of the Ascension in Raleigh.

Memphis Diocesan officials said they immediately suspended Duran's priestly privileges in February 2000 and the Dominicans then ordered Duran to get "treatment" at an unspecified institution in Maryland. It happened less than a year after Duran arrived in Memphis.

The Dominicans have since conceded the treatment didn't work and that Duran soon after left the priesthood and returned to Bolivia.

Sex and lies

Rodriguez wrote a letter in 2001 to the Vatican "justifying a letter (Duran) sent for separation from the (Dominican) order," Rodriguez is quoted as saying in the Oct. 30, 2007, deposition.

In the exchange with the attorneys for the victim, parts of the letter were read including the passage: "Father Juan Carlos sexually misbehaved with a minor while working in the Diocese of Memphis. ... No other bishop has been willing to grant him faculties for the ministry. Some other dioceses within the territory of the (Southern Dominican) province (based in New Orleans) have been contacted. All of them have rejected my requests for faculties and ministry."

Rodriguez agreed that it was an accurate passage from the letter he wrote. But in an exchange with the attorney, he said it wasn't true:

Attorney: "So after Juan Carlos abused my client, you still were going around seeking faculties and ministry for him with other dioceses?"

Rodriguez: "I had to put that there to prove that there was no other option."

Attorney: "Did you lie to the pope?"

Rodriguez: "Yes."

Attorney: "You did lie to the Pope?"

Rodriguez: "Yes."

Dominican officials said in a 2004 press release that they knew nothing of other earlier allegations of child sexual abuse against Duran.

"No reports or allegations of sexual abuse or other improper behavior were brought to our attention while Duran was in St. Louis or prior to his coming to Memphis," read the statement from Friar Martin J. Gleeson, prior provincial of the Southern Dominican Province. Gleeson is Rodriguez's successor as head of the province.

'Immoral behavior'

But Father Carl Trutter of the province testified in an October deposition that there was "information known to the order by the time Duran went to Miami and St. Louis that should have stopped him from going to Memphis."

That information included a 1994 letter from a Franciscan official to a Dominican official "that Duran was expelled from the Franciscan order because he was caught in a homosexual act with a young boy. Trutter said he assumes this letter was maintained in the Southern Dominican files on Duran," read the passage about the sealed deposition.

A Dominican priest, Pat Reardon, had also written Trutter in late 1994 telling Trutter that Duran had been expelled by the Franciscans for "immoral behavior."

"Trutter said he was curious about this but passed the information on to his superior (Rodriguez) to 'let him take care of it,'" the plaintiff's summary of the deposition reads. "Trutter said he never told other Dioceses (Miami, St. Louis and Memphis) when he recommended Duran for positions in those Dioceses."

Communication break or cover-up?

Trutter vouched for Duran, but he never provided the Memphis Diocese a "letter of good standing" on Duran's behalf. The letter is required from the order of which a priest is a member. But Steib testified in an August 2006 deposition that the diocesan chancellor at the time, Deacon Chuck Wells, didn't get the letter and didn't follow up.

"Current Chancellor Robert Ponticello testified that he believed the diocese did not conduct an adequate investigation into Duran's background before he was brought to Memphis," reads a summary of Ponticello's September deposition.

Attorneys for the Diocese of Memphis maintain that Steib and other church leaders knew nothing of Duran's behavior.

"The Southern Dominican Province failed to disclose to defendant this material information indicating that Duran was unfit to serve as a priest, and in particular, to work with minors," a Feb. 15 response reads. "Defendant avers that the Southern Dominican Province should never have ordained Duran and that had the Southern Dominican Province acted appropriately with respect to Duran, Duran's abuse of Doe never would have occurred."

'A misunderstanding'

Gleeson attended Saint Louis University at the same time as Duran in the mid-1990s and they were among 30 seminarians who lived in a Dominican house at SLU. Although they didn't know each other, Gleeson testified that he recalled Duran leaving to return to Bolivia and not being able to return to the U.S. for three to four years because of what he heard from others were problems with his visa paperwork.

Rodriguez testified in his deposition that he went to Saint Louis University around December 1998 or early 1999 after Duran was accused of making lewd gestures and watching children undress in the locker room of the university swimming pool and gymnasium.

"Rodriguez tried to downplay the incident as a 'misunderstanding' in his deposition," according to the legal summary of the statement. "But (Rodriguez) admitted that he asked the head of the Dominican house in St. Louis to 'observe Duran' and forbade Duran from returning to the pool."

Duran arrived in Memphis in July 1999.

Attorney Steven Vescovo, who represents the Southern Dominican Province USA, told The Daily News his clients maintained "the highest standards for conduct and behavior."

"Once we found out about the allegations, we have been investigating and are attempting to resolve this matter with the (victim's) family," he said. "I don't think this case has changed anything. Once the problem surfaced, (the Dominicans) attempted to respond in an appropriate manner."