Fugitive Sacramento Priest Accused in Sex Case Arrested in Mexico

By Jennifer Garza
Sacramento Bee
March 15, 2008

http://www.sacbee.com/101/story/787571.html

A fugitive Sacramento priest, who fled the country 17 years ago after allegations he sexually abused two young girls, has been arrested in Mexico and may soon be extradited to the United States.

Gerardo Beltran, 50, is charged with four counts of child molestation occurring between 1989 and 1991 and involving two victims, according to a press release issued by the Sacramento County District Attorney's Office late Friday.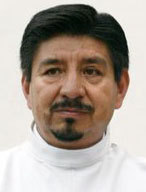 Gerardo Beltran



Beltran, who started serving in the diocese in 1982, disappeared in 1991 after Sacramento police began investigating allegations that he abused two former child parishioners.

Sacramento church officials suspended Beltran's faculties, a process that would supposedly stop him from working in the clergy. However, as The Bee has reported since 2005, he is believed to have been serving openly as a priest in a remote village in his native Mexico.

Sacramento church officials said they were relieved to learn of the arrest.

"This is welcome news. Beltran's victims will finally have their day in court and finally have the chance to see justice done," Bishop William K. Weigand, leader of the Catholic Diocese of Sacramento, said in a statement Friday night.

"On numerous occasions the diocese has alerted church officials in Mexico that Father Beltran was a wanted fugitive in California and that his faculties to say Mass have been revoked," Weigand said.

According to the statement by the District Attorney's Office, the FBI Legal Attaché Office in Mexico City "was of great assistance in locating and arresting Beltran."

FBI officials declined to comment Friday on the arrest. Officials with the District Attorney's Office did not return several phone calls.

Beltran served at St. Dominic Parish in Orland, St. Joseph in Sacramento and St. Anthony in Winters.

A spokeswoman for a victims support group said she was thrilled to hear about Beltran's arrest and hopes he returns to this country soon.

"Unfortunately, arrest doesn't mean conviction," said Nancy Sloan, director of Survivors Network of those Abused by Priests in the Sacramento-Stockton region.

Beltran's extradition must meet terms under a treaty between the two countries.

At least two other priests who served in the Sacramento region are accused of sexually abusing children and fleeing to Mexico: the Rev. Jose Luis Urbina and the Rev. Francisco Javier Garcia.

While in the Sacramento diocese, Urbina was accused of sexually molesting a boy over the course of several years, in one instance pointing a gun at him before molesting him. Urbina is believed to be working as a priest at his hometown parish in Navojoa, Mexico.

Garcia was accused in a lawsuit of incidents between 1987 and 1994 at Holy Rosary Parish in Woodland, Our Lady of Lourdes in Colusa and Sacred Heart Parish in Maxwell.

The diocese has previously settled eight claims involving Garcia, who fled to Mexico after charges were filed against him by the Yolo County district attorney in 1995.

"We will continue to work with civil and church authorities here and in Mexico to secure the capture and extradition of two other former Sacramento priests, Jose Luis Urbina and Francisco Javier Garcia, so that their victims will also have a chance at justice," Weigand said.