Retired City Priest Faces Sexual Misconduct Claims

By Jim Hand and George W. Rhodes
Sun Chronicle
March 18, 2008

http://www.thesunchronicle.com/articles/2008/03/18/news/news01.txt

[with link to a letter to parishioners of Holy Ghost Church from Bishop George Coleman]

ATTLEBORO - A retired priest who was stationed at Holy Ghost Church in the 1970s has been stripped of his authority to minister following allegations of sexual misconduct with a minor, the Fall River Diocese announced Monday.

The allegations against Rev. Bento Fraga have also been referred to the district attorney for Cape Cod and the Islands.

CLICK HERE for a PDF copy of Bishop Coleman's letter to the parishoners of Holy Ghost church in Attleboro.

The diocese said Fraga has denied the allegations, but a review board found them credible.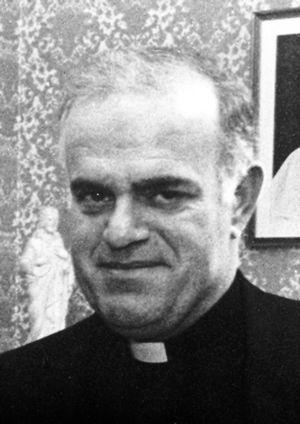 Rev. Bento R. Fraga



The incident allegedly took place in a private home in 1979 while Fraga was assigned to Holy Ghost.

A letter from the bishop of Fall River about the allegations was read Sunday to parishioners at all the churches Fraga served at over the years.

Rev. John Raposa, the current pastor at Holy Ghost, said there are still some parishioners who remember Fraga, and they found the charges hard to believe.

"There was a lot of surprise. A lot of people here have very fond memories of Father Fraga," he said.

One former altar boy, Greg Ilkowitz, 44, found the allegation incredible.

"When my mother told me about it I said 'not for a second do I believe that,'" said Ilkowitz who served as an altar boy for about four years in the mid-1970s. "Never once do I remember him doing anything inappropriate. He never made me feel uncomfortable or touched me inappropriately. He treated everybody with a lot of respect."

Ilkowitz, of Attleboro, said his brother Mark was also an altar boy and did not have any problems with Fraga.

"I don't generally speak out about things, but in this case what has been said is so far at the opposite end of the spectrum of what I know about him I didn't think it was fair that nobody would stand up for the man," Ilkowitz said.

Fraga had been credited with reviving the church's Feast of Pentecost and the Holy Spirit while he was assigned to Holy Ghost.

Raposa said he hopes people will understand the allegations are against one priest, and will not "put all priests into one basket."

In his letter, Bishop George Coleman called the allegations "deeply troubling" and asked parishioners to pray for everyone involved.

Brian Gleney, first assistant district attorney for the Cape and Islands, said the charges were referred to his office because the incident allegedly happened in the Cape and Islands jurisdiction.

He said he could not discuss details of the case. The office just received the complaint last week, so investigators are just starting to look it, he said.

Before an formal investigation can be conducted, it has to be determined if the alleged victim is willing to pursue the matter and whether the statue of limitations has expired.

The statue of limitations can be a complicated matter, he said, because the laws have changed over the years and the time limit gets frozen if the alleged perpetrator moved out of Massachusetts for a time.

In addition to serving in Attleboro, Fraga, according to the diocese, has been stationed at churches in Somerset, New Bedford, Provincetown and most recently at St. Anthony's in Taunton. He became a priest in 1956.

A statement from the diocese said that the allegations were brought to church officials in January and were turned over to its review board for evaluation.

After deciding that the allegations were credible, the issue was forwarded to the district attorney.

Fraga will not be allowed to minister and he must move out of the St. Anthony's parish house.