A Sudden Switch
Prosecutor Says He Erred in Interpreting New Child Sex-Abuse Law

By Ed Palattella
Erie Times-News
March 19, 2008

http://www.goerie.com/apps/pbcs.dll/article?AID=/20080319/NEWS02/803190378/-1/NEWS

MEADVILLE — In a sudden reversal, Crawford County District Attorney Francis Schultz has withdrawn child-corruption charges that state police filed against a former Roman Catholic priest over incidents that occurred nearly 40 years ago.

The withdrawal came six days after police filed the counts.

Schultz said he misinterpreted the law regarding the statute of limitations in having state police on March 12 charge Thomas E. Smith with fondling a boy between 1968 and 1970, when Smith was a priest.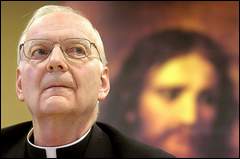 Bishop Donald W. Trautman speaks during a press conference on the Diocese of Erie statistics on clergy sexual abuse.
Photo by Janet B. Campbell


"I made a mistake in applying the statute of limitations in the case," Schultz said Tuesday.

"We are very disappointed that we cannot avail ourselves of the new statute of limitations for crimes involving the sexual abuse of children," Schultz also said, in a statement issued by his office.

"The investigation by the Pennsylvania State Police revealed evidence that sexual acts were committed by Smith against the victim when the victim was between 10 and 12 years of age," Schultz said. "However, the statute of limitations precludes the Commonwealth from pursuing a conviction in this case."

Schultz's office had pursued charges against Smith, now 67, based on a new Pennsylvania law that expanded the statute of limitations in child-sex cases. Schultz and others said they believed the charges against Smith were the first of their kind statewide under the new law.

"I read the statute and thought we were good under the statute," Schultz said Tuesday.

The law previously limited the prosecution of child-sex crimes to the date when the victim turned 30. The new law, effective in early 2007, extends the prosecution of sex crimes to the date when the victim turns 50.

Schultz on Monday told the Erie Times-News he believed the new law was retroactive, meaning it could apply to incidents that occurred before the expansion of the statute of limitations went into effect.

He said he determined on Tuesday — the day after the Erie Times-News first reported the filing of the charges — that the law was not retroactive in the Smith case.

He said the statute of limitations for the corruption charges was two years, which expired with no charges filed. The prosecution could not now use the change contained in the 2007 law to extend the statute of limitations, Schultz said.

Filing the charges

Schultz said the issue with the statute of limitations was the sole reason he withdrew the charges, and he said the Catholic Diocese of Erie did not contact him about withdrawing the charges.

He said he reached his decision on the statute of limitations after consulting Tuesday with a representative of the Pennsylvania District Attorneys Association.

He said previously that state police interviewed the accuser, former Meadville resident Clair Prenatt, and talked to Smith before the police charged Smith with four counts of corruption of a child, a misdemeanor, at the office of Saegertown District Judge Lincoln Zilhaver. Schultz declined comment on what, if anything, Smith said to police.

Schultz said he told state police to withdraw the charges on Tuesday, and he said he also told Smith he was withdrawing the charges.

Smith was removed from ministry in the Catholic Diocese of Erie in 2002 and removed from the priesthood in 2006. He now lives in Oil City. He has not responded to requests for comment.

His accuser, Prenatt, who turned 50 on Friday, accused Smith of fondling him at a residence in the Meadville area between Oct. 1, 1968, and Oct. 1, 1970, when Prenatt was between 10 and 12 years old, according to the criminal complaint. Smith was Prenatt's stepbrother at the time.

Prenatt now lives in Virginia. He has declined comment through his sister, Meadville resident Judith Prenatt, who runs the northwestern Pennsylvania chapter of the nationwide Survivors Network of those Abused by Priests, or S.N.A.P. Judith Prenatt also declined comment on the withdrawal of the charges.

Bishop's response

Erie Catholic Bishop Donald W. Trautman on Tuesday issued a statement in which he sharply criticized the Erie Times-News' coverage of the charges against Smith.

Trautman said the newspaper's treatment of the case, including the reporting on the changes in the state law, demonstrated "an egregious disregard for accuracy in journalistic research, and an alarming lapse in ethics."

Trautman in his statement did not address Prenatt's allegations against Smith, who was ordained a priest in 1967. The diocesan spokesman, Monsignor Thomas McSweeney, said the diocese would have no comment on the charges.

Trautman in 2002 removed Smith from the ministry after an Erie man complained that Smith had molested him decades ago, when the man was a boy, according to correspondence previously published in the Erie Times-News. The Vatican in 2006 removed Smith as a priest through a process known as laicization.

"These are grave matters, but the Erie Times-News has lost credibility in dealing with them so unprofessionally," Trautman said in his statement Tuesday. "It has done a great disservice to all involved. We all expect a complete retraction, but the damage has been done."

"What we reported was accurate," Erie Times-News Managing Editor Pat Howard said. "Formal charges were filed by the Pennsylvania State Police, as we reported, based on the Crawford County district attorney's analysis that the new law could be applied retroactively.

"The situation changed the next day, and we're reporting the new developments with the same immediacy and standards we apply to any developing story."

'We applaud this prosecutor'

In interviewing Schultz on Monday, the Erie Times-News asked him about any problems retroactivity might pose in charging Smith under the revised statute of limitations. Schultz said he had determined, at that time, that the new law allowed him to charge Smith for the incidents that occurred decades ago.

The Erie Times-News on Monday also contacted the executive director of the Pennsylvania District Attorneys Association, and she said she was not in a position to comment on the Smith case. And the Erie Times-News contacted Erie County District Attorney Brad Foulk, the vice president of the Pennsylvania District Attorneys Association and its incoming president.

Foulk did not dispute Schultz's interpretation of the new law. He also said he planned to discuss, at an April meeting of the District Attorneys Association, how other prosecutors statewide intend to handle such cases under the new law.

The co-founder of S.N.A.P., David Colhessy, of St. Louis, said the withdrawal of the charges against Smith shows how prosecutors nationwide have struggled to take on old cases while dealing with different statutes of limitations.

"There is certainly no shame in trying to protect kids and being thwarted by the state laws," Colhessy said. "The shame is in not trying.

"Different prosecutors around the country have tried different legal theories. Sometimes they have been successful, sometimes not. We applaud this prosecutor for moving more aggressively than less aggressively. Prosecutors before were overly cautious and deferential to church officials."

ED PALATTELLA can be reached at 870-1813 or by e-mail.

In their words: DA, bishop, activist

The Crawford County District Attorney's Office on Tuesday issued this statement on the withdrawal of child-corruption charges against Thomas E. Smith:

District Attorney Francis J. Schultz has requested that the Pennsylvania State Police withdraw charges that were filed against Thomas E. Smith last Wednesday, March 12, 2008.

Smith was charged with four counts of corrupting the morals of a child for alleged offenses occurring from October 1, 1968, through October 1, 1970.

After further review of the law regarding the statute of limitations for child sexual abuse offenses, it has been determined that because the original statute of limitations for the offense was two years and the two years expired with no charges being filed, the Commonwealth cannot avail itself of the 2007 change in the statute of limitations that gives the Commonwealth the opportunity to file charges until the victims 50th birthday for abuse that allegedly occurred before the victim turned 18 years of age.

District Attorney Schultz explained that, "because the original statute of limitations of two years had already expired, the law in Pennsylvania is that a new statute of limitations cannot revive a case where an existing statute of limitations has already expired."

"We are very disappointed that we cannot avail ourselves to the new statute of limitations for crimes involving the sexual abuse of children. The investigation by the Pennsylvania State Police revealed evidence that sexual acts were committed by Smith against the victim when the victim was between 10 and 12 years of age. However, the statute of limitations precludes the Commonwealth from pursuing a conviction in this case. Once we made the determination that we could not proceed with the charges, I immediately informed the Pennsylvania State Police to withdraw the charges against Mr. Smith and personally informed Mr. Smith that the charges would be withdrawn," stated District Attorney Schultz.

Erie Catholic Bishop Donald W. Trautman on Tuesday issued this statement on the case of Thomas E. Smith, who was removed as a priest in 2006:

Speaking on behalf of the Diocese of Erie, I wish to express in the strongest of terms how appalled we are at the erroneous reporting in the front page article titled: "Police charge expriest: Change in sexabuse law allows prosecution of case 40 years after alleged incidents." (Erie TimesNews, 18 March 2008, Ed Palattella)

The reporter's treatment demonstrates an egregious disregard for accuracy in journalistic research, and an alarming lapse in ethics. He reports that a "new law ... extends the prosecution of sex crimes to the date when the victim turns 50." Had he and his editors properly researched the text of Pennsylvania Act 2006179 and the amendment to 42 P.A.C.S. Section 552(c), they would have known that by constitutional precedent, criminal statutes of limitation cannot be retroactively extended to allow for the prosecution of offenses on which the statute had already lapsed.

If the victim had already reached age 30 by 1/29/07 (the effective date of Act 2006179), prosecution of the offenses are time-barred. It is because Mr. Prenatt turned age 30 well before the law was changed in 2006, he does not have legal grounds on which to charge Mr. Smith.

Yet the Erie Times-News did not bother to verify their analysis of this charge before publishing its blatantly inaccurate as well as inflammatory front page article.

Our diocesan family is deeply committed to creating a safe environment for our children and continues to comply with the Charter for the Protection of Children and Youth, promulgated by the United States Catholic Conference. We have consistently encouraged any victim to come forward. I personally will continue to apologize both publicly and privately, and to work behind the scenes assisted by professional counselors and therapists to help victims and their families.

These are grave matters, but the Erie Times-News has lost credibility in dealing with them so unprofessionally. It has done a great disservice to all involved. We all expect a complete retraction, but the damage has been done.

The nationwide group Survivors Network of those Abused by Priests, or S.N.A.P., issued this statement Tuesday on the case of Thomas E. Smith. The comments are from Barbara Dorris, of St. Louis, the group's outreach director:

We applaud this prosecutor for erring on the side of action. Kids are safest when law enforcement goes the extra mile and moves aggressively against predators.

Since the criminal statute can't be reformed retroactively, it's all the more important that Pennsylvania lawmakers give child sex abuse victims a chance in civil court to expose dangerous child predators.

Bishop Trautman's criticism of the news media is a blatant and inexcusable effort to intimidate journalists and distract attention. ... Trautman should be ashamed of himself for such mean-spirited posturing.

A public official took action, and journalists reported on that action. Trautman, however, obviously prefers that clergy sex crimes remain secret, as thousands of them have for decades.

Contact: ed.palattella@timesnews.com