Church Debates Hiring Priest
Was on Leave 5 Years before Reinstatement

By Amber Ellis
Cincinnati Enquirer
March 31, 2008

http://news.enquirer.com/apps/pbcs.dll/article?AID=/20080331/NEWS01/803310322/1077/COL02

A dozen protesters stood outside a Price Hill Catholic church Sunday as parishioners inside discussed whether a longtime member who faced a sexual misconduct scandal years ago should become the parish's new priest.

The Rev. James Kiffmeyer, who applied for the position at Holy Family Church, was placed on administrative leave for nearly five years after the allegations surfaced. In 2006, the Vatican's Congregation for Clergy found that Kiffmeyer should not be penalized because his accusers waited too long to come forward with details about his alleged misdeeds.

Cincinnati Archbishop Daniel Pilarczyk asked the Parish Pastoral Council to consult with parishioners - a step forward for the Catholic Church, which as a whole has been criticized since molestation allegations and expensive lawsuit settlements have popped up in recent years.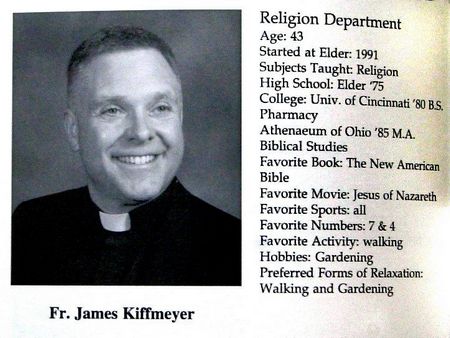 Church debates hiring priest



On Sunday, about 300 parishioners discussed the pros and cons of placing Kiffmeyer at the helm of the church. Opinions ranged from concern with his access to children to others who said they are confident in his ability to lead them.

Parish spokesman Tom Gamel declined to go into details about what was said during the closed-door meeting.

"We just talked about what has happened in the past, what we're looking for as far as a pastor and how he would fit the needs of our parish, those kinds of things," said Gamel, who's been with the church for more than 45 years.

Trung Nguyen heard about Kiffmeyer's alleged transgressions from news reports and his own research.

"I'd like to hear from Father Jim," said Nguyen, who got married at the church five years ago. He suggested Kiffmeyer host a question-and-answer session.

Others, including Wilma Burlage, said Kiffmeyer would be the perfect person to take over for the current pastor, the Rev. Steve Angi. Angi is leaving Holy Family later this year to continue studying canon (religious) law.

"There isn't anyone ... who hasn't sinned in their life. God does forgive people, and I don't know whether he did or didn't (do what he's been accused of)," said Burlage, who said he began attending Holy Family 10 years ago.

"I think he is an extremely good priest. He's one of the happiest priests I've ever seen; he could do a lot of good for this church, and this neighborhood."

Many people who left the last of two meetings said they didn't feel comfortable talking about a man they've known, in some cases, for decades.

Kiffmeyer is a longtime parish member. He was ordained at Holy Family and said his first Mass there, according to Dan Andriacco, spokesman for the archdiocese. Today, he helps out as needed in several parishes, but most of his time is spent at Holy Family.

Kiffmeyer, who was once assigned to Elder High School in Price Hill and Fenwick High School in Middletown, went on personal leave in 2002 after allegations from 1986 and 1990 surfaced. The alleged victims, Fenwick High School students, were 18 when those events supposedly happened.

The first allegation emerged in 1997 - seven years after the alleged abuse happened. According to the archdiocese, Kiffmeyer reached "a four-figure settlement with the accuser."

After the second case - a 1986 incident that was reported to the archdiocese in 2002 - Kiffmeyer was placed on administrative leave, which barred him from celebrating sacraments, wearing clerical garb or performing other priestly duties.

He was later reinstated.

But in a decree, the congregation advised Kiffmeyer with this message: "avoid situations and persons which might endanger his living up to his priestly commitment, and he is to closely guard his own personal behavior so that no further scandal be caused by any of his actions."

Kiffmeyer, who has denied any wrongdoing in the past, could not be reached for comment Sunday.

Meanwhile, the protesters, organized by the local Voice of the Faithful, huddled in a circle against the church building, singing hymns, praying and reciting Bible verses.

As director of Connections, a resource center for abuse survivors, Rebecca Born said she was concerned that putting Kiffmeyer in a position of power over children was dangerous.

"It's about protecting the children - period," she said. "If there's a hint of lead in a toy, we're recalling all the toys. But if there's a hint of someone who sexually molested someone, they have a right to come and be a pastor. Why isn't he recalled? We need to be a lot wiser about our children."

The Parish Council will meet this week. It will then pass its recommendation to Angi. He will contact Pilarczyk and a final decision will be made within weeks