Former Charlotte Priest Arrested on Sex Charge
Rev. Robert Yurgel in Custody in NJ

By Gary Wright and Tim Funk
Charlotte Observer
April 2, 2008

http://www.charlotte.com/109/story/563777.html

A former priest at St. Matthew's Catholic Church in Charlotte was arrested Wednesday on charges of having sex with a minor, police announced.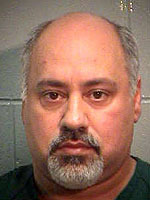 The Rev. Robert Yurgel



The Rev. Robert Yurgel, 43, was taken into custody in New Jersey. He was wanted on five counts of taking indecent liberties with a minor and two counts of statutory sex offense in connection with a 1999 incident in Charlotte. The alleged victim recently reported the matter to Charlotte-Mecklenburg detectives, police said.

He was a juvenile at the time the alleged offenses occurred, according to police.

Yurgel was "parochial vicar," or assistant to the pastor, at St. Matthew's Catholic Church, when authorities say the incidents occurred.

The Catholic Diocese of Charlotte said Yurgel, a member of the Franciscan order of priests, was in Charlotte from May of 1997 to October of 1999.

During that time, he was assigned first to St. Matthew's in south Charlotte and then to Our Lady of Consolation Church north of uptown for a short time before transferring out of the Charlotte area.

U.S. marshals arrested Yurgel at his Passaic, N.J., church residence, police said. He will be brought back to Charlotte to face the charges.

Diocese spokesman David Hains said the diocese did not know about the allegations until Wednesday afternoon. "We were not in the loop in the investigation," he said. "We were caught a little off guard. We didn't know anything about this."

Hains said a check of Yurgel's personnel file turned up no "questions regarding...sexual misconduct involving young people."