Priest Charged with Sex Crimes in Charlotte
Rev. Robert Yurgel Accused of Having Sex with 14-Year-Old Boy in 1999

By Gary L. Wright and Tim Funk
Charlotte Observer
April 3, 2008

http://www.charlotte.com/local/story/564245.html

A priest assigned to Charlotte's St. Matthew Catholic Church in the late 1990s was arrested Wednesday on charges of having sex in Charlotte with a 14-year-old boy in 1999.

The Rev. Robert Yurgel, 43, was taken into custody by U.S. marshals in Passaic, N.J., where he lives, and will be extradited to Charlotte.

Mecklenburg Assistant District Attorney Kelly Miller, who authorized the warrants charging Yurgel, said the boy and his family were members of St. Matthew — now the largest Catholic church in the 46-county Diocese of Charlotte — at the time of the alleged sex crimes.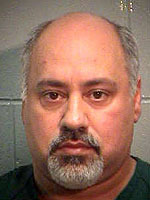 The Rev. Robert Yurgel



Yurgel, a member of the order of Capuchin Franciscan Friars, was wanted on five counts of taking indecent liberties with a child and two counts of statutory sex offense. The alleged victim, now in his early 20s, recently reported the matter to Charlotte-Mecklenburg detectives, police said.

Both Miller and Charlotte diocese spokesman David Hains said Yurgel's case is the first involving a Catholic priest in which the alleged incidents happened in Charlotte.

With other accusations involving Catholic priests in Charlotte, the alleged misconduct occurred in other cities.

"As far as I can ascertain, this is the first time we have a situation involving a priest and a victim, both in the city of Charlotte," Hains said.

He said the diocese did not know about the accusations against Yurgel until Wednesday afternoon. "We were caught a little off guard," he said. "We didn't know anything about this."

Hains said a check of Yurgel's personnel file did not turn up "questions regarding ... sexual misconduct involving young people." He declined to discuss any other aspect of Yurgel's personnel file.

Because of a shortage of priests in the Charlotte diocese, Catholic orders of priests based elsewhere have agreed over the years to staff some parishes.

Yurgel's order currently provides the priests at St. Thomas Aquinas and Our Lady of Consolation parishes in Charlotte. In the late 1990s, it staffed St. Matthew, a 26,000-member church in the Ballantyne area that's now run by local diocesan priests.

In 1997, Yurgel was named "parochial vicar," or assistant to the pastor, at St. Matthew. Hains said Yurgel remained in Charlotte until October 1999. After his time at St. Matthew, he worked briefly at Our Lady of Consolation north of uptown.

The Rev. Brian Tomlinson, the New Jersey-based provincial minister of the Capuchin Franciscan Friars and Yurgel's superior, said he and others in the order were "taken by surprise and shocked" by Wednesday's arrest.

"We're waiting for the attorneys to advise us accordingly," he said.

He said Yurgel, a priest for "at least 20 years," is "very well liked and a good preacher."

Miller said she didn't know why the alleged victim waited nearly 10 years to report the molestation, but said it's not unusual for children to wait years before disclosing sexual contact with adults.

That's often been the case with widespread allegations of child sex abuse involving priests. They have come to light only in recent years, plunging the U.S. Catholic Church into scandal, but most of the crimes happened decades ago.

The dioceses of Raleigh and Charleston have had high-profile cases involving millions of dollars in payouts to victims.

The 46-county Charlotte diocese, created in 1972, has had cases involving priests assigned in the 1980s and 1990s in Boone, Salisbury and Lincolnton.

In 2004, a priest was removed from Our Lady of the Assumption Church over allegations that he sexually abused minors in the early 1990s in New Jersey.

Last year, the Charlotte diocese paid $14,000 for counseling to sex abuse victims.

Other denominations have been beset by clergy sex abuse of children.

Hains said the Charlotte Catholic diocese has trained 15,000 employees and others on how to spot the signs of child sex abuse. All diocesan employees and volunteers undergo background checks. A lay diocesan board investigates all allegations of child sex abuse.

St. Matthew released a statement saying that the church had been informed of Yurgel's arrest. Antoinette Usher, operations and facilities director, had no comment except this:

"Our prayers are extended to all individuals and families impacted by this announcement."