Group Urges Action against Clerics
Priest, Diocese Deny Abuse Allegations

By Molly Montag
Sioux City Journal
April 5, 2008

http://www.siouxcityjournal.com/articles/2008/04/05/news/top/835163c65cb37e4d8625742200059297.txt

SIOUX CITY -- A man representing an advocacy group for victims of clerical sexual abuse on Friday urged officials at the Diocese of Sioux City to do more to find and help victims of abuse.

Minnesotan Bob Schwiderski of Chicago-based Survivors Network of those Abused by Priests, or SNAP, made the announcement during a news conference outside diocese headquarters in Sioux City.

The event came on the heels of two lawsuits filed last month against the diocese, both of which claim young men were sexually abused by former priest John Kurzak and former seminary student John Perdue.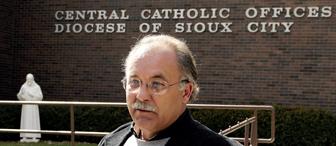 Bob Schwiderski, assistant Midwest director for Survivors Network of those Abused by Priests, speaks during a press conference in front of the Sioux City Diocese office Friday.
Photo by Jim Lee


Reached Friday by telephone, Perdue denied the abuse. He did not make any further statements, citing advice from his legal counsel.

"The allegations are untrue," Perdue said.

Kurzak, who the lawsuit claims works for the military and is living in Texas, could not be reached for comment.

Schwiderski urged officials, specifically Bishop R. Walker Nickless, to go to the district's parishes and meet with community leaders to find victims and raise awareness about the problem.

"When you have someone that reaches the rank of bishop, they are a community and regional leader," Schwiderski said.

The lawsuits, filed by Minnesota resident Joseph Kestel and Montana resident Jeffrey Steinke, allege that Kurzak and Perdue sexually abused them in separate instances in the early 1980s, when the plaintiffs were teenagers in the diocese.

Kristie Arlt, diocese spokeswoman, read from a one-page prepared statement, saying church officials were not aware of any complaints against Kurzak and Perdue until just before the lawsuits were filed.

She countered claims Kurzak had been transferred to the military because of allegations by saying he asked to be transferred to the Air Force Military Chaplaincy before the dates of the alleged abuse.

"Based upon our investigation, to date there is absolutely no evidence that he was transferred to the military because of any improper acts here in the diocese," she said.

Kurzak has denied the allegations, Arlt said, and said he plans to fight the lawsuit.

She said church officials are trained to help those who may have suffered sexual abuse and try to help victims heal from past abuse.

"The policy of the diocese is to take very seriously all claims and to investigate them promptly and objectively," Arlt said.

Approximately 30 sexual abuse lawsuits have been filed against the diocese in the past five years. Officials said in 2007 they had settled 27 allegations.

The majority of the previous allegations were leveled against George McFadden, who has since been stripped of his priestly duties.