Accused Priest Close to Family, Lawyer Says
Pastors Tell Local Parishioners to Let Legal Process Work, but Apologize for Any Hurt

By Tim Funk and Gary L.wright
Charlotte Observer
April 7, 2008

http://www.charlotte.com/local/story/569922.html

The Rev. Robert Yurgel, the Catholic priest charged with having sex with a 14-year-old boy in Charlotte in 1999, was a close friend of the boy's family, the attorney for the alleged victim, now 23, said Sunday.

Charlotte lawyer Seth Langson also said that some of the alleged molestations occurred on church property in Charlotte — not only at St. Matthew Catholic in the Ballantyne area, but also at Our Lady of Consolation Catholic north of uptown.

On Sunday, pastors at both parishes spoke to their congregations, reminding them that Yurgel, now 43 and living in New Jersey, is innocent until proven guilty, but also expressing regret for any hurt caused by the case.

"I want to apologize to you in the name of the priesthood I represent," Monsignor John McSweeney, pastor at St. Matthew, told several hundred parishioners attending the 9 a.m. Mass.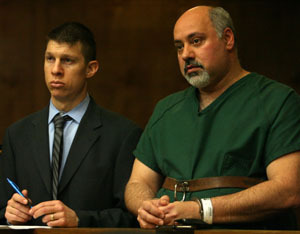 4/4/08 - The Rev. Robert Yurgel (right) appears in a state Superior Court hearing in Passaic, N.J., with public defender Jon Iannaccone.
Photo by Leslie Barbaro


McSweeney added that he and the three other priests now staffing St. Matthew — all of whom came after Yurgel left the parish — "also pledge to you that we will serve you to the best of our ability and re-earn your trust in us."

In an e-mail sent Friday, he invited the church's 26,000 members to attend "open discussions" tonight and Tuesday night, where he and church counselors will answer questions and address concerns.

McSweeney also told parishioners Sunday that he's asked his staff to confirm that all staffers and volunteers have had criminal background checks and have completed a class — required by the Diocese of Charlotte since 2002 — on how to protect children from sexual abuse.

Unlike McSweeney, who is a local diocesan priest, Yurgel belongs to a religious order called the Capuchin Franciscan Friars. The friars used to provide priests for St. Matthew and continue to supply them to Our Lady of Consolation.

At Sunday's 11 a.m. Mass at Our Lady of Consolation, the Rev. Jude Duffy, pastor since 1999, asked for prayers for "anybody affected" by the allegations. Duffy, also a member of the Capuchin Franciscan order, told parishioners that he briefly served with Yurgel at Our Lady of Consolation "and found him to be a fine man ... Everybody is shocked."

Yurgel is now in a Passaic, N.J., jail, awaiting extradition to Charlotte, where he faces five counts of taking indecent liberties with a child and two counts of statutory sex offense. On Friday, he appeared in a N.J. court with a public defender and waived his right to contest extradition.

He was not asked to enter a guilty or not guilty plea — that will come in Charlotte — and Yurgel's superior said the accused priest has so far said "nothing at all" about the charges.

Still, the Rev. Brian Tomlinson, the N.J.-based provincial minister for Yurgel's order, said he called McSweeney on Saturday to ask him to deliver a message from the order to the St. Matthew congregation.

"If there was a wrong committed, we want to extend an apology to the parish for the inconveniences and to anyone affected by this situation," said Tomlinson, who added that it was "one of my predecessors" who sent Yurgel to the Charlotte Diocese.

Yurgel was assigned to St. Matthew Catholic, where the alleged victim's family attended church, from May 1997 to June 1999. When he first arrived, he helped start a youth group.

He was transferred to Our Lady of Consolation in July 1999 and worked there until October 1999. That's when he left Charlotte for the post he's had since: chaplain at St. Mary's Hospital in New Jersey.

Diocese caught off-guard

Yurgel's arrest last Wednesday caught the Diocese of Charlotte off guard, said spokesman David Hains. He said there was nothing in Yurgel's personnel file to suggest he should be kept away from children. Since the arrest, Hains said, the diocese has received a letter from attorney Langson that names the alleged victim and asks that the diocese contact Langson, not his client.

The diocese's current programs to better protect kids weren't in place when the alleged incidents occurred in 1999. They were launched three years later, when Catholic bishops around the country were besieged by lawsuits over child sex abuse.

The Observer requested interviews with Charlotte Bishop Peter Jugis, installed in 2003, and retired Bishop William Curlin, who headed the diocese when Yurgel was here. Hains said that he was designated to speak for Jugis and that Curlin would not comment.

On Sunday, parishioners at St. Matthew and Our Lady of Consolation did speak up as they exited their respective services.

Sue Merchant, 51, a St. Matthew parishioner for 15 years, said the allegations will be handled by the courts. "(The Catholic church) is as solid as a rock and it always will be," she said. "Jesus said the gates of hell will not prevail against (the church). He didn't say they wouldn't try."

But at Our Lady of Consolation, Fritz Hjardemaal, 29, said this latest case of a Catholic priest accused of abusing children makes him wonder if the church could do a better job screening priests.

"There have been so many stories around," he said. "It's just sad." Returning to Charlotte