Accused Priest in Mecklenburg Jail

Charlotte Observer
April 13, 2008

http://www.charlotte.com/breaking_news/story/579396.html

A Catholic priest charged with having sex with a 14-year-old boy in Charlotte in 1999 is in the Mecklenburg County jail today.

Records show the Rev. Robert Yurgel was booked around 9:15 this morning. He is expected in court on Tuesday, according to a Web site for the jail.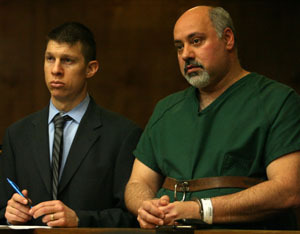 4/4/08 - The Rev. Robert Yurgel (right) appears in a state Superior Court hearing in Passaic, N.J., with public defender Jon Iannaccone.
Photo by Leslie Barbaro


Yurgel, 43, is charged with five counts of taking indecent liberties with a child and two counts of statutory sex offense. He was arrested April 2 in Passaic, N.J., where he lives. Later that week in court, Yurgel waived his right to contest extradition.

Authorities have said the boy and his family were members of St. Matthew Catholic in the Ballantyne area when the alleged sex crimes occurred. The victim recently reported the matter to Charlotte-Mecklenburg detectives, authorities have said.

Yurgel worked at St. Matthew from May 1997 to June 1999. He then worked at Our Lady of Consolation Catholic from July 1999 to October 1999, when he left Charlotte to be chaplain at St. Mary's Hospital in New Jersey.