Accused Priest Appears in Court
Robert Yurgel's Order Paying for His Defense

By Tim Funk and Gary L. Wright
Charlotte Observer
April 16, 2008

http://www.charlotte.com/local/story/582921.html



The Rev. Robert Yurgel, the Catholic priest accused of having sex with a 14-year-old boy in Charlotte in 1999, made his first local court appearance Tuesday. Also there: Yurgel's lawyers, hired by the Catholic religious order in New Jersey that assigned him to Charlotte's St. Matthew Catholic Church in the late 1990s.

Appearing by video from the Mecklenburg County jail, Yurgel, 43, was dressed in an orange jumpsuit and listened attentively as Judge Bill Constangy set a bond hearing for April 25. The proceeding lasted about 30 seconds.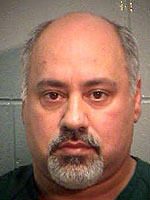 The Rev. Robert Yurgel

Besides acknowledging that it was paying for Yurgel's defense, his order -- the Capuchin Franciscan Friars -- also confirmed that his 1997-99 stints at St. Matthew in Ballantyne and Our Lady of Consolation north of uptown were not his first assignments in North Carolina.
During the first half of 1992, Yurgel, then a novice studying to be a priest, lived with five other robe- and sandal-clad friars at the Diocese of Charlotte's Catholic Conference Center near Hickory. He also drove to Salisbury once a week to work with a youth group, according to a 1992 Observer article about the friars.
Meanwhile, an Observer search of MySpace pages turned up one with Robert Yurgel's name as well as pictures of him. It lists his correct age, height and city of residence -- Passaic, N.J.
The social networking site also features a list of favorite movies and books (including the Harry Potter series), "Care Bear" images, a Christian cross and photos of friends.
Yurgel, known as "Father Bob," is shown playing a guitar in one photo. In a section called "Robert's Details," he's listed as single and Catholic, with a Zodiac sign of Virgo.
The Rev. Brian Tomlinson, Yurgel's superior in New Jersey, said it was the Capuchin Franciscan Friars, not the Catholic Diocese of Charlotte, who arranged for local attorney George Laughrun to represent the priest.
Yurgel was arrested April 2 in New Jersey. He was booked in the Mecklenburg jail on Sunday. Attorneys Laughrun and Andrew Murray met with Yurgel at the jail for about 2 1/2 hours on Monday.
"He's holding up well, all things considered," Laughrun said. "His faith will get him through this."
Yurgel is jailed on $225,000 bond. He is charged with two counts of statutory sex offense and five counts of taking indecent liberties with a child. The statutory sex offense charges are each punishable by up to life in prison.
Tomlinson and David Hains, spokesman for the 46-county Diocese of Charlotte, both said checks of Yurgel's personnel files turned up no questions regarding sexual misconduct with young people.
Because of a shortage of local priests, the Charlotte diocese invites orders such as the Capuchin Franciscan Friars and the Jesuits to provide priests for some parishes. Tomlinson said the order decides which priests to send, though the local bishop can reject them.
"The bishop doesn't know the individual (order) priests ... as a general rule," Tomlinson said. "He has to take the word of the (order's) provincial that ... he's a priest in good standing and that there's nothing we know of that will stand in the way of the priest serving well."
In 1997, when Yurgel was named "parochial vicar," or assistant to the pastor, at St. Matthew, Bishop William Curlin headed the diocese.
Both Curlin and Bishop Peter Jugis, the current head of the diocese, have declined the Observer's interview requests.
While Yurgel was at St. Matthew, he helped start a parish youth group. In 1999, local diocesan priests took over the operation of St. Matthew. At that point, Yurgel and the other Capuchin Franciscan Friars moved to Our Lady of Consolation, where he worked for about four months. He left Charlotte in 1999 to become chaplain at St. Mary's Hospital in New Jersey.
Tomlinson said he got that job because he's bilingual -- English and Spanish. Assigning him to a hospital rather than to another parish had "nothing at all" to do with his record in Charlotte, Tomlinson said.
Charlotte lawyer Seth Langson, who is representing the alleged victim, now 23, told the Observer that Yurgel was a close friend of the boy's family.
Langson said some of the alleged molestation occurred on church property -- both at St. Matthew and at Our Lady of Consolation.
Rev. Robert Yurgel's assignments
Here's a list of Yurgel's positions over the years, according to his order, the Capuchin Franciscan Friars:
Jan.-June 1992: Novice, or intern, at Catholic Conference Center near Hickory.
July 1992-July 1993: Spiritual formation work at St. Felix Friary in Wilmington, Del.
Aug. 1993-June 1996: Studies at Our Lady of Lourdes Friary, Patterson, N.J.
July 1996-May 1997: Studies at Immaculate Conception Friary, Bronx, N.Y.
May 1997-June 1999: Parochial vicar at St. Matthew Catholic Church, Charlotte.
July 1997-Oct. 1999: Priest at Our Lady of Consolation, Charlotte.
Oct. 1999-present: Chaplain at St. Mary's Hospital, Passaic, N.J.

Contact: tfunk@charlotteobserver.com