Fairbanks Diocese Copes with Sex-Abuse Crisis

By Libby Casey
NPR
April 21, 2008

http://www.npr.org/templates/story/story.php?storyId=89817192 [click to hear audio]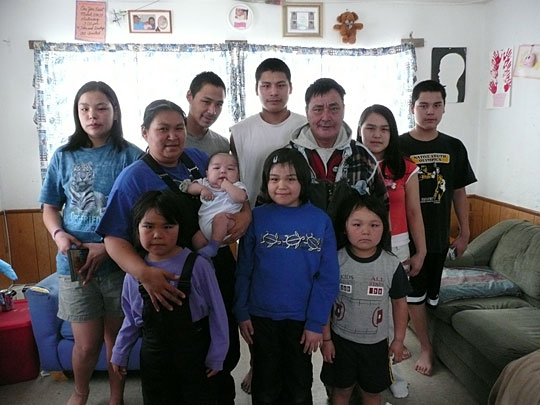 John Lockwood (center-left) of St. Michael, Alaska with his wife and their nine children. Lockwood was sexually abused as a boy by a Catholic volunteer who worked in his Norton Sound village. He says he has found healing by sharing his story with a lawyer and spending time with his family.
Photo by Libby Casey

More than 140 Alaska natives have sued the Roman Catholic Diocese in Fairbanks, Alaska, saying they were sexually abused by church workers from the 1950s through the 1980s.
Melissa Block, host: Last week, during Pope Benedict XVI's U.S. visit, he spoke of the damage done by clergy sex abuse. One result for the church, six dioceses have declared bankruptcy. They say can't afford the legal claims by victims. The latest diocese to go bankrupt is in Alaska. From member station KUAC in Fairbanks, Libby Casey reports that priests were sent to Alaska largely unsupervised.
Libby Casey: Cultural life in the village of St. Michael hasn't changed much since John Lockwood was a boy. Children still learned from their parents how to hunt for whales and fish for salmon. Lockwood has a story about every landmark on this small northern sound island. His most vivid memories, however, are filled with pain. He looks over the wind-swept snow and points out the house he crawled under as a small boy, instead of going to church.
Mr. John Lockwood (Resident, St. Michael, Alaska): My dad used to send me to church every Sunday. I'd never make it to church. I'd go hide and wait. An hour came, church finished, I go home like I came from church.
Casey: Lockwood was hiding from Joseph Lundowski. The Catholic volunteer came to St. Michael in the 1960s. In the remote village, he acted as the local priest's deputy, leading services, giving communion and teaching children. Lockwood remembers him like a bear, tall with a big belly. When Lockwood was about eight years old, Lundowski attacked him after catechism class.
Mr. Lockwood: When it first happened to me, I got grabbed by the arms, lifted up and thrown on a bed. And I tried to fight my way, couldn't. He was stronger than I was. Our legs, we try to kick, he tie my legs till he gets to my pants, you know. That's when I lost, gave up.
Casey: Almost all at St. Michael's boys, were alone with Lundowski at some point, either after catechism lesson or Mass.
He left the village suddenly in the 1970s, but the pain he caused only grew. John Lockwood coped by drinking, and says his healing started when he got up the courage to tell his story to Anchorage lawyer Ken Roosa.
Mr. Ken Roosa (Anchorage Lawyer): The idea of a priest being prosecuted and put in jail, it was simply unthinkable.
Casey: Roosa says all the diocese's 140 cases of sexual abuse were committed by just a dozen men, some priests and some volunteers who traveled around the remote region.
Mr. Roosa: It's practically genocidal, in some villages. I tell you there are villages where I can walk down the street and not see an adult who wasn't molested as a child.
Casey: Roosa says the abuse went unchecked because the church had so much power in rural Alaska. It was the authority, both of the afterlife and village life. There were no police departments, lawyers or counselors and few telephones. Many of Roosa's clients spoke English as a second language.
Mr. Roosa: They didn't understand the difference between church and state. They didn't realize that there was a government that they could go to that might investigate, that might prosecute.
Casey: Roosa's firm recently settled with the Jesuit society that sent the priests to Alaska, winning $50 million for 113 victims. But it was Fairbanks diocese that supervised the priests, and Roosa said the final step is getting the diocese to pay up. The diocese initially resisted the claims, but has since apologized for its role in the sexual abuse. Still, Bishop Donald Kettler says he simply doesn't have the money to pay all of the victims.
Bishop Donald Kettler (Fairbanks Diocese, Catholic Church): You know, we've always wanted to financially help people. My difficulty's always been limited resources.
Casey: Fairbanks is the only missionary diocese in the country with remote parishes staffed by traveling priests stretched thin. Kettler wants to get through the Chapter 11 court process so the church can begin making amends.
Bishop Kettler: All the way through I have attempted to bring healing the best we could. Whenever I would travel out into the bush, I would call and invite the people to come to a hearing session. I've tried to have healing services.
Casey: All John Lockwood wanted was for the diocese to burn down the old Catholic church - that never happened. Lockwood had to get married there, too ashamed to tell his wife why he was terrified to go inside. The church was finally torn down last summer, not because of the memories it held, but because it was old.
For NPR News, I'm Libby Casey in Fairbanks, Alaska.