Local Advisory Board's Role Still Unclear
Weeks after Yakima Diocese Scandal, Review Committee Yet to Become Involved

By Jane Gargas
Yakima Herald-Republic
April 21, 2008

http://www.yakima-herald.com/stories/3377

When two cases of sexual misconduct -- one alleged, one admitted -- on the part of two Catholic clerics became public in Yakima earlier this month, questions arose on what role the Catholic Diocese of Yakima's Lay Advisory Board took in overseeing the cases.

It turns out the group, charged with reviewing allegations of sexual abuse of minors by church personnel, had no role. Its members weren't apprised of either situation.

Although the alleged child sexual abuse occurred in Oregon in both cases, the men worked in the diocese here, one before allegations were lodged and one after being charged by police.

Bishop Carlos Sevilla took the unprecedented step two weeks ago of calling a news conference to apologize for his handling of the first case, that of Juan Jose Gonzlez Rios.

Gonzlez, a 37-year-old diocesan employee, is currently jailed in Yakima for allegedly viewing child pornography while a seminarian in Oregon.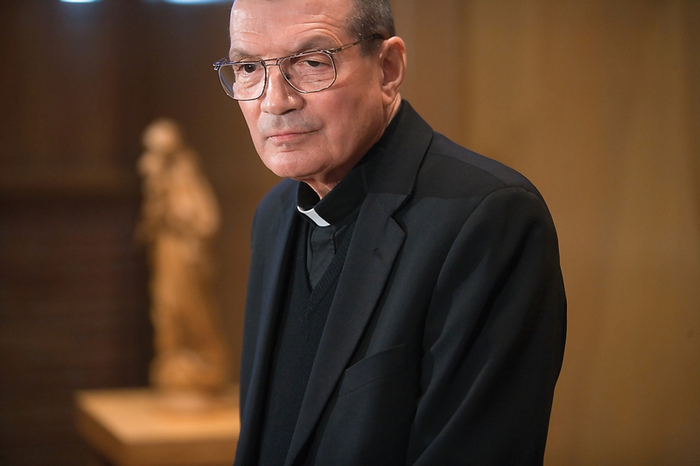 Bishop Carlos Sevilla



He was arrested last month on an Oregon warrant and is being held pending an extradition hearing.

Sevilla hired Gonzlez in 2003 to work at St. Peter Retreat Center in Cowiche, even though he knew he was under criminal investigation.

The other case concerns the Rev. Jose Joaquin Estrada Arango, 42, a former Yakima priest. Less than a year after leaving Yakima, Estrada pleaded guilty in 2003 to attempted felonious sexual assault of a then-14-year-old girl in Oregon and agreed to be deported.

After the Estrada case bcame public, Sevilla issued a news release taking exception to media coverage of the case, saying that while he didn't publicize the priest's conviction, he didn't hide it, either.

Attorney Russ Mazzola, chairman of the local lay advisory board, first heard about the charges against Gonzlez when the bishop told him that the ex-seminarian had been arrested on March 19.

Noting that Gonzlez worked in the diocese for five years while under Oregon police investigation, Mazzola said, "Do I wish the board had been informed? Yes."

Mazzola added, "In retrospect, the bishop said he thought the case was confidential at the time."

Conference requireslocal boards

Lay advisory boards were established in each Catholic diocese in the aftermath of the clergy sex abuse scandal that erupted in 2002 in Boston. The U.S. Conference of Catholic Bishops directed every bishop to create a board to review cases of alleged abuse, guided by sex abuse policies created in each diocese.

Boards were to be composed of at least five members, with Catholics and non-Catholics represented. The majority of the board was to be lay membership, or not part of the Catholic ministry.

Yakima's board, which meets as needed, was formed in summer 2003. In addition to Mazzola, members are Roy Simms, M.D., a Yakima pediatrician; Monsignor John Ecker of the Yakima diocese (a non-voting member); Carlos Carrillo, with the Richland Department of Social and Health Services; Tom Dittmar of Yakima, retired from the Seattle Police Department.; Yvonne Smith of Wapato, retired from the Yakama Nation Housing Authority; and Caitilin Newman of Wenatchee, a counselor.

Because advisory boards are just that -- advisory -- some critics say they're only as good as a bishop allows.

A national group of clergy abuse victims brands Catholic lay advisory boards as powerless.

"Earnest but powerless," said John Shuster of Seattle, a member of the national board of Survivors Network of those Abused by Priests (SNAP).

Not so, said Teresa Kettelkamp, executive director of the Office of Child and Youth Protection in Washington, D.C., which was established after the 2002 sex abuse scandal.

"I would say any time you have external review, that's good," said Kettelkamp, whose office is part of the U.S. Conference of Catholic Bishops.

The local board has served a valuable role, the Rev. Robert Siler, Yakima Catholic Diocese chief of staff, noted.

"Through the years the board has helped the bishop look at a number of cases that have come before the diocese," Siler said.

However, the board has no mandate to take disciplinary action, complains Robert Fontana of Yakima's Voice of the Faithful, a group advocating reforms in the Catholic Church.

But Mazzola described the board as a work in progress, with members and the bishop struggling over complex situations and delving into new territory.

"The Gonzlez situation has been a good learning curve for the bishop, knowing that he should be disclosing information like that to the board and, when appropriate, to the public," said Mazzola.

To Fontana, hindsight is not good enough. The lay advisory board has "failed," he said.

Attempts to talk to others on the board for this story were unsuccessful. When contacted, three members declined to comment, with one explaining that the board has agreed that Mazzola will be the sole spokesman.

Shuster of SNAP contends that lay advisory boards are beholden to their bishop's agenda. "They're packed with people who won't give them trouble, or if they do, they end up resigning," he said.

Since its inception five years ago, two members have left the Yakima board: attorney James Danielson of Wenatchee and Mario Magaa, with the state Department of Health in Yakima.

New policy in the works

For the last several months, Sevilla and Siler, along with advisory board members, have been working to revise Yakima's sexual abuse policy which covers all church employees, volunteers, seminarians and deacons.

The previous policy, written in 2003, replaced a sexual abuse policy instituted here in 1993.

Noting the new policy will be more extensive than earlier ones, Mazzola indicated the board will be meeting soon to discuss proposed changes. Members of Voice of the Faithful will also be asked to review it.

One revision emphasizing that viewing child pornography is unlawful goes further than required by the U.S. Conference of Catholic Bishops.

Strictly speaking, a board doesn't have to include child pornography under its purview, but it may, said Kettelkamp from the Office of Child and Youth Protection.

The Yakima diocese decided it was appropriate to include child pornography in its new policy, said Siler.

"I think we've grown in the last few years in understanding how serious child pornography can be," he explained.

'Vulnerable persons' not included

Yakima's new sex abuse policy will cover minors only, dropping the term "vulnerable persons" included in its earlier version.

That term has generally included adults who, because of psychological or other reasons, would not have been able to report abuse without help.

"The board has struggled over the issue of vulnerable persons," Mazzola explained. But, he said, the board's focus should be on protecting children and youth.

"Our resources are limited," Mazzola said. "The board is not indifferent to vulnerable persons, but we're limited in what our role can be."

That doesn't sit well with Fontana.

"I'm emphatic about this," he said. "If vulnerable persons aren't covered in the policy, Voice of the Faithful will challenge that."

Fontana argued that the group has been notified of cases where priests abused a trust relationship with adult church members.

But Siler noted that the new sexual abuse policy mirrors the U.S. Conference of Bishops position, which refers to protecting children and young people only.

"Removing 'vulnerable persons' from the policy doesn't mean we don't take the issue seriously," Siler wrote in an e-mail.

"All complaints of sexual misconduct or abuse involving adults will continue to be investigated with sensitivity by the bishop or his delegate, involving the authorities if necessary and in consultation with outside help when he deems it appropriate. And with appropriate confidentiality," Siler wrote.

Other changes have expanded and strengthened the policy, Siler said, such as clarifying administrative leave if a cleric faces allegations of child sexual abuse.

The new policy, which could be adopted by the summer, will give the lay advisory board, as well as the bishop, clearer guidelines to follow in the future, according to Mazzola.

"It's always better to err on the side of safety," Mazzola said.