Return to Oregon for Arraignment on Child Porn Charges Will Be Voluntary for Ex-Semiarian

By Jane Gargas
Yakima Herald-Republic
April 23, 2008

http://www.yakima-herald.com/stories/3421

YAKIMA -- A Tieton man, arrested last month on charges of viewing child pornography while studying to be a Catholic priest in Oregon, got a step closer to being released from jail.

A fugitive warrant from Oregon for Juan Jose Gonzlez Rios was dismissed in Yakima County Superior Court Tuesday, and the $80,000 bail requirement was waived.

In return, Gonzlez, 37, agreed to appear June 5 in Marion County, Ore., for arraignment on the child pornography charges.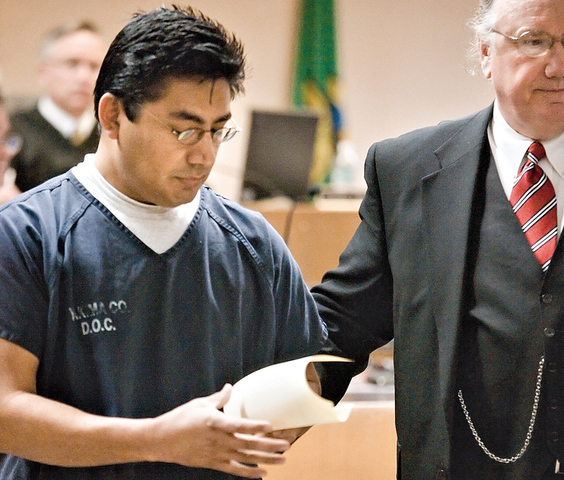 Yakima Herald-Republic Juan Gonzalez consults briefly with his attorney, J. J. Sandlin, after his extradition hearing in Yakima County court Tuesday, April 22, 2008. Bail was dropped and Gonzalez agreed to be at his June arraignment in Oregon on possible child pornography charges.
Photo by Andy Sawyer


However, Gonzlez was not released from the county jail Tuesday because he still faces a hearing on his immigration status with U.S. Immigration and Customs Enforcement.

Gonzlez, who emigrated from Jalisco, Mexico, more than 15 years ago, has been living here on a religious visa that expired in 2005.

His attorney, J.J. Sandlin, said Gonzlez will travel to Tacoma for the immigration hearing sometime in the next week. If ICE allows bail, Gonzlez could be released from jail and live with his family in Tieton until he has to appear in court in Oregon.

The Oregon warrant delineating exact charges against Gonzlez is sealed and may remain so until the June

arraignment.

After Tuesday's hearing, Sandlin said "I'm very pleased."

He added, "The Oregon D.A. (District Attorney) knows that Juan will honor his word. There was never a need for bail and certainly not $80,000 bail."

The Oregon warrant alleges that Gonzlez committed a crime related to the viewing of child pornography in Marion County while studying at the Mount Angel Seminary.

Gonzlez spent about four years at the seminary but was dismissed in February 2003 after the seminary reported the pornography allegations to Mount Angel police.

He returned to the Yakima diocese, where Bishop Carlos Sevilla hired him for a part-time job at St. Peter Retreat Center in Cowiche.

The warrant surfaced when a Tieton police officer stopped Gonzlez for speeding March 19.

Sevilla apologized for his handling of the situation at a news conference three weeks ago, acknowledging that he had hired Gonzlez, even though he knew the former seminarian was under criminal investigation.

The Rev. Robert Siler, the Yakima Catholic Diocese chief of staff who attended Tuesday's court hearing, said Sevilla would be pleased that Gonzlez's fugitive warrant and bail were dismissed.

"The bishop has never stopped caring for Juan and his family," Siler said.

Sandlin has emphasized from the beginning that his client is innocent of all charges.

In an earlier interview, Sandlin said Gonzlez became highly distressed at the seminary because he allegedly witnessed inappropriate sexual behavior on the part of instructors and fellow students there.

The Gonzlez family also alleges that he was a victim in his early 20s of sexual abuse by a Cowiche priest who has since left the state.

"Juan is a victim and a scapegoat," said his sister, Bertha Gonzlez, saying that her brother told diocesan officials about the alleged abuse.

Siler has not commented on the family's accusations, saying that the bishop deals with allegations of abuse between adults in a confidential manner.

Sandlin said Tuesday, "My client will continue to a talk about what happened at the seminary. He will not walk away from what has been going on since he was a young man."