Haverhill Woman Sees Tears in Pope's Eyes He Offers Rosary Beads, Prayers to Victim of Sexual Abuse by Priest

By Mike LaBella
Eagle Tribune
April 23, 2008

http://www.eagletribune.com/punewshh/local_story_114011309.html?keyword=topstory

HAVERHILL — When Faith Johnston looked into the eyes of Pope Benedict XVI, she felt genuine sorrow and regret. She also saw his tears.

She tried to speak to him and express how much she's been suffering, but the words would not come.

"I had so many things to say but I just burst into tears," Johnston said of her meeting with the pope last week. "I wanted to tell him, 'Thank you,' but I could not get the words out. I think my tears spoke louder than words."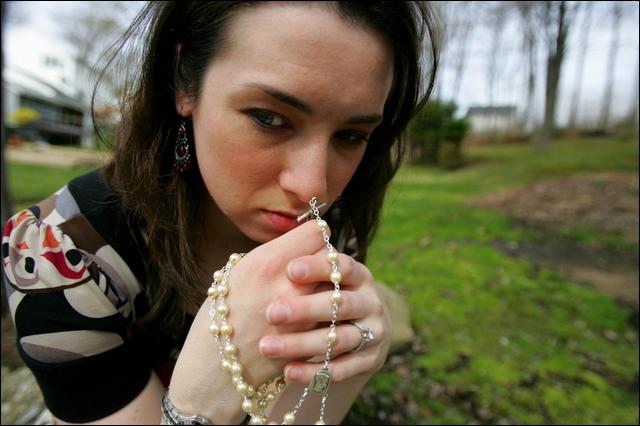 Faith Johnston of Haverhill holds the rosary beads given to her by the pope during her meeting with him.
Photo by Angie Beaulieu


When Johnston was 15, she was sexually abused by All Saints Parish priest the Rev. Kelvin Iguabita. He was charged in June 2001 with raping her at All Saints, where he served as a priest from 1999 to 2001. Iguabita has since been imprisoned at the Massachusetts Correctional Institute in Concord.

Johnston, now 23, said she never got an apology from Iguabita, but she did get one from the pope. Last week, she and four other sexual abuse victims met him inside a chapel connected to his Washington, D.C., residence. The Archdiocese of Boston flew them there to meet with the pope the day before he went to New York City to celebrate Mass in Yankee Stadium.

Cardinal Sean O'Malley was in Washington for the visit as well.

"We were all sitting in the pews and his Holy Father entered through a back door, knelt down at the altar, and prayed with us for a few minutes," Johnston said.

Recalling her meeting with the pope, Johnston said she now feels that he sees her as an individual, and not just a victim of the sexual abuse crisis.

"It's more personal and he's seen the pain," she said. "And for him I think it was an eye-opener, which is a good thing. He had tears in his eyes and that says a lot. It tells me that the church is going to make some changes."

Johnston said she was able to have a private moment with the pope in which he spoke to her lovingly, like a grandfather would.

"He spoke so lovingly about my getting married and he gave blessings on me and my family," Johnston said. "He said there is hope ... and he'll be praying for me."

She said he then handed her some ivory rosary beads in a box imprinted with the Vatican seal.

Johnston said since being victimized by Iguabita, she has tried to remain a strong Catholic and attend Mass every Sunday. That struggle eased somewhat after the meeting with the pope.

"It's been tough being a good Catholic," she said. "For the first time in years I've felt proud again to be a Catholic. I have not felt this way in a long time and it has given me a lot of hope."

Johnston said O'Malley presented Pope Benedict with a book filled with the names of 1,500 victims of the church's sexual abuse scandal.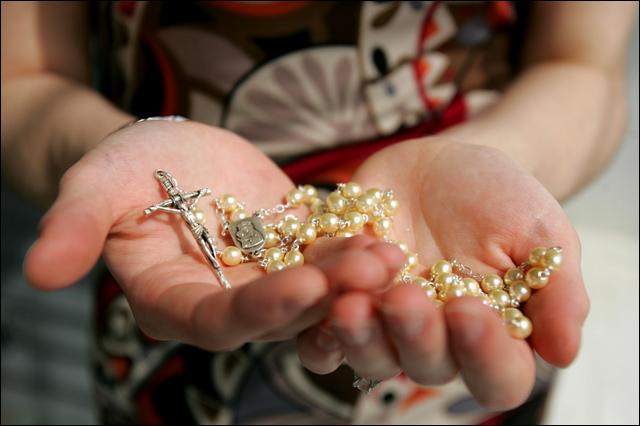 Faith Johnston of Haverhill shows the rosary beads that were given to her by the pope during her meeting with him
Photo by Angie Beaulieu


"He kind of looked at the floor in sadness and sighed," Johnston said.

She said the names were written in calligraphy and that each appeared in a different design.

"One page was set aside for those who have not come forward," she said. "There were little crosses next to those who've passed away from natural causes or suicide. When the cardinal mentioned this to the Holy Father he looked sad, so sorrowful to hear that."

The Rev. Robert Conole, pastor of Sacred Hearts Church in Bradford, said it took a lot of courage for Johnston and other victims in the Catholic Church sex abuse scandal to speak out, to meet with the pope and then tell others about it.

"If an apology comes from a bishop, that has some merit. But when it's the pope, it's powerful and it's unique. There is only one pope," Conole said. "For him to voice his concern, his passion, his empathy and his apology is so very powerful.

"We talk about the abuse crisis as if it's something that is out there," he said. "This meeting put a face on it and I think from this encounter a good many seeds were planted."

Johnston said the pope apologized for what happened to her and other victims and that he expressed his deep sorrow and regret.

"On one hand I thought to myself, why is he apologizing?" she said. "It's not his fault. I'd like an apology from the one who hurt me."

Johnston said the past seven or eight years have been very difficult and that she's struggled to walk into church on Sunday mornings and not feel ashamed of the organization that was supposed to protect her.

"I most often attend Sacred Hearts and St. James (both churches in Haverhill) because of the Mass times, as well as bad memories (from All Saints), but I do plan to get married at All Saints in June," she said.