Three Laconia Catholic Churches Face Consolidation

By Victoria Guay
Laconia Citizen
April 27, 2008

http://www.citizen.com/apps/pbcs.dll/article?AID=/20080427/GJNEWS02/105959429/-1/CITNEWS

LACONIA — City Catholics with questions about a proposal to merge the three parishes will get to voice their concerns at a 'listening session' scheduled next Sunday, May 4, at 3 p.m. at Our Lady of the Lakes Church in Laconia.

The 'listening' session will include a presentation on the proposal which seeks to merge the Laconia parishes of Sacred Heart, St. Joseph and Our of the Lady of the Lakes into a new parish, said Patrick McGee, spokesman for the Manchester Diocese, which represents the Catholic Church in New Hampshire.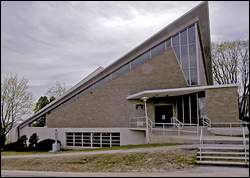 Citizen photo On May 4, members of the city's three parishes are invited to Our Lady of the Lakes Church in Lakeport section of Laconia to hear a presentation on a recommendation to merge the parishes into one.
Photo by Ray Mongeau


McGee said the proposal, which is still tentative, was developed by members of a 'cluster task force' or key members of a group of parishes in the Lakes Region.

Dozens of cluster task forces were created about 10 years ago, McGee said, as a way for parishes to discuss their options in the face of several challenges facing the Catholic Church, including a dwindling number of priests, a moving and growing state population and budgetary issues.

Cluster task forces are usually made up of the pastors of each parish within a cluster as well as two lay persons from each parish.

Other parishes in the Lakes Region cluster include St. Charles Borromeo in Meredith, St. Joseph in Belmont, St. Mary of the Assumption in Tilton and St. Paul in Franklin.

McGee added that cluster task forces meet to make recommendations on how parishes within their clusters may be reconfigured to run more efficiently.

The Lakes Region cluster task force announced its final recommendation to parishes at the beginning of the month.

Under the proposal, the three Laconia parishes would be consolidated into one, to be served by a pastor and an associate pastor, McGee said. The proposal also currently recommends merging the Tilton and Franklin parishes, while the Meredith and Belmont parishes would remain unchanged.

Father Gary Kosmowski, pastor of St. Joseph Church, said he had no comment on the proposal, adding he does not like to speak to the media in general.

Father Adrien Longchamps, pastor of Sacred Heart Church, and Father George Soberick, pastor of Our Lady of the Lakes Church, could not be reached for comment.

Armand Maheux of Laconia, a Sacred Heart parishioner, said he understands the necessity of consolidating parishes across the state.

"I know this has been coming," Maheux said when asked his thoughts on the proposed merger. "There is a shortage of priests and [the Catholic Church] has to do something."

Maheux said if the three parishes are merged, he is unsure if all three churches will remain open.

"I heard that they will continue to have services in all three churches but I also heard they may close one of the churches," Maheux said.

He said he hopes the three churches do remain open so church members can retain some sense of the identity they feel now as individual parishes, despite all becoming part of an entirely new parish.

Maheux said Sacred Heart is poised to play an important role in the merger because of its size and location.

"We're right in the middle between the other two parishes," Maheux said, adding that the church is also larger than the other two in terms of seating capacity.

After the information session, the proposal will be referred to the Very Reverend Dennis Audet, head of the Lakes Region Deanery and pastor of St. Charles Borromeo Church in Meredith, for his input.

Audet said the members of the cluster task force had been meeting for more than a year before coming up with their final recommendation to merge Laconia's three parishes.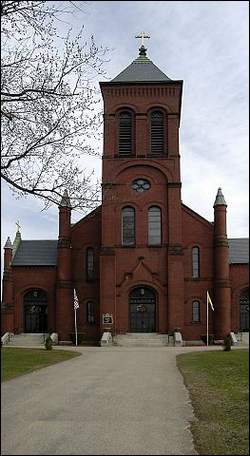 The parish Sacred Heart Church on Union Avenue is one of three City parishes that may be merged into one, if Bishop John MacCormack, head of the Manchester Diocese, approves the proposal. On Saturday, May 4, there will be a 'listening session' on the proposal at Our Lady of the Lakes Church in Lakeport.
Photo by Ray Mongeau


Before that, Audet said, the task force had presented a different proposal to the Manchester Diocese's Long Range Planning Commission that suggested merging Sacred Heart Parish in Laconia with St. Joseph Parish in Belmont.

"That didn't seem doable," Audet said. "The Bishop and the Commission had some concerns, mainly about people traveling back and forth, so it seemed to make sense to [have the task force] go back to the drawing board and look at what could be done within Greater Laconia."

Audet said the decision of what will happen to the three church properties — including whether all three churches will remain open — will be made later by the newly created parish itself.

Audet said the merge may not be approved or acted on by the bishop for a few years.

"The bishop will act on this proposal at his discretion," Audet said, adding that the timing of the bishop's action most likely will be determined by priest availability or lack thereof.

If, after the information session and Audet's comments, the cluster committee still backs the proposal, it will be forwarded to the Long Range Planning Commission.

The diocese's Long Range Planning Commission is an eight-member panel made up of clergy and laypeople which will review the proposal before making its recommendation to McCormack, who will ultimately decide the fate of the parishes.

McGee said the possible merger of the three Laconia parishes is part of an overall, long-term plan of the diocese to reallocate resources where they are needed most — a plan that includes reducing the number of parishes in the state by 2012.

According to the Long Range Planning Commission, in 1999 there were 130 parishes and 37 missions. By the end of 2007 those numbers had been reduced to 102 parishes and 16 missions.

In Central New Hampshire that trend has already affected the parishes in Plymouth, Ashland and Bristol, which have been consolidated into one parish.

In July 2006, McCormack decreed that St. Agnes, St. Timothy in Bristol and St. Matthew in Plymouth would merge, forming Holy Trinity Parish. The parishes have been merged and all churches within the parish remain open.

Seacoast, parishes have already been merged or are in the process.

In Dover, the parishes of St. Charles and St. Joseph have been twinned with Fr. Marc Gagne as pastor; and St. Mary Church is served by Fr. Fritze Cerullo.

Currently, the leaders of those parishes continue to meet to discuss the possibility merging the three parishes into one in light of the substantial cost of repairs needed at St. Charles Church.

In Portsmouth, the former parishes of St. Catherine of Sienna, Immaculate Conception and St. James were merged in 2006, becoming the Corpus Christi Parish. The three churches remained open and services are performed at each.

Father Michael Kerper, pastor of Corpus Christi, said that, for the most part, members of the former three parishes have handled the merger well.

"It has brought the larger community together," Kerper said.

Kerper, who served at one of the Portsmouth parishes as fledgling priest in 1985 and returned to the city five years ago, said the merger has been positive for area Catholics.

The new parish currently has approximately 2,100 families.

Kerper added that, by combining the resources of three parishes into one, the combined parish is able to do much more than the three separate parvises ever could.

"Each of the [former] parishes had certain strengths and certain weaknesses," Kerper said. "What has happened now is that all the strengths have been brought together."

He noted that more money can be raised in a parish for the less fortunate of the area, teaching resources can be pooled and musical talents shared. Also, the merged parish has encouraged more diversity, Kerper said, noting that the Corpus Christi Parish is one of the few in the state to offer a weekly Spanish Language mass as well a Latin Mass.

"There is a sense of belonging to the broader church community, not just people connected to a building," Kerper said.

Contact: vguay@citizen.com