Wilmington Man Sues over Sex Abuse by Priest

By Beth Miller
News Journal
May 7, 2008

http://www.delawareonline.com/apps/pbcs.dll/article?AID=200880507046

A 39-year-old Wilmington man filed suit this morning in Delaware Superior Court, alleging that he was abused for four years by a Capuchin friar while a student at St. Edmond's Academy, a private Catholic school in Brandywine Hundred.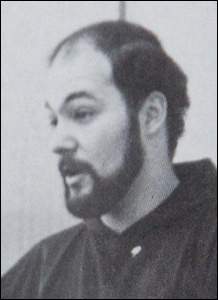 This image of the Rev. Paul Daleo is taken from a St. Edmund's Academy yearbook. Daleo served as a chaplain and part-time instructor there in the late '70s and early '80s.



In the 48-page suit, Matthias C. Conaty alleges that the Rev. Paul Daleo molested and sexually abused him from fourth through seventh grades — sometimes while performing as a "Christian Clown" at various school and church events.

In addition to Daleo, defendants include the Catholic Diocese of Wilmington, the Capuchin Friars, the Brothers of the Holy Cross, and St. Edmond's Academy.

"No child should have to suffer the shame and overwhelming pain that Matt, and then his family, had to endure," said John C. Manly, one of the attorneys representing Conaty. "Paul Daleo used his position to earn the trust of children and their families. Then he used that trust to rape and molest innocent kids. The facts in this case are shocking, and everyone - the school, the diocese and the Capuchins - who knew that Daleo was a predator and let him have unfettered access to kids, must be held accountable."

The suit is filed under the provisions of the Child Victim's Act, passed by the state legislature last year. The law eliminated the statute of limitations in cases of child sexual abuse and opened a two-year "window," during which previously time-barred suits could be filed.

In 2006, shortly after Bishop Michael Saltarelli released the names of 20 diocesan priests against whom the diocese had credible allegations of child sexual abuse, the Capuchins became the first religious order to acknowledge such allegations against one of their members, confirming two confidential settlements with men who said they were abused by Daleo.