S.F. Radio Host Pleads Guilty in Child Porn Case
Liberal Talk Radio Host Faces at Least 5 Years in Prison

ABC News
May 9, 2008

http://www.abcnews.go.com/TheLaw/story?id=4818224&page=1

A well-known San Francisco talk radio host and former priest who says he e-mailed child pornography as part of research for a book he was writing has pleaded guilty to federal pornography charges.

Bernie Ward, 56, the popular host of two local talk radio programs, faces at least five years in prison on a single count of distributing child pornography.

He admitted that he e-mailed an image depicting nude children engaged in sexually explicit conduct. He also admitted as part of his plea agreement that he sent between 15 and 150 images of child pornography via e-mail, according to the Department of Justice.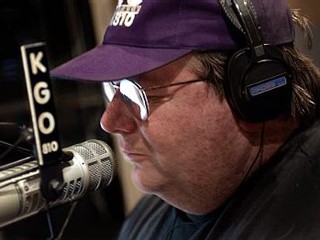 In his studio, SF talk show host Bernie Ward listens as a caller to his late-night show offers his feelings about the potential war with Iraq. Ward, on San Francisco's KGO radio (AM 810; his show runs weeknights from 10 p.m. to 1 a.m.) is one of the few liberal voices in the booming talk radio market across the country.
Photo by Dick Schmidt


Ward's attorney, Doron Weinberg, said he would argue for a five-year sentence for Ward rather than the nine years that prosecutors are seeking, according to the San Francisco Chronicle.

"In terms of his freedom, his future, he's lost almost everything," Weinberg said. "He's not going to be able to come out [of prison] and return to the work he does so well."

After his indictment was unsealed in December, Ward initially pleaded not guilty. Though he admitted sending the illicit images, he said it was only as part of his research into a book he was writing about what he believed to be the hypocrisy of the religious right.

Though it is illegal even for journalists to trade or possess child pornography as part of their work, Ward's attorneys argued that there should be some leeway for legitimate research into the subject.

Jeanette Boudreau, Ward's business attorney, told ABC News that Ward — described on his Web site as "unabashedly liberal" — told her he wanted to show that some Republicans and members of the religious right are public moralists who don't practice what they preach in the privacy of their homes.

Boudreau did not say who the recipients of the illicit images were or how they would fit into Ward's book.

Boudreau said Ward, a married father of four, e-mailed the images, but did not store them on his hard drive or collect them. She said she was told that the case originated when a person with whom Ward had been e-mailing about child pornography called the police.

"He tried to have a dialogue with people and see what he could talk them into saying and agreeing to," she said. "He lost track of himself and didn't stop and think about what he was doing."

Ward nevertheless ran afoul of a tough federal law that makes it illegal to possess, receive or distribute child pornography without an exception for reporters or academic research.

Even when the images are evidence in a criminal case, defense attorneys are often required to view them only in a government facility, instead of getting copies of the pictures.


"Congress has developed a more or less zero tolerance policy for this and I think the American public can understand that," Andrew Oosterbaan, chief of the Department of Justice's Child Exploitation and Obscenity section, told ABC News shortly after Ward's indictment.

"The purpose of the law is to protect the images by the most careful and deliberate means."

"Obviously this is devastating," Weinberg said. "It's ruined his career."

An Award-Winning Journalist

Ward, who sometimes appears on national television, has worked as both a talk show host and as a journalist. He won a national journalism award for a series on allegations of sexual abuse and financial corruption in the San Francisco Archdiocese.

He is known for his charitable work, and his annual Thanksgiving charity drive has reportedly raised millions of dollars. Poncho Guevara, director of Sacred Heart Community Service in San Jose, Calif., said Ward raised about $100,000 for his organization last year.

"Bernie is deeply committed to trying to make things happen," Guevara said. "He doesn't just talk a good game, but says I need to put my weight behind this in a big way. He is a source of inspiration for the work we're trying to do."