" Father John" Embraces His New Congregation
Never Forgetting, but Moving on

By Williams Boyd
Asbury Park Press
May 11, 2008

http://www.app.com/apps/pbcs.dll/article?AID=/20080511/NEWS/805110411

MANALAPAN — James Gray of Manalapan still recalls the day he opened his front door to find the Rev. John Bambrick offering condolences and assistance after the death of Gray's 32-year-old son, Christopher Gray, in the World Trade Center attacks.

"When this happened, he was one of the first people to come to our house," said Gray, who belongs to another area church. "It was just so overwhelming. That he just cared to come over and offer his prayers and his support, it meant the world to us.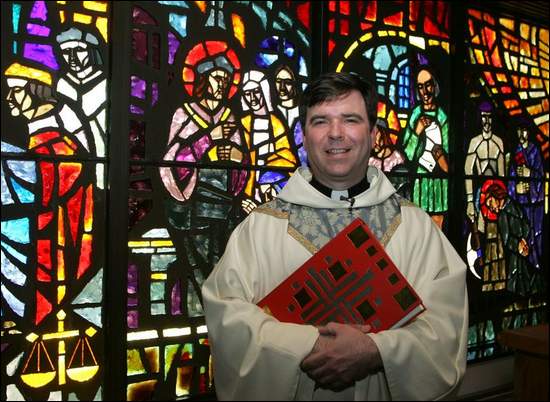 The Rev. John Bambrick, 43, is leaving St. Thomas More Roman Catholic Church in Manalapan for a new assignment in June at the larger St. Joseph's Church in Toms River.
Photo by Mary Frank


"He's that kind of person," Gray said. "He's abig presence in town."

It's a presence that congregants say will be sorely missed, when the 43-year-old Bambrick leaves St. Thomas More Roman Catholic Church, and the 4,700-family congregation he helped grow, for a new assignment in June at the larger St. Joseph's Church in Toms River.

Known to his congregants as "Father John," Bambrick made national headlines when he went public with his story of sexual abuse at the hands of a priest; he was recognized locally for galvanizing his shaken community after the Sept. 11, 2001, terrorist attacks.

"For him (the new assignment) is wonderful," said James Davis, a church deacon. "On the other hand, he has really done wonders in this community, not only in the church . . . and he certainly is going to be missed."

Bambrick said he, too, will miss what has been his parish home for the past 12 years, the last nine as the parish priest: an ethnically, religiously and politically diverse community that finds the power to unite at the worst of times. His flock includes Our Lady of Mercy Church in Englishtown, which merged with the Manalapan church in 2007.

Bambrick said he saw their grace under fire in 2001, when his parish lost seven residents and the township lost 11 in the World Trade Center and United Airlines Flight 93 terrorist attacks. The victims' names remain, engraved in a memorial he spearheaded outside town hall and another at the church — a cross cut from an I-beam that once supported the World Trade Center.

Today, he said, the community is in many ways moving on. He mentioned that he recently performed the remarriage ceremony of one of the township's widows, but he still sees stones and flowers left at the town hall memorial — indicators that the community will never forget the tragedy, or what Bambrick gave families in those trying times.

"There's no sort of manual of what to do when something of that magnitude occurs," said Bambrick, who personally visited families at their homes after the attacks, established a scholarship fund for victims' children, and has officiated at more memorial ceremonies than he can count. "I said, "This is a terrible event. These people must be hurting. Let me find out who they are, where they are, and go to them.' "

"I didn't do anything extraordinary; I just did what I should have done," Bambrick said. "I know what it means to have a traumatic event occur in your life."

A fight against abuse

Bambrick publicly came forward with his own personal tragedy in 2002, the year the Catholic clergy sexual abuse scandal came to a head: He said he was molested by former priest Anthony Joseph Eremito when he was 15. Eremito posed as a mentor to Bambrick, who wanted to be a priest since he was 5 years old, molesting him over a six-month period at St. Joseph's Church in Keyport, parking lots and other locales, Bambrick said. The day the story was published in the Asbury Park Press, the church gave him a standing ovation, Bambrick said.

"That was probably the most difficult and challenging moment of my life," Bambrick said. "Because of the shame that's connected with it, I didn't know how people would react. I didn't know if I would still have a job — would I still have credibility, stability in my life?

"But (congregants) were extremely supportive, probably one of the things I'm most grateful for in Manalapan," said Bambrick, a 15-year member of Survivors Network of those Abused by Priests (SNAP). "That's how everybody gets through tragic things in their life — through the support of others."

He tracked down Eremito, a Bronx priest who went on to practice in Texas and Atlantic Highlands, and appealed to New York Cardinals John O'Connor and Edward Michael Egan to have Eremito removed from ecclesiastical duties. Eremito was removed from the priesthood in 2006 under the Vatican's Charter for the Protection of Children and Young People, Archdiocese of New York spokesman Joseph Zwilling said.

"It was a relief because (Eremito) could no longer use the priesthood as a cover for his perversions," Bambrick said. "For me at that point, the matter was settled and over."

Justice and healing

Bambrick's fight to bring his abuser to justice led him to become involved in other cases, including that of convicted molester the Rev. John Banko, 62, in 2002, and that of a 9-year-old congregant who said he had been molested by a former St. Thomas More priest, the Rev. Joseph McHugh. McHugh was sentenced to five years probation in a 2006 plea bargain. Banko is serving a 15-year sentence and is on trial for allegedly abusing another boy in 2004 and 2005.

"There's a saying in the law that justice delayed is justice denied, so it's about bringing about justice and healing for people who have been abused and stopping these individuals," Bambrick said. "The best way to stop them, I think, is putting them in jail. There are no children in jail."

Like the saint after whom the church is named, Bambrick wears many other hats in the community: A master gardener who led St. Thomas More through a roughly $1.5 million renovation in 2000, he also is board of trustees president at Manalapan food pantry the Samaritan Center, and runs a scholarship program for 300 children at St. Joseph's Church in Katikamu, Uganda. He is chaplain for organizations ranging from the township Police Department to the Ancient Order of Hibernians in Freehold. This year, he was named Hibernian of the Year.

He also is a trustee for the Friends of the Monmouth County Child Advocacy Center, now under construction in Freehold, which will provide resources to abused children.

"The quicker the intervention, the sooner that intervention, the greater chance of that child to become healed and whole later in life," Bambrick said. "I didn't have those services available to me, but I want to make sure they're available to any child who was abused. Every child deserves a safe place."

A new parish

As he moves on to his new assignment, he said he is looking forward to working with youth at St. Joseph's, which has a grade school, Monsignor Donovan High School, a cemetery and a 1,400-seat church. He said he expects moving into the larger, 6,700-family parish, where he'll replace Monsignor Sean Flynn, who has been the pastor there for 12 years, will be a challenge.

But it's a challenge he met before — when he assumed responsibility for Our Lady of Mercy after 34-year pastor, the Rev. Charles Valentine, retired — and residents say he'll likely excel once again.

"I looked at it this way — (Our Lady of Mercy congregants) were upset they lost someone they loved," Bambrick said. "I knew that within time they would transfer that love to me."

He was right — the parishioners who left services May 4 did so with mixed emotions about losing their priest of nine years.

In his sermon that day, Bambrick culled wisdom from the Book of Hebrews to encourage kindness among his parishioners: "When we entertain strangers, we may entertain angels unaware."

It's a fitting passage for the pastor, parishioners say. Vincenza Magliano, church administrator and a 12-year congregant, said Bambrick was an inspiration then as now.

"I knew how hard it must have been for him to keep that inside of him and see that and still forge forward and become a priest," Magliano said about Bambrick's history, and his fight against sexual abuse. "He's helped so many people come through their own process. Not only is he your priest or your leader, but he's also your friend."

Alesha Williams Boyd: (732) 308-7756;AWilliams@app.com