Verdict: Jury Awards $8.7 Million to Plaintiff in Priest-Abuse Case

By Sam Hemingway
Burlington Free Press
May 13, 2008

http://www.burlingtonfreepress.com/apps/pbcs.dll/article?AID=/20080513/NEWS/80513031

AUDIO: Bishop Salvatore Matano's reaction to verdict



A jury has awarded a former altar boy more than $8 million in damages against the Roman Catholic Diocese of Burlington in a historic verdict today in Chittenden County Superior Court.

After more than five hours of deliberations, the panel of eight men and four women returned at 3 p.m. with a verdict of $950,000 in compensatory damages and $7.75 million in punitive damages.

The plaintiff, a 40-year-old Colorado man who claimed he was abused 30 years ago by the Rev. Edward Paquette while serving at Christ The King Church in Burlington, had asked for between $6 million and $12 million.

The Free Press does not name alleged victims of sexual violence or abuse without their consent.



Earlier today

This morning, Judge Matthew Katz denied the plaintiff's request to declare a mistrial in the civil trial, instead turning the case over to the jury.

Jury deliberations got under away shortly after 10 a.m.

Jerome O'Neill, the plaintiff's attorney, requested Katz to declare a mistrial in the case, saying a closing argument made by an attorney for the diocese was inflammatory and "a hate speech."

"What was said about (the plaintiff) and his lawyers ... was an appeal to prejudice," O'Neill said today. "It was like a hate speech, inflammatory and highly prejudicial in many respects."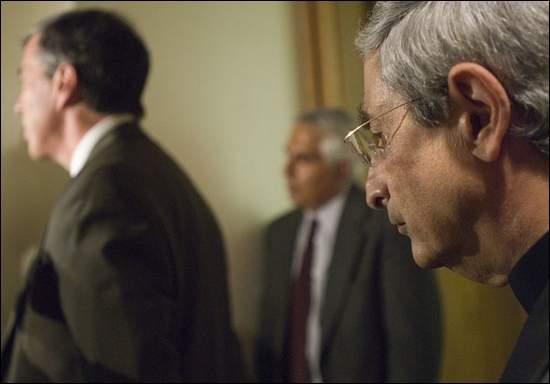 Bishop Salvatore Matano listens to his lawyer Tom McCormick speak outside of Chittenden County Superior Court moments after a jury awarded $8.7 million to a former Burlington altar boy at Christ the King Church.
Photo by Ryan Mercer


Monday, Thomas McCormick, representing the diocese, told the jury in the Chittenden County Superior Court trial that the damages requested by the plaintiff were exorbitant. This isnt a state where lawsuits turn into lotteries. You represent the community. You know thats an absurdity.

Katz denied O'Neill's request for a mistrial and instead began to charge the jury with their assignment.

Monday, attorneys for the plaintiff said it was the jury's job to make sure abuse such as this never happened again.

Make the number so high that ... no organization responsible for the safety of children would even give a moments thought to carrying on the way this diocese did, attorney John Evers said during his closing arguments in the case.

McCormick, a lawyer for the diocese, countered in his final remarks that the monetary figures suggested by Evers were excessive and that clever lawyering by the former altar boys attorneys had made his claims seem worse than they really were.

Vermonts not like California, McCormick said.

The dueling statements came after the diocese rested its defense in the six-day trial.

The man, now 40, claims the Rev. Edward Paquette molested him between 40 and 100 times as an altar boy at Christ the King Church in Burlington between 1976 and 1978.

Through his lawyers, he contends the diocese is liable for financial damages because it put him in contact with Paquette, who it knew had molested boys at parishes in two other states and in Rutland before the incidents in Burlington.

The diocese has argued it relied on the advice of church psychologists when it hired Paquette and should not be judged now for decisions it made 30 or more years ago. Paquette, banished from the diocese in 1978 after Christ the King parish parents complained about his groping altar boys, is not a defendant in the case.

McCormick, speaking to the jurors, pointed to a remark the man made last week while on the witness stand about a fear of flying as evidence that his case was about money, not resolving problems caused by the abuse. McCormick noted that the man three times flew to Vermont in connection with the case before the trial.

If youve got a fear of flying, why would you put yourself through that, McCormick asked. Well, maybe, its because the lawyers are going to ask for between $12 million and $14 million.

He reminded the jury that a psychologist hired by the mans attorney had suggested a years therapy might resolve the mans problems stemming from the abuse.

McCormick also argued that church officials at the time, including then Bishop John Marshall, thought Paquettes pedophilia could be solved through trust in God, prayer and the power of psychological treatment. He said the diocese sees things differently now.

Does it make sense for a moment that the diocese needs to pay ... $12 million to $14 million to teach them something it didnt already know? Of course not, McCormick said.

Evers noted that diocesan attorney Kaveh Shahi had acknowledged to the jury during his opening statement to the jury last week that the diocese knew what Paquette had done was illegal. We now know they always knew that, Evers said.

He also said his client will suffer the effects of the molestations forever.

(He) has been given a lifetime membership in a club that he never asked to belong to, the victims of childhood sexual abuse group, Evers said. He didnt choose to become a member of that club, but he will never be able to turn in his membership card, and he will never stop paying the dues to that club.

Evers suggested that the jury consider awarding between $886,000 and $2.3 million in compensatory damages, or money meant to compensate the victim for his suffering, if the jury believes the diocese engaged in negligent supervision of Paquette.

The mans lawyers were allowed to ask for punitive damages, or money meant to punish the employer for its negligent supervision and deter it from repeating the mistake, after Katz ruled last week that such a request was justified, given the evidence in the case.

Monday, the diocese was dealt another setback in the case when Katz ruled that the jury did not have to determine whether the man filed his case in time under the so-called statute of limitations law.

The diocese had argued the man should have pursued a legal case much sooner than he did; Katz disagreed, saying the man could not possibly have known that the diocese was aware of Paquettes background until recently.

Jerome ONeill, Evers law partner, spoke last at the trial Monday, telling the jury that McCormicks remarks disparaging his firms pursuit of the clergy sex abuse cases, amounted to lawyer baiting.

He also took issue with McCormicks comment about his clients motives for filing the lawsuit and flying to Burlington.

How deep, how low, will this diocese go, he said. They want to grind him down so that no one ever dares to bring another case to the jury in this court.

Contact Sam Hemingway at 660-1850 or e-mail at shemingway@bfp.burlingtonfreepress.com