Rev. Spagnolia, Ex-Lowell Priest Caught up in Abuse Crisis, Dies at 70

By Michael Lafleur
Lowell Sun
May 16, 2008

http://www.lowellsun.com/ci_9280284?IADID=Search-www.lowellsun.com-www.lowellsun.com

LOWELL — Remembered by many of his former parishioners at St. Patrick Church as a priest tragically and unfairly caught up in the Catholic church's sexual-abuse crisis, the Rev. Dominic George Spagnolia has died.

Spagnolia, who was living in New Bedford, succumbed to cancer on May 6. He was 70. A memorial Mass will be held in his honor tomorrow starting at 9 a.m. at St. Patrick Church on Suffolk Street.

The nearly six years he spent in an active public role in Lowell ended in 2002 after he was suspended by the Roman Catholic Archdiocese of Boston in response to a single allegation that he had improperly touched a 14-year-old boy twice in 1971, when he was serving as a parish priest in West Roxbury.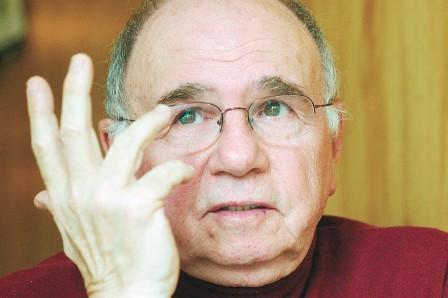 The Rev. Dominic George Spagnolia, shown during an interview in Lowell in 2005, was suspended by the Archdiocese of Boston three years earlier after an allegation that he molested a 14-year-old boy in 1971 while serving as a parish priest in West Roxbury. Spagnolia vehemently denied the accusation and was widely supported by Lowell parishioners and community leaders.
Photo by David H. Brow


While the Suffolk District Attorney's Office opted not to press charges against Spagnolia — known

to his flock as "Father Spags" — he was never fully reinstated as a priest.

"That is the tragedy of all this," said St. Patrick parishioner Peg McAndrews, who served on the parish council during Spagnolia's tenure at the church. "I hope he is home where he needs to be right now, and at peace."

"This shouldn't have happened to him," said St. Patrick parishioner Andrea Reilly, who helped organize tomorrow's Mass. "The poor soul. He worked so hard for our church. There's things that he did for people that we'll never know. He'd give you the shirt off his back. I guess God figured he had suffered enough and was persecuted enough for things he didn't do and figured it was time to take him."

After the allegations against him surfaced in February 2002, Spagnolia stood in front of St. Patrick's and vehemently denied the charges while surrounded by hundreds of supporters. He said he would defy his orders to resign from Cardinal Bernard Law, the Archdiocese of Boston's former spiritual leader.

But in an earth-shattering twist only about a week after that impassioned defense, a Boston man divulged that, years earlier, he and Spagnolia had consensual sex, during a period Spagnolia was on leave from the priesthood.

Spagnolia admitted the affair and acknowledged his homosexuality, but insisted he never harmed a child.

He left St. Patrick's and was then placed on paid administrative leave by the Archdiocese, a status he retained until his death, despite hiring a canon lawyer and taking his case to the Vatican in Rome.

"The entire event and the whole scandal, it was especially tragic because I don't believe it was true," said parishioner Fred Gallagher, who was serving on the parish finance committee when the story about Spagnolia broke. "It was devastating to all of us when the charges were brought against him. I believed him when he said he was innocent. He was a victim of the hysteria. It shortened his life in many ways. It took all his zest for life away."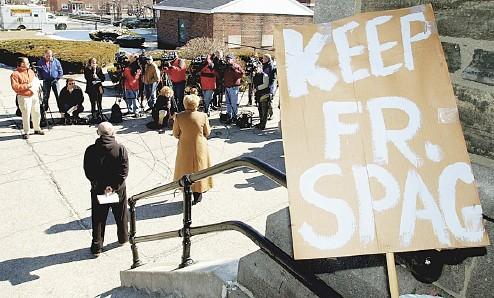 A sign stands in front of St. Patrick Church at a press conference held in defense of the Rev. Dominic George Spagnolia in March 2002. Spagnolia stands at left as his attorney, Eileen Donoghue, speaks to the media.
Photo by Michael Pigeon


Gallagher said Spagnolia was especially interested in helping the poor, a fitting ministry in light of his church's location in the heart of the city's Acre neighborhood, which is among Lowell's poorest sections.

"We are the parish we are today because of him," Gallagher said. "He brought a new vitality to the place."

Prior to his suspension, Spagnolia had been an outspoken critic of the hierarchy in the Archdiocese, including Law.

From the pulpit, he chastised church officials for shuttling priests who sexually abused minors from parish to parish. Just weeks before his suspension, he publicly announced that St. Patrick would not participate in the Archdiocese's Promises of Tomorrow campaign, which sought substantial donations from Catholic families during the height of the scandal, while the Archdiocese also was in the process of settling hundreds of priest-abuse lawsuits.

"He was a martyr," Reilly said. "He spoke the truth, and they didn't want to hear it."

At the time of Spagnolia's suspension, archdiocese officials said their actions were in keeping with a new zero-tolerance policy for priests with a sexual-abuse allegation lodged against them.

Former Lowell Mayor Eileen Donoghue, a prominent local attorney who represented Spagnolia during his criminal case, said he "went through some very difficult times."

"Yet through it all, I sensed that he was an individual who was very spiritual and who persevered and adapted to what were extreme changes in his life as a result of this allegation," she said.

Spagnolia's story was widely reported and became the subject of a 2005 movie that aired on the Showtime cable network. Spagnolia's character was played by the actor Brian Dennehy.

He also is remembered for the key role he played in raising $1.2 million to help pay for renovations at St. Patrick, the first Catholic parish in Lowell, which opened in 1831 after being built by Irish laborers from the stones they unearthed while digging out the canal system that powered Lowell's mills.

"(Although) there was all this controversy, he did provide a great positive influence in our parish," McAndrews said. "Just the building committee and the fact we got as far as we did with the restoration of the pillars inside that church, the repair of all our stained-glass windows, and the fact that people were willing to donate is a tribute to him.

"That's the way I would like to remember him," she added. "There are many, many people at the parish who truly respected him and will be there on Saturday morning."

McAndrews said Spagnolia's sermons "kept you listening."

"He sent a message of what's happening today," she said. "Some priests can go off and they can become very theological. For some people, that may work. But for a lot of people, that's too deep. They need something that relates to their real, everyday life. His sermons related to real, everyday life."

Born in Cambridge, Spagnolia was involved in numerous organizations while in Lowell, including the Coalition for a Better Acre and the Merrimack Valley Housing Partnership. He spent time as the Lowell Fire Department chaplain.

"Father Spagnolia was loved by a lot of the parish at St. Patrick's Church," said Lowell Mayor Edward "Bud" Caulfield. "He was well-liked and well-respected. Whenever I was in his company and I was at that church, he always treated me with the utmost respect. I was shocked to find out he had passed away."

Donations in Spagnolia's memory may be sent to The Olive Branch, 10 Main St., Franklin, MA 02038.