Father Toohey Formally Dismissed from Priesthood

By Derek Valcourt
WJZ
May 20, 2008

http://wjz.com/local/jerome.toohey.pope.2.727684.html

[with video]

BALTIMORE — A former Baltimore County priest convicted of sexually abusing a minor has been removed from the priesthood.

Mary Bubala reports at least one of former Father Jeff Toohey's victims got his wish with the announcement of Toohey's defrocking. Others aren't happy with how long it's taken and they're hoping he's the first of many.

Jerome Jeff Toohey is officially severed from the priesthood. Pope Benedict granted the archdiocese of Baltimore's request 15 years after Toohey was convicted of sexually abusing three boys during his tenure as chaplain at Calvert Hall and John Carroll high schools.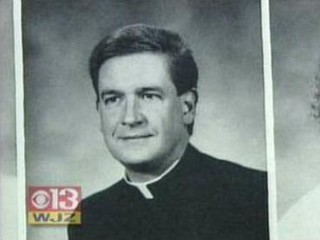 Pope Benedict answered calls from the church to formally dismiss Father Jerome Toohey from the clerical state.
Photo by WJZ


"I hope this will open up the floodgates of actions that will cleanse the church of this," said Frank Dingle.

He calls the decision long overdue. He runs Maryland's branch of the Survivor Network for those Abused by Priests (SNAP). It advocates for thousands of victims, including Thomas Roberts, the former Calvert Hall student and CNN anchor whose decision to come forward with allegations against Toohey led to the former priest's conviction and jail time.

"It was my most guarded secret," he said.

The Pope's decision means Toohey is permanently severed from the priesthood.

"He would not be called priest. He would not be called the reverend. He would not have any attachments to the Catholic church. He would be cast from the flock of the ranks of the priesthood," said James Grubb.

Baltimore's new archbishop declined on-camera interviews but released a statement apologizing to sexual abuse victims at the hands of priests.

Archbishop Edwin O'Brien reiterated the archdiocese's commitment to protecting children and helping to heal victims of abuse. He says, "We are deeply sorry for the pain suffered by survivors of abuse due to the actions of clergy."

Toohey's defrocking is effective immediately. Church observers expect more announcements involving priests in the US, Ireland and Australia.