Scholarships Named for Curran Focus of Abuse Victim Advocates

By Matthew Stone
Morning Sentinel
May 24, 2008

http://morningsentinel.mainetoday.com/news/local/5089786.html

Advocates for victims of sexual abuse by priests are honing in on two Augusta organizations that offer scholarship awards named after the Rev. John J. Curran.

Paul Kendrick, who co-founded the state's chapter of the victim advocacy group Voice of the Faithful, has contacted representatives at the Calumet Educational and Literary Foundation and the University of Maine at Augusta, which both offer scholarship awards named after Curran.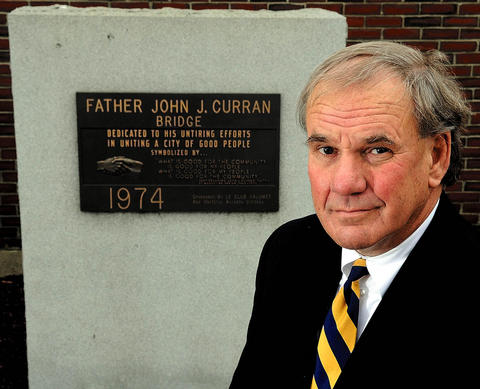 Paul Kendrick of Freeport, stand near the Father John J. Curran Bridge in Augusta on Friday afternoon. He co-founded the state's chapter of the victim advocacy group Voice of the Faithful, and has contacted representatives at the Calumet Educational and Literary Foundation and the University of Maine in Augusta, which both offer scholarship awards named after Curran.
Photo by Joe Phelan


Kendrick, of Freeport, said he is requesting the organizations either rename the monetary awards or stop offering them.

"It's offensive to those he abused," he said. "It's offensive to all victims of abuse that someone who abused children is being honored in this way."

Curran, who died in 1976, served as priest of St. Augustine Church in Augusta from 1962 to 1972. Since his death, at least two people have claimed that Curran sexually abused them when they were minors. One of those cases has been corroborated.

If Curran were alive today, diocesan officials would ask The Vatican to bar him from ministering, said Sue Bernard, spokeswoman for the Roman Catholic Diocese of Portland.

Kendrick said the efforts to change the scholarship names have intensified since Pope Benedict XVI's visit to the United States in April. The pope met with victims of clergy sexual abuse during his visit.

"We feel the pope's visit has given permission for Catholics to help victims heal," Kendrick said.

Other advocates in Maine associated with the Survivors Network of those Abused by Priests recently purchased an advertisement in the Maine Sunday Telegram encouraging sexual abuse victims to seek support. The group has announced plans to purchase advertisements in other newspapers, as well.

The survivors network members also recently pressured Bishop Richard Malone of the Portland diocese to allow the group to publish the same advertisement in Harvest, a diocesan magazine. The diocese still has not allowed the advertisement to appear in the publication.

Kendrick said he and others plan to eventually wage a campaign to rename Augusta's Father Curran Bridge.

But targeting the scholarship names is the first step, he said.

"We're just asking, at this time, these...organizations to respect victims of abuse and to make a statement to the community," Kendrick said. "You can't be a great priest, you can't be a great coach, you can't be a great person if you abuse children."

UMA lists the Reverend John J. Curran Scholarship on its financial aid Web site. To be eligible, students must live in the Augusta area and "have demonstrated leadership and service to UMA," according to the Web site.

UMA President Allyson Hughes Handley said university officials have heard from Kendrick and referred the matter to Kelley Wiltbank, chief counsel for the public university system.

Handley said the original donation to the university that created the scholarship award "constitutes a legal stewardship contract."

"A request to change the name of any kind of scholarship, you don't just do it because someone has asked," she said.

Wiltbank declined comment, saying he has not yet had the chance to further examine Kendrick's request.

The Calumet Educational and Literary Foundation offers a $600 "Rev. John J. Curran Scholarship" to graduating high school seniors who have been accepted to college and are registered members of Augusta's St. Michael Parish.

Curran made the initial donation to create the scholarship.

Foundation President Jan Michaud said the group had already been considering a change in the scholarship's name, but not because of any allegations against Curran.

"It just seemed logical to do it with the consolidation of the churches," Michaud said, citing the ongoing merger of the Augusta-based St. Michael Parish and St. Francis Xavier Parish of Winthrop.

"It would open up other students to be able to receive a scholarship."

Michaud said foundation trustees would take up the issue at their June meeting.

While the allegations of sexual abuse against Curran would not likely factor into the trustees' decision, Michaud said, "we're certainly saddened the allegations have come up."

Since the Calumet Foundation, not the diocese, sponsors the scholarship, Bernard, the diocese spokeswoman, said the Portland diocese would not prevent independent organizations from changing the names of scholarships named after Curran or other clergy members accused of abuse.

At the same time, Bernard said, the diocese will not take a "leading role" in encouraging such actions.

But Harvey Paul, of Windham, Maine director of Survivors Network of those Abused by Priests, called on Malone and the diocese to play a more prominent role in pressing independent and governmental organizations to remove honors for priests accused of abuse.

"You're honoring this guy who basically raped children. How can you do that?" said Paul, who said a Biddeford priest abused him as a boy.

"If this was originally done in honor of the good part of this gentleman, now that the news has come forward and the diocese seems to be aware of it, how can this go on? Why wasn't it changed yesterday?"

Along similar lines, Augusta City Manager William Bridgeo said he was unaware if city officials had received requests to change the name of the Father Curran Bridge.

He referred a reporter to the state Department of Transportation, citing the state's ownership of the bridge.

"This is not something that's been discussed," Bridgeo said. "I don't even know if there's a role the city would play in that."

A Department of Transportation spokeswoman said bridge names are determined by the Legislature, based on community recommendations.

"We don't see bridges or scholarship funds under the names of infamous people," Paul said. "There's a reason they don't have an Adolf Hitler scholarship fund."

Matthew Stone -- 623-3811, Ext. 435

mstone@centralmaine.com