Few Details Emerge in Months since Priest Was Removed

By John Desantis
Houma Today
May 31, 2008

http://www.houmatoday.com/article/20080531/ARTICLES/805310318/1211/news01&title=
Few_details_emerge_in_months_since_priest_was_removed

MORGAN CITY -- When Jared Ribardi told authorities that the former pastor of Holy Cross Church had sexually molested him for years beginning when he was 9, the former altar boy, now 26, expected them to do something besides file a police report.

Yet little more has happened in the nine months since he made the allegations.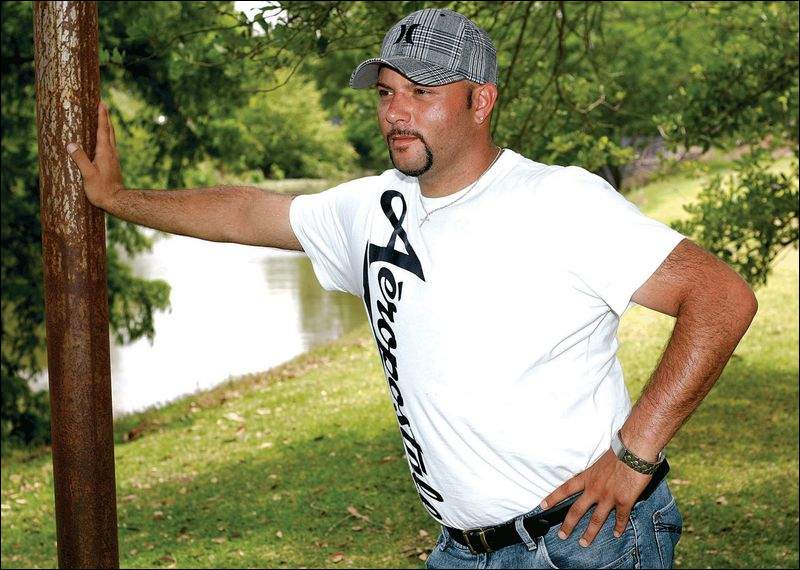 Jared Ribardi, 26, has filed a civil law suit against the Diocese of Houma-Thibodaux and a criminal complaint against the Rev. Etienne LeBlanc. Ribardi alleges that LeBlanc sexually abused him from when he was 9 until he was 14 at a Morgan City Catholic Church.
Photo by Matt Stamey/Staff


Detectives have yet to question the Rev. Etienne LeBlanc, who officials at the Diocese of Houma-Thibodaux said is undergoing counseling at an undisclosed location out of state.

The priest was placed on administrative leave in August and removed from his post at Annunziata Catholic Church in Houma.

Ribardi hasn't taken a lie-detector test, even though he says he asked to have one administered.

Meanwhile, a civil lawsuit brought against LeBlanc and the Diocese of Houma-Thibodaux crawls through the judicial system. Ribardi's lawyer, Roger Stetter of New Orleans, said he wants the diocese to reveal LeBlanc's whereabouts.

Tom Watkins, the Houma lawyer who represents the diocese, said there can be no comment on the case from his side at this time. Diocesan officials said they can't talk specifics because of the ongoing lawsuit.

The diocese has been conducting its own investigation but will not comment on whether it is complete.

So far, no lawyer is known to represent LeBlanc, who could not be located for comment.

WORKING SOMETHING OUT

According to police reports, court papers and Ribardi's account to a reporter, the instances of abuse began when he approached LeBlanc about becoming an altar boy and was told he was too young.

Ribardi said the priest told him they could work something out and they met in a private room at the rectory. According to Ribardi's account, LeBlanc told Ribardi to perform oral sex on him. The activity continued, Ribardi said, until he was at least 14.

The accuser describes his younger self as intimidated and afraid.

The newspaper has withheld Ribardi's name until now. He agreed to be identified in this story because, he said, it is a way for him to publicly stand behind his accusation. He is also named in the lawsuit filed on his behalf, papers that are public record.

Judicial and police officials said the case, because of its age, would be nearly impossible to prove in court without corroboration.

But, they said, Ribardi steadfastly refuses to give authorities the names of other men he claims were also abused by the priest.

"I have the belief that it is not my place," Ribardi said in a recent interview, in which he described witnessing one encounter between the priest and another altar boy. He also recounted a conversation with an altar boy in which it was alluded that LeBlanc had abused that child.

After newspaper accounts of Ribardi's accusations appeared last year -- accounts that included his claim that there were other victims -- those men confronted him and told him directly they did not wish to be identified, he said.

RELUCTANT WITNESSES

Ribardi could be compelled to name the alleged victims if called to testify before a grand jury.

To date, however, no grand jury has been given the task of weighing his statements to see if they carry enough weight for criminal prosecution.

"The D.A.'s office is not an investigative body," said District Attorney John Phillip Haney, whose 16th Judicial District Office includes the parishes of Iberia, St. Martin and St. Mary. "It should be a police function, and if they come to us and say, eWe need to bring this before a grand jury,' it would be moved on at that point."

Assuming Ribardi's claim is true, Haney said, even if police knew the other alleged victims, they might well be reluctant witnesses, which, in some cases, could be as bad as having no witnesses at all.

"We are taking about victims of crime, and you don't want to re-victimize them all over again," Haney said. "So normally the police will go out there and talk to them. If they want to not say anything, it is not a crime."

Ribardi sometimes has difficulty hiding his anger with the system, the church and his alleged molester. He is particularly frustrated that LeBlanc has not been arrested, he said.

While Ribardi's accusation technically constitutes probable case, according to some attorneys, the potential for a weak prosecution case at this point requires some discretion, said Morgan City Police Lt. Teddy Liner.

"If they were really remotely interested, they would have found the bastard," is how Ribardi assesses the police response.

LIVING NIGHTMARE

Ribardi says it is concern for the men he alleges are victims, and his identification with them, that keeps him from identifying them. He draws on his own experience from alleged abuse and the resulting nightmares, self-destructive behavior and bad choices that led him to jails and prisons and secured him a spot on the Louisiana sex-offender registry.

He got there via an indecent-behavior with a juvenile conviction, he said, the result of a false accusation that arose from a failed relationship with an ex-girlfriend. That woman's daughter is the alleged victim.

He and his lawyer said that because he could not afford legal counsel at that time, accepting an offered plea deal seemed the best option.

The time allegedly spent as a victim -- as well as the years after -- are described by Ribardi as a "living nightmare." His brief time as a complainant, he said, has been difficult as well.

As a result, he refuses to voluntarily betray the other alleged victims by identifying him just for the sake of bolstering his own case.

"They have families and careers," Ribardi said. Dragging them into a case they want no part of, he said, would leave him with moral baggage he has no desire to carry.

Ribardi did agree to discuss how he came to learn of the other alleged victims. The most cohesive of these recollections involves a fellow altar boy, when both were about 11. They were on a church trip to Gibson, he said.

'YOU ARE NOT ALONE'

They were at the private park known as Wildlife Gardens, he said, apart from the others in an area where geese, ducks and exotic birds roam.

The other boy, Ribardi said, had commented that it seemed Ribardi was serving a lot of Masses compared to the others.

During the discussion, Ribardi said, he and the other boy hinted at what he came to believe each of them knew and experienced separately.

"He told me 'You're not alone,' " Ribardi said.

There was no outright communication between the two, he said, and no discussion of telling anyone else. Although he described the conversation in a prior interview with a reporter as "a pact," in detailed discussions held recently, he described the need for silence in more tacit terms, as more of an unspoken understanding.

Whether any of the alleged other victims emerge publicly or otherwise, Ribardi said, he will continue to press his claim.

He receives support these days from members of SNAP, the Survivors Network of those Abused by Priests. Although counseling was offered by the Diocese of Houma-Thibodaux, he turned it down, not trusting what might come of frank talk with a counselor selected by the church.

Stetter said Ribardi would accept church-paid counseling from a practitioner of his choice.

What Ribardi wants as a result of his criminal and civil actions is an assurance that what allegedly happened to him will not be repeated.

"The biggest reason is that he doesn't do that again," he said.

Acting City Editor John DeSantis may be reached at 448-7614 or john.desantis@dailycomet.com.