Former Epiphany Priest Named in Abuse Lawsuit

By Edith Brady-Lunny
Pantagraph
June 11, 2008

http://www.pantagraph.com/articles/2008/06/11/news/doc48504a6af09e2698614940.txt

PEORIA — A retired monsignor from Epiphany Catholic Church in Normal was named Wednesday in a lawsuit alleging he sexually abused a former second grade boy at the church between 1995 and 1996.

Andrew Ward, now 20, filed the civil lawsuit against Msgr. Thomas Maloney and the Catholic Diocese of Peoria in circuit court in Peoria. Ward, who now lives in Michigan, was not with his family at a news conference outside the courthouse.

The lawsuit alleges Maloney, 73, sexually abused Ward when he was 8 years old.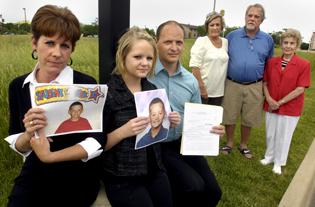 Dave and Joanne Ward, foreground, with their daughter Meagan, 17, hold photographs of Andrew Ward and the lawsuit Wednesday, June 11, 2008, photographed extended family Mary Pat and Joe Graden and Betty Kirschner, back right, in Normal. Andrew Ward filed a civil lawsuit against Msgr. Thomas Maloney and the Catholic Diocese of Peoria in circuit court in Peoria.
Photo by Carlos T. Miranda


"Maloney engaged in un-permitted, harmful and offensive sexual contact" with the boy, the lawsuit claims.

The Peoria Diocese had no immediate comment. Maloney, who lives near Mackinaw, also could not be reached for comment.

No criminal charges have been filed against Maloney, a Bloomington native who attended Catholic elementary and high schools in Bloomington. He was ordained in Peoria in 1967 and retired from parish work in 2003.

But the Normal Police Department confirmed it conducted an investigation into allegations involving Maloney after information was brought to them in February 2007.

At the time of the Normal investigation, diocese officials pledged to cooperate, but declined to provide further information out of respect for the privacy of those involved.

Assistant Chief Kirk Ijams said the results of the probe were turned over to the McLean County State's Attorney's Office in January. State's Attorney Bill Yoder did not return calls for comment on the investigation.

Two alleged incidents

Ward's parents, Joanne and Dave Ward, were among family members who came to Peoria with attorneys to file the lawsuit.

Joanne Ward told The Pantagraph after the press conference her son's accusations involve two alleged incidents in the sanctuary of Epiphany Catholic Church. Ward and his younger sister Meagan attended the Catholic elementary school.

The lawsuit seeks more than $50,000 in damages.

Joanne Ward said her son, who lives with his parents and works part time, disclosed the allegations involving Maloney in November 2006 after bouts with depression and problems with the law.

"It was like an exorcism," she said.

Barbara Blaine, president of the national group Survivors Network of those Abused by Priests, or SNAP, said Ward's disclosure at age 19 of alleged abuse is unusual. Many victims are in their 40s before they discuss their allegations.

"It's obvious they have been to hell and back and continue to suffer," Blaine said of the Ward family. "They are taking their pain and using it to reach out to help others."

Prior abuse alleged

Ward contends in his lawsuit that diocese officials were aware of previous allegations of sexual abuse involving Maloney, whose early assignments included churches in Ottawa, East Peoria and as pastor of St. Joseph's Church in Chenoa and St. Mary's Church in Lexington from 1976 to 1995. He came to Epiphany in 1995.

A woman reported that year or in 1996 that she had been molested by Maloney and a second woman notified the diocese that she was molested as a child in the 1970s, according to the lawsuit.

The diocese failed to act upon what the lawsuit contends is "Maloney's individual pedophile impulses and behavior."

Maloney, who was given the honorary title of monsignor in 2000, was allowed to remain a priest and have unrestricted access to children despite information the diocese possessed about Maloney's prior misconduct, claims the lawsuit.

Anonymous letter

Ward's mother also confirmed Wednesday that she authored an anonymous letter in September 2007 that was sent to 270 families whose children attended Epiphany from 1995 to 2002. The letter, signed "Devastated Mom," sought information from others who may have been molested, or who knew of Maloney's alleged misconduct.

"I have no reason to believe my child was the only one, as my child is like any other. I believe that other people know about the abuse my child endured and that maybe another child suffered in the same way," Ward said in the letter.

Msgr. Eric Powell, the current leader of Epiphany's congregation, addressed the letter in remarks during Mass services last fall. He is on vacation and could not be reached for comment about the lawsuit.